Be a hero, wear a Santa sombrero. #LahatSanta is  giving everyone an exciting opportunity to become Santa to poor kids.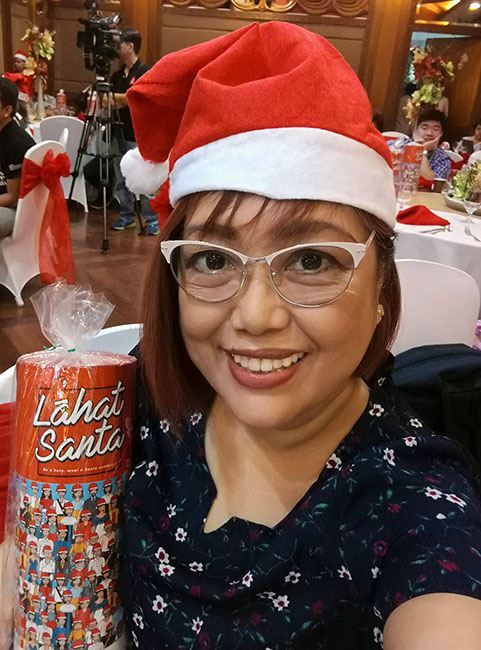 Santa Claus is so much a part of my childhood memories as it reminds me so much of my father who played the role of Santa Claus. Dad is not around now. He died 14 years ago on a Holiday season of all months. Perhaps he wanted to remind me about the spirit of Santa Claus. I don't know if you believe in Santa Claus but I believe Santa Claus lives in each one of us to make a difference.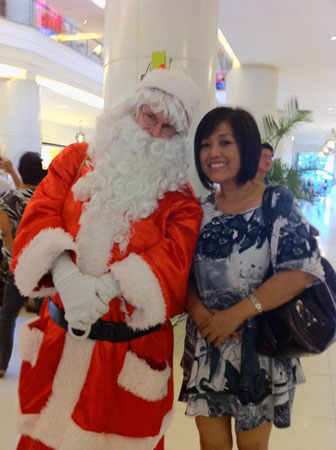 Santa Claus is anyone who loves another and seeks to make them happy;
who gives himself by thought or word or deed in every gift
that he bestows;
who shares his joys with those who are sad;
whose hand is never closed against the needy;
whose arm is ever outstretched to aid the week; whose sympathy is quick and genuine
in time of trouble;
who recognizes a comrade and brother in every man he meets upon life's common road;
who lives his life throughout
the entire year in the Christmas spirit. –

EDWIN OSGOOD GROVER, Vicki Howard's The Book of Santa Claus
We can all be a Santa Claus through the Save the Children new Christmas campaign #LahatSanta giving everyone an exciting opportunity to become Santa to poor kids.
What is the #LahatSanta campaign?
Be a hero, wear a Santa sombrero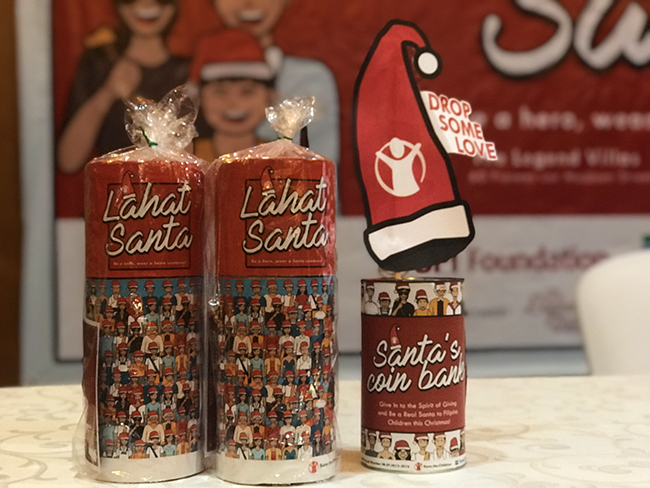 Lahat Santa is a new fun way to celebrate Christmas. Save the Children encourages individuals , schools and companies to wear their Santa hats, raise funds in their own creative way and make the holidays much more meaningful by donating to Save the Children programs.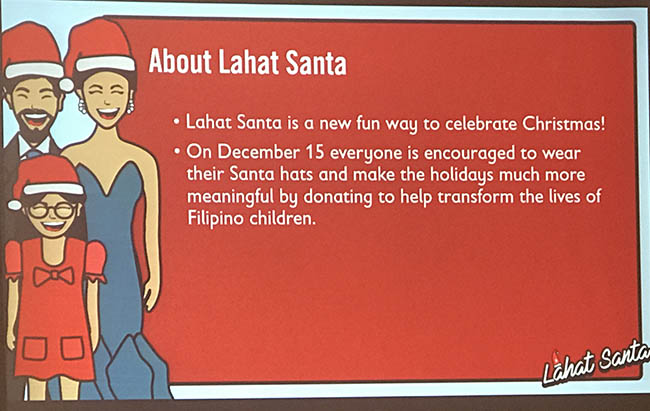 Upon signing up on www.lahatsanta.ph, participants get a free fundraising kit , which includes a coin bank, Christmas poster and a Santa hat. The Kit includes ways you can fundraise, from bake sale to the good old Christmas caroling– it is up to the participants how they'll spread the cheer.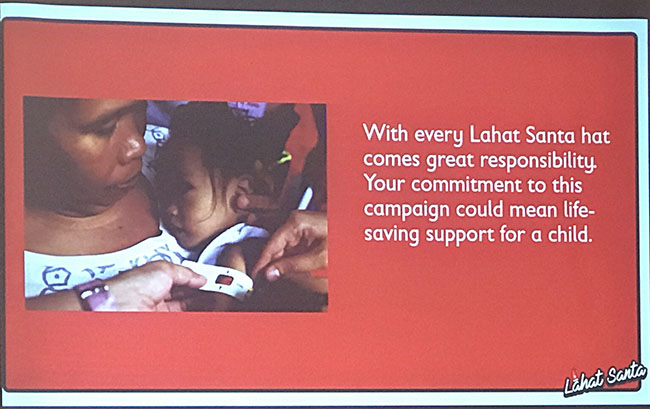 With every Lahat Santa hat comes great responsibility. A commitment to Lahat Santa campaign could mean life-saving support for a child. A donation can provide treatment to babies suffering from malnutrition  and help expand their programs that could impact their lives in the long run.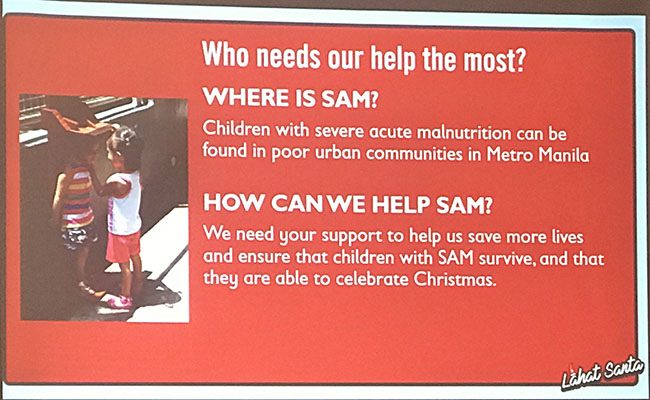 Steps to join #LahatSanta campaign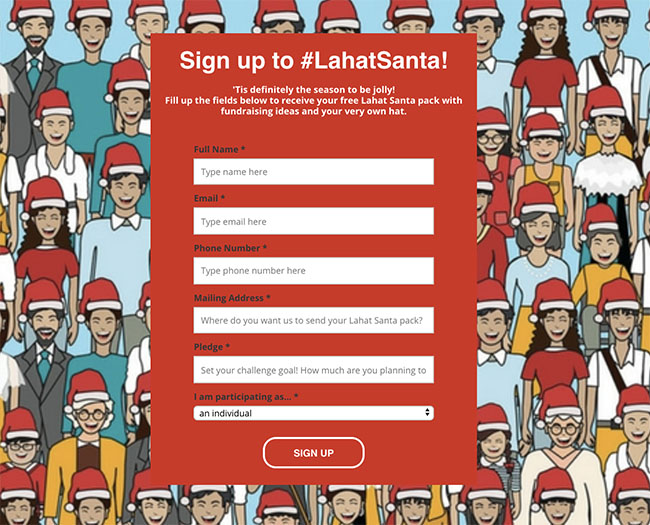 Sign up on www.lahatsanta.ph to receive a FREE fundraising pack which includes your coin bank, Christmas poster and your Santa hat for December 15. Tips and ideas are included there too.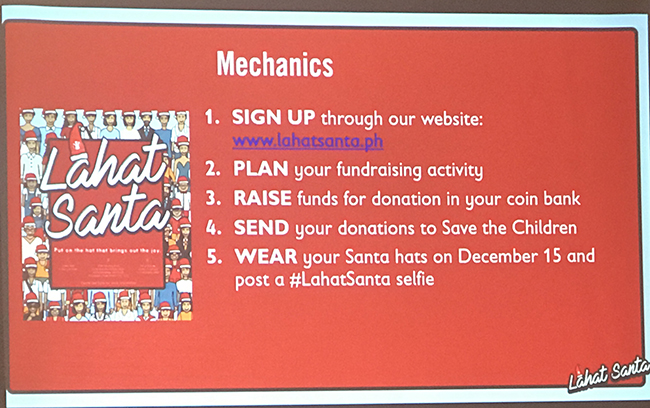 2. Plan your fundraising activity and gather your family and friends from work and school to help you out. Whether this is through a garage sake, good old caroling, selling artwork and doing Christmas dares, Because you are the Santa, be as creative as possible.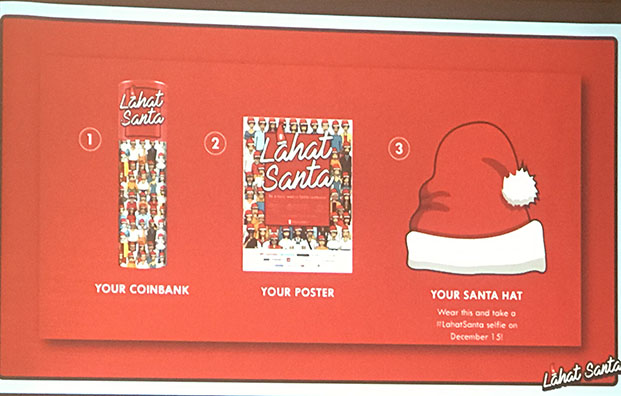 3. SEND your donations to Save the Children, The sooner they receive it, the sooner they can put it to good use.
4. Wear your Santa hat on December 14 and have a shout out post or selfie, using the hashtag #LahatSanta selfie to show us how you are fundraising for children.
Save the Children believes that all children have the right to fair and equal access to nutritious food. We know that the rate of stunting of 33% is largely due to inequality of access to nutritious food, long periods of hunger and a lack of nutrition during the first 1,000 days.