Today, December 21 is the most dreaded day of 2012. If we are to believe the Mayans, today is supposed to be  the ""end of the world" and the start of a global apocalyptic event. Like other predicted doomsday events, it will cause destruction and the end of humanity.
A descendant of the Maya, Jose Manrique Esquivel from Mexico's Yucatan peninsula says  the December 21 date is a celebration of their survival despite centuries of genocide and oppression. He blamed profiteers for fueling doomsday fears.
Esquivel added that "for us, this Dec. 21 is the end of a great era and also the beginning of a new era. We renew our beliefs. We renew a host of things that surround us".
While some believe that the Mayan prediction is true, I  look at it as another prophecy that will not happen. Doomsday scenarios are bound to happen again. What do we do when it comes again?
I say to just let go and let God.
Serenity
I recall a few years ago, my daughter  wrote that " the only thing we should strive for, she said, is calm. ". I immediately thought of serenity. The following day, I asked "did you mean serenity?"
And she said "I think so".
I explained that most human beings search for serenity in their otherwise chaotic life. It is probably true that the end of the world may come sometime in the future but what can we do about it?  Things will never be within our control.
So I told my daughter Serenity isn't freedom from the storm , but peace within the storm and I reminded her "Remember the Serenity Prayer poster you bought for dad two years ago from the States?"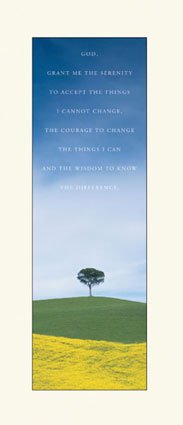 The Serenity Prayer Poster Lauren bought at art.com is now placed at our bedroom wall
The Serenity Prayer is a prayer that applies to most of us in recovery whether in grief, loss, broken-heart, alcoholism, addiction or some dysfunction. And what is the most common element?
God or God as we understand God , to be more politically correct.
Without sounding preachy, I enthused that  "it was God that helped us in our grief recovery. Despite our initial anger with God, He helped us through the pain. Perhaps God can guide you too".
True, it is God that is our source of guidance and positive change. It doesn't mean we're not responsible for ourselves. We are but we aren't alone. Recovery is not a do-it-yourself project. We do our part, relax, and then trust that the changes we'll experience will be right for us. Recovery does not mean looking at other people as our source to meet our needs. Sure they can help us but they are not the source. We can tap and trust God for the energy, wisdom and guidance for our recovery process.
Living one day at a time
We live life one day at a time which requires so much faith in us. We don't look back at the past unless healing from the past is part of today's work. We look ahead to make future plans. We focus on this day's activity, living it to the best of our ability.
We surrender to God's will . We stop trying to control and settle for a life that is manageable. We trust that God 's will for us is good, generous and with a direction. Through trial and error, we learn to separate our will from God's will. An important of recovery is owning the power to take care of ourselves. Sometimes, we need to step out, step back or step forward which can be very frightening.
Without God's help, I would not be where I am today in my grief recovery.
And so every time, some thing bothers me like the angst of my daughter, I always recite the Serenity Prayer
God grant me the serenity
to accept the things I cannot change;
courage to change the things I can;
and wisdom to know the difference.
And I call upon God to help me and I will ask for what I need.
Just like Esquivel,  this Dec. 21 can be the end of a great era and also the beginning of a new era.