Babies are a wonder because in just a year, they grow from closed-eyed and needy infants to toddlers taking one step at a time while babbling their favorite syllables. Click! Click! Click! A mom asks, why so many clicks? Another parent says, "Why not?"
Sharing too much information about one's kids online is very common that Erin McKean dubbed the term, oversharenting. On May 18, 2012, the Wall Street Journal writer in a "Words of the Week" article remarked that, "oversharenting" is the tendency for parents to share a lot of information and photos of their kids online. Oversharenting was shortened to "sharenting" in the recent years. It is understandable that parents would share the growth and development of their youngsters, but there's also a fine line between posting family pictures and cutesy photos of a baby's first bath. You never know where your kid's pictures might end up. Experts recommend making sure that whatever images or anecdotes parents post are things their children would feel comfortable with later in life.
Mariea Grubbs Hoy, DeForrest Jackson Professor in the School of Advertising and Public Relations in the College of Communication and Information, collaborated with Alexa K. Fox, an assistant professor of marketing at the University of Akron, to study "sharenting." They published the findings in "Smart Devices, Smart Decisions? Implications of Parents' Sharenting for Children's Online Privacy: An Investigation of Mothers" and published online in the Journal of Public Policy and Marketing on July 10, 2019.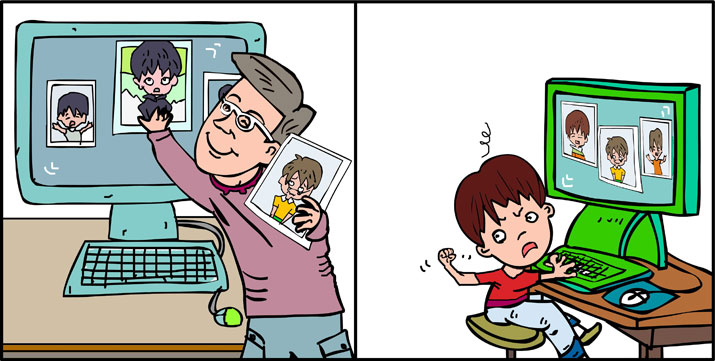 Fox and Hoy discovered evidence in two complementary studies that women's feelings of vulnerability about being a mother are associated with their posting on social media. The posts sometimes cover their children's identifiable information, such as names, birthdates and photographs. "Providing updates on [a child's] progress with posts of photos, videos and other personal information about the child has almost become a social norm, but it puts the child's online privacy and, potentially, safety at risk," the researchers noted.
I understand why mothers are vulnerable to sharenting. I have been there, and I didn't have a mother to help me out. Questions like "Am I doing this right?" or "Is it normal to be sad?" hit me now and then. Research on the reasons for sharing ranged from pride about their child to personal reasons, involving their own vulnerability about their bodies, their new responsibilities and evolving challenges, and exhaustion, depression, and anxiety. The researchers explained: "Posting about their experiences and sharing personal information about themselves and their children served as a coping strategy, primarily related to seeking affirmation/social support or relief from parents' stress/anxiety/depression."
Threats to oversharing on social media are clear yet serious consequences occur when new mothers don't have a support system or coping mechanisms. Internet was not around in the mid-'80s so I relied on books on parenting, which I had to order from my sister abroad. We could focus on the pressures faced by parents trying to do their best while reaching out for help online. Today, Facebook groups, community forums for new moms (https://www.facebook.com/groups/firsttimemomsph/) or breastfeeding moms (https://www.facebook.com/groups/breastfeedingpinays/) discuss issues online and off-line. Addressing the privacy risks, together with educating friends who could see the content and protecting their children, is a significant first step.

I love seeing the photos of babies, but I wonder how these kids feel in 15 years from now when they could understand their childhood became public without their consent. My daughters were in college when Facebook became popular. I sought their approval first before I posted any of their photos. One condition they imposed was they should look good in the photo.
Some parents go to drastic measures of posting nothing about their kids at all, but for those who still prefer to share photos or videos of their charming children to some extent online, here are some tips that might be helpful:
1. Adjust privacy settings of the social media accounts for trusted friends and relatives. If you are particular of your child's privacy, inform them that photos taken of their child are for their personal use and not shared on social media.
2. Use a pet name, rather than your child's real name, to offer some safeguard against companies or individuals who might use your child's personal data.
3. Avoid tagging your child's photos on Facebook unless you want the facial recognition tool to work on your child. Turn off geotagged photos, which show locations.
4. Ask yourself if you would take that risk to have your baby's photos used in other sites without your knowledge and permission.
5. If still you wish to share, put watermark on the photo or at least blur the baby's face.
Researchers added that they need future studies "to explore how new fathers, single parents and grandparents may experience vulnerability, and explore parents' motivations to post on social media and engage with brands." The pressures of being a "good mother" (or father or grandparent) in a connected society need understanding.
Originally published August 4, 2019 at the Sunday Business & IT, Manila Times