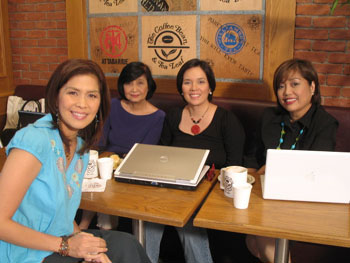 While the rest of Philippine Blogosphere is rocking, let's tune in to my dear friends , Cathy, Annamanila and myself. When I told Annamanila that we were invited for a MomWorks Special at the Lifestyle Channel (in Sky Cable) she balked. "Was this your idea?"
"Of course not!", I answered back. I never got to ask the producers how they chose Cathy, Annamanila and myself. Cathy doesn't know either so yes, Annamanila, it wasn't a conspiracy.
I convinced her . "Treat it as an adventure, it's something fun to do . Do something you've never done. Let's inspire mommies to blog".
Good thing Annamanila relented.
I don't relish the idea of appearing in television. For starters, I look as if I gained 10 pounds. But this was no ordinary TV shoot. The fact that two of my positive uplifting friends were shooting with me seemed such an exciting fun thing to do.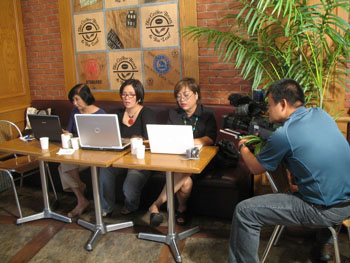 Oh let me count the ways:
1. Prettifying our faces. Oh the power of makeup on my 50 year old face! Those eyebags turned invisible.
2. Checking each other's telegenic profile before the shoot. We look out for each other's best view making sure that double chin doesn't show.
3. A real live conversation and surfing, oblivious to the cameraman.
4. Sharing the fun of blogging and comparing notes.
5. Pigging out on yummy desserts while sipping coffee or tea.
6. Figuring out how Windows Vista wi-fi works.
A half a day of fun it was and I recall the love and the friendship of my two dear friends. So you think it was a coincidence we were all together for this show? You have to watch them affirm the good and the real meaning of friendship.
Mark your calendars. Watch the Segment 3 of Moms Work Special on the Lifestyle Channel (on your cable TV) to be shown on August 17 at 10:00 PM to be replayed August 18 at 10:00 AM and August 19 at 6:30 PM. The special is hosted by Chiqui Roa Puno.
Also read Annamanila's Experience