It's not the pale moon that excites me
That thrills and delights me, oh no
It's just the nearness of you
It isn't your sweet conversation
That brings this sensation, oh no
It's just the nearness of you
When you're in my arms and I feel you so close to me
All my wildest dreams came true
I need no soft lights to enchant me
If you'll only grant me the right
To hold you ever so tight
And to feel in the night the nearness of you
The "Nearness of You" is 1940's song probably meant to be a love song but I chose it as a lullaby for my 2 girls from the time they were babies till around 4 years old. Instead of singing the usual baby songs, I chose a slow and soul-soothing song as my way to calm my fussy babies. My pitchy song helped lull them to sleep and surprisingly calmned me at the same time. There is just no substitute for these quiet moments of connection — time spent nurturing my little loves.
Last night, I sang this song upon the request of my husband to tease the girls. When they were much older (6 years old), they used to sob when I sang this song. Perhaps they became nostalgic?. After sobbing, they slept soundly. I never had sleeping problems with any of my children because of this lullaby.
Right after my tone-deaf rendition of the song, Butch asked the girls "Are you crying now?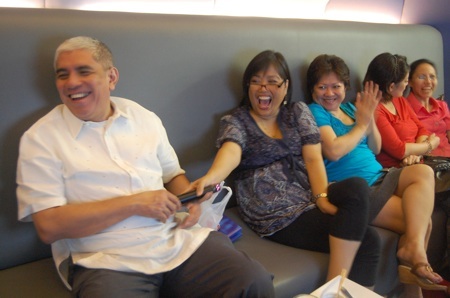 Speechless, methinks.
It's the first time that I ever sang in a karoake club. I used to be squeamish about singing in public. But it's my belated 51st birthday celebration with a few mom blogger friends and family so there is always a first time.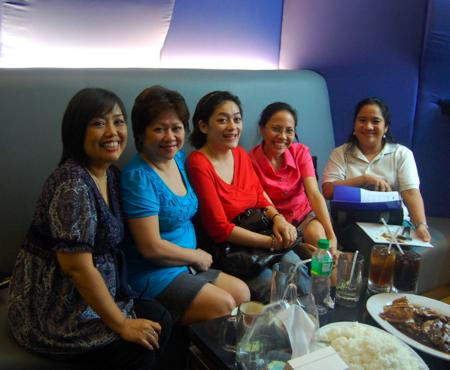 (thanks Dine, Chats, Lisaflor, Julie for being there.)
It's also my first time to visit Red Box Trinoma. Their bright and cheery room inspired my guests to belt out a song. I am so used to Red Box Greenbelt 3 branch which offers a buffet outside the karoake rooms. The Trinoma branch offered the buffet inside the room. The food was simple yet yummy for the prize of 99 pesos per person.
I was so "kilig" that Butch sang and dedicated "Misty" and "Moon River" to me.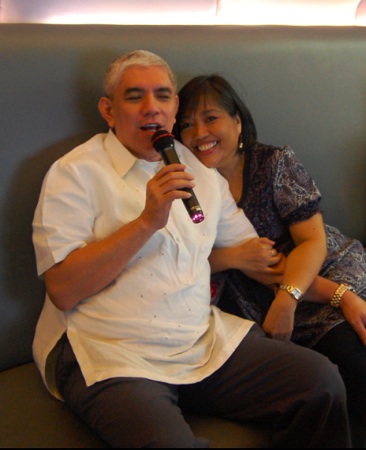 The night was still young but mommy bloggers being mommies needed to be home with their babies. I left Lauren with some of her friends to eat all the food we left behind and sing the night away.
Now, if you were invited to a karoake, what are your usual songs/repertoire? Please share.