I suck at writing reviews so my dear husband wrote the following review on Skin Deep, a musical comedy that dissects the idea of beauty. I hope you watch Skin-Deep. Not only is it entertaining but you will help the Section of Dermatology of St Luke's Medical Center, Philippine Leprosy Mission and Surok Uni Foundation. The title was therefore apropos, as these are groups who are at the forefront of the battle against the dreaded nerve and skin disease. Moving on….the review of PETA Theater's Skin-Deep.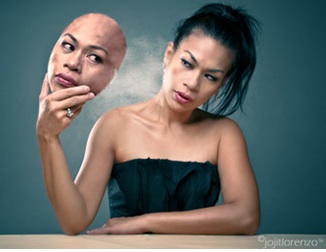 On a sunny Sunday afternoon which suddenly turned into a major downpour (two days later than GMA would have wished), we found ourselves at the PETA Theatre Center in Quezon City. My sister-in-law (Belen L. Dofitas), a famous dermatologist urged us to watch so we could help raise funds for her project, the Philippine Leprosy Mission.
We didn't know what to expect, except that it was supposed to be a musical comedy. But to our pleasant surprise, it turned out to be more than that. It is a wickedly funny satire on the culture of narcissism, which we Pinoys have absorbed from the West with a passion bordering on lunacy. ""Skin Deep" pokes fun at the our obsession with superficial standards of beauty, and the ridiculous lengths we go to achieve it. But it also deals with the eternal and universal issues of love and mortality, suffering and redemption.
What would you do if you had a chance to re-make your physical and social persona into what you consider you most ideal self ? This was the opportunity given to seven people by the Mephistophelian ""Dr. Beau Batocol, an internationally famous Filipino cosmetic surgeon, who opens the world's first one-stop-beauty resort here in the Philippines- THE SKIN DEEP BEAUTY SANCTUARY !" (quoting the synopsis). Through a text raffle, ""The Lucky Makeover Seven" get a once-in-a-lifetime-chance to transform their outward selves thru a medical and lifestyle regimen administered by the slick but sinister Dr. Batocol, a cross between Prof. Henry Higgins and Dr. Moreau (played with baleful glee by veteran thespian Rem Zamora) . It turns out to be a pact with the devil.
It's a powerhouse cast of oh-so-Pinoy characters. There's Marikit ""Kit" Evangelista, an obese twenty-something working girl with an attitude from years of being the butt of cruel fatty jokes, played by the formidable Bituin Escalante-Aguilos. Another is the promiscuous and aging queen, Pipay Organza, (""orgasmic", get it ?), desperate and facing a lonely middle-age and beyond, played with poignant intensity by PETA veteran Phil Noble. A young male model /starlet Charleston ""Chonggo" Go, who knows that he is a commodity in the meat market and wants to improve the package, played by the fresh and surprisingly talented Red Anderson. A troubled couple, Isadora ""Isah" Dong-Can and her egotistical and controlling husband, Narciso ""Ciso" Dong-Can ( played by the real life husband-and-wife duo of the luminous Isay Alavarez and the powerful Robert Sena). A stretched-almost-beyond-repair old hag from humble beginnings, Amor de Sangre, portrayed with campy relish by May Bayot-De Castro, who gives an added dimension to this staple character. Lastly, a victim of unspeakable domestic violence, Hapunta ""Happy" Fuentes, who Dr. Batocol ""fixes" as an example of his surgical skills, played by the sensual and multi-talented Diana Malahay.
They get more than they bargaining for in the hands of Dr. Batacol. There is a popular belief in the transformative power of beauty treatments and cosmetic surgery, fueled by our Western standards of conventional beauty. That's what keeps Vicky Belo and company in business. Feeling down ? Get a boob job to lift your spirits. To be or not to be (beautiful). That is the question.
But can makeovers really heal our broken lives ? This is the central theme around which the play revolves.
The playwright, the enormously talented and multi-awarded Vincent De Jesus, is also the lyricist, composer and musical arranger, with a little help from his friends. He draws from a deep well of feeling and experience, having suffered for years from painful (and expensive) medical and cosmetic procedures intended to rein in his too-prominent chin and align his jaw. In the end, he just said to hell with it and moved on. After all, look at Jay Leno and how successful he is.
The musical score is catchy, with witty lyrics that leave you in stitches (pun intended) or tug at your heart. The star of the production is clearly Isay Alvarez, on her first outing with PETA. Her heartbreaking portrayal of the wife-martyr Isah, the play's tragic figure, seems natural and effortless. But May Bayot-De Castro gets the best lines and the most laughs as a serial mail-order bride who's been around and who loses her identity with every surgical procedure, but finds her true self in the end.
The ensemble cast does an outstanding job as Dr. Batocol's robotic minions. Their piercing stares and fixed smiles are scary.
Directed by one of PETA's veteran actors, Nor Domingo, this musical is , as he says ""designed to take you in for a ride". And what a trip it turned out to be: full of belly laughs, guffaws and surprises plus a fair amount of sniffles in the end. Lovers of theatre, of all stripes and persuasions, should not miss ""Skin Deep". Its deeper than you think.
Special kudos to Kalila Aguilos for the costumes, Jonjon Villareal for the lighting design (this guy's a physicist!) and Cristine Crame-Santillan for the choreography. I was particularly impressed with the production design of Leo Abaya, who came up with a minimalist, art-deco inspired set, with smooth lines and jagged edges, predominantly in black and white. There was a revolving circle on center stage, drawn like a clock face, with scalpels marking the passage of time. The stage pieces were cleverly painted like cross-sections of epidermis. The stage design seamlessly stitched (that word again!) together the narrative strips of the play.
One last word about PETA, an institution in the local theatre scene which gave voice to many of our nationalist aspirations, specially during the Marcos dictatorship. PETA has always been associated, in my mind, with ""political" presentations. Its obviously more than that. PETA has been the fertile breeding ground for our most creative and well-known writers, directors and actors for film and stage. The last PETA play I saw was some 25 plus years ago at the open-air Rajah Sulayman theatre in Fort Santiago. I was very glad to see that one of the country's premier repertory companies now has its own spanking-new building located at New Manila in Q.C. , ""a living, breathing creative space" , as it says in the brochure. Check out the PETA Theater Center at No. 5 Eymard Drive (formerly Sunnyside Drive), at the back of the Q.C. Sports Club and a stone's throw away from the St. Luke's Hospital. You won't regret it.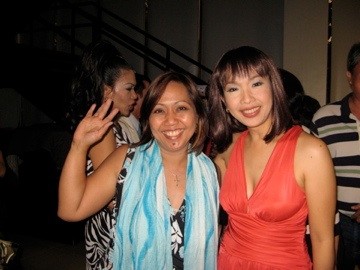 My sister, Belen Lardizabal-Dofitas poses with Isay Alvarez after the play
Skin-Deep goes onstage at the PETA-Phinma Theater on all Fridays, Saturdays and Sundays beginning February 1 until March 9, 2008. The PETA Theater Center is located at #5 Eymard Drive, New Manila, Quezon City.
For details and other inquiries, call the PETA Marketing and Public Relations Office at 725-6244, 410-0821, mobile numbers 0917-8154567 or 0918-9354166, email petampro(at)yahoo.com or mpr(at)petatheater.com