To capture my initial reaction of the President's SONA, I wrote this entry while watching the SONA 2008 live coverage.
I care about my children who will inherit the country's future.
President Gloria Macapagal-Arroyo thinks of the poor and her fellow Filipinos in her State of the Nation Address (SONA 2008) (View SONA 2008 Video Archive and SONA 2008 Full Text). She kept saying "I care…"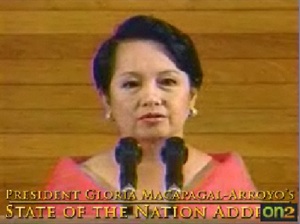 Madam President, I think of my children all the time. I had high hopes for the Philippines. I refused the US immigrant application in 1986 when Lauren was still a baby because I wanted my children to stay here and work for the future of their country. Sometimes, I think I made a mistake after seeing the state of our country through no fault of ours, you say.
To address these global challenges, you said that ""we have to reach out to those we need and who may need us, yet we strive for self-reliance."
Madam President, I start with my children first of all because I cannot possibly save the Philippines on my own.
You say "How do we solve these complex challenges. The answer is special care and attention in this great hour of need. We have to have targeted strategies to target price increases, less energy dependence, self-sustainability, self-independence, and self-reliance."
I am not helpless. I can solve most of my problems. I have the power to solve the problems that is mine to solve. In my own little way, I contribute to the society through my children. Self-reliance begins in our homes. I hope to instill self-reliance in my children even if they have to inherit this crappy economy.
1. I tell then to save their money. Even if we have a extra funds, I train them to think of investments and money management. I do not buy every single material wants if it is merely a luxury item such as fancy cellphones, or computer toys.
2. I encourage my children to expand their knowledge through education and to think out of the box. I encourage them to speak their minds even if it goes against mine.
3. I tell them to turn off the appliances and the lights. I encourage them to commute because I can't possibly drive them around due to the high prices of gas.
As president, you ended SONA 2008 with "We have our disagreements, but we are one nation with one fate. As your President, I care too much for this nation to let anyone stand in the way of the people's well-being. I will let no one threaten our nation's survival. We must be there for them now."
I care about my children like all parents do, so please live up to your promises.
In the meantime, I hope you continue to fight this battle every single day. It is difficult times for all of us.
I believe that hard times can motivate us to bring out our best. That choice is ours. We don't need to have stress or hard times to change ourselves but if it happens, we can learn to channel it into achieving what's good in our life.
We are not victims of life. We can learn to remove ourselves as victims of life. Letting go of the belief that life has to be hard and difficult makes our life much easier.
So what are other ways to getting through hard times?