"Superman's not brave. You can't be brave if you're indestructible. It's every day people, like you and me, that are brave knowing we could easily be defeated but still continue forward. – unknown"
This is a guest post from Carlo Ople. Some of you might not be aware that Carlo nearly lost his life three years ago due to a gunshot wound from a robber who tried to molest his girlfriend. This is a story of love and the will to survive at all cost. The question is would you risk your life to protect your loved one?
If you have a recovery story to share, please send it to [email protected]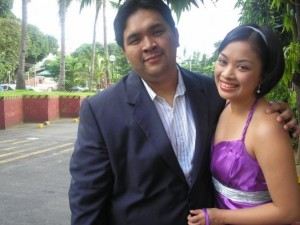 Around 3 years ago, I had one of the most challenging experiences that I've ever faced in my life. I was with my girlfriend, Mich, in an internet café. We were having fun playing a few games and surfing the net when I suddenly felt a cold and solid object being pressed hard on the back of my neck. One of my worst fears was finally materialized: we were being held-up. I can't remember if there were 4 or 5 men but the entire café was suddenly plunged into the silence. The only sound you could hear was the cruel and deep voice of one of the robbers cussing and cursing people while his cohorts started to collect our cell phones, wallets, and jewelry.
I tried to calm myself down because I knew that everything would be alright and these guys would eventually leave when they got what they want. Things took a turn for the worse when one of them decided to ""trip" on my girlfriend. My blood boiled. A drugged up, drunk, and obviously evil man was putting his hands on the one person that I loved the most. My vision became hazy. Adrenaline started to course through my veins. I started to breathe heavily so that I could relax a bit. However, the guy just couldn't help himself and he pointed his gun at Mich. He crossed the line.
I jumped up, got his wrist, turned it a bit so that his elbow was exposed, and smashed my fist against his elbow. I heard a crack and his gun fell to the floor. Everyone else in the café suddenly got up and started to engage the robbers. The next guy on my list was the one who pointed his gun at me. I was able to land a solid punch on his face and he fell back.
Amidst the rumble in the café, 2 resounding gun shots pierced the violent air and quickly stopped everyone on their tracks. I suddenly wondered why everyone was looking at me. Time stood ridiculously still. Then I felt warm and a bit dizzy. I started to wonder why my shirt felt thick and wet. I looked down and touched my chest to confirm what I was thinking. I was just shot.
My knees buckled and I collapsed to the floor. I was having difficulty breathing and I could feel the blood literally pouring out of my wounds. The room swirled and my vision blurred to the point that I could no longer see what was happening. I felt someone's weight on the side of my face. I thought to myself ""wow, the robber actually stepped on me on his way out. No class at all."
I was dying. I was afraid, frustrated, and angry. Man, I don't even have a son yet! Thoughts started to bombard my mind. The saying that ""your life flashes before your eyes before you die" suddenly made a lot of sense to me. I found myself reflecting, thinking, and pondering if there was really life after death. Images of the devil and hell burning flooded my mind. Did I deserve salvation? I sure hope so, I thought to myself. Amidst all the turmoil and pain I found myself opening my eyes. I was crying. I was really sad that I would have to die. Then I saw her.
Mich was there, holding my hand. She was also crying while trying to talk someone on her cell phone.
I don't know how I did it, but I reached out, and said ""I'm sorry."
Then I felt peace. All the turmoil in my head about where I would go if I died suddenly disappeared. Seeing someone there that I loved so much made me feel secure. The only regret now was that I would have to leave her alone.
To cut a long story short, my family arrived and I was brought to East Avenue Hospital. They operated on me without anesthesia, putting a tube in my lungs to drain out the blood. They also sutured the wounds without the use of any anesthetics. Yes, it hurt a lot. When my aunt asked one of the nurses if they had any anesthesia, her answer was ""May dala po ba kayo Ma'am?" *facepalm*
I was transferred to Medical City, and after 8 days of being treated and cared for by doctors and my loved ones, I was able to get up and walk outside of the hospital – alive. I later found out that I was shot twice by a 45 caliber pistol and one of the bullets went through and through my body. The second bullet lodged itself near my shoulder but it was removed in a successful operation in Medical City.
Lessons Learned
Be aware of your surroundings
If you're in an internet café, make sure that the glass window or doors are not covered by posters. If there is no visibility from the outside, robbers will think that it's an easy target. If it's late at night, try to go to cafes that have security guards nearby and situated in well lit areas.
Life is really short (haha)
Don't take things for granted. If you think about it, life is really short. Make the most of every second that you have. Live it to the fullest and make sure that you give more love than the love that you receive. Nothing beats the feeling of having people there for you when you're down in the dumps. I never would have recovered so fast if it weren't for the steady stream of support that I got through visitors and prayers.
About the Author
Carlo S. Ople is the grandson of the late Senator Blas F. Ople. He's currently working as the Marketing Head for Casual Games in the ePLDT subsidiary and leading online gaming publisher in the Philippines, Level Up Inc. . He's also a New Media consultant, having worked for various politicians and companies. You can read about his writings and work at his blog at New Media Philippines. He also has a gaming blog, Waukster Online.
Courage is not the absence of fear, but rather the judgment that something else is more important than fear.- Ambrose Redmoon