Ang inyong anak ay hindi ninyo anak, sila'y mga anak na lalaki at babae ng buhay. Bagama't nanggaling sa inyo, sila'y hindi inyo – L.Bautista
That Tagalog quote is actually taken from the poem "On Children" by Kahlil Gibran.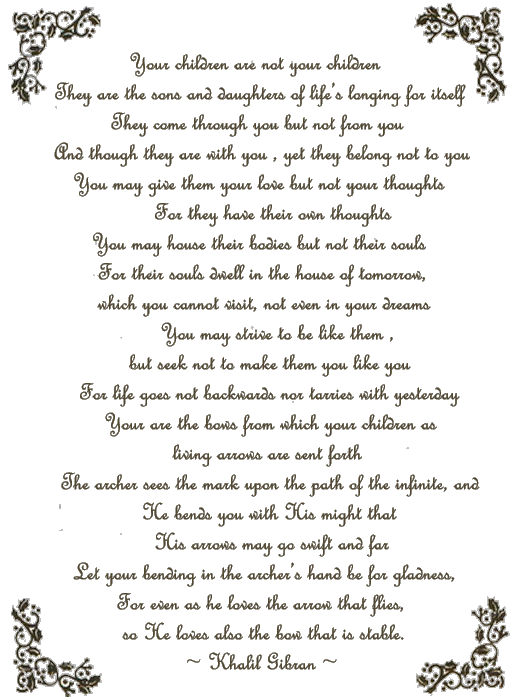 Your children are not your children.
They are the sons and daughters of Life's longing for itself.
They come through you but not from you,
And though they are with you yet they belong not to you.

You may give them your love but not your thoughts,
For they have their own thoughts.
You may house their bodies but not their souls,
For their souls dwell in the house of tomorrow,
which you cannot visit, not even in your dreams.
You may strive to be like them,
but seek not to make them like you.
For life goes not backward nor tarries with yesterday.

You are the bows from which your children
as living arrows are sent forth.
The archer sees the mark upon the path of the infinite,
and He bends you with His might
that His arrows may go swift and far.
Let your bending in the archer's hand be for gladness;
For even as He loves the arrow that flies,
so He loves also the bow that is stable.
I am once again reminded of the recent events in Willing Willie and the alleged child abuse and coincidentally, the Child Abuse Prevention and Awareness month that is observed in the United States. I am often reminded that a child's dignity and respect must never be violated.
It boggles the mind that the Willing Willie producers, Willie Revillame , the parents of the boy and even TV 5 Manila do not see anything wrong with that March 12 incident. They can claim that they had no intention to exploit the kid, but in any case of CHILD ABUSE, the INTENT of the abuser is IRRELEVANT.
There is not much I can do with regards to the programming aspect of Willing Willie. The child abuse incident is being taken cared of by DSWD and the Commission of Human Rights. The MTRCB is in taking charge of the possible violations of the program.
What I can do is raise awareness on child abuse prevention.
I believe our children are the country's most valuable resource, and they need our support to thrive and grow into healthy, productive adults.
Every child deserves a nurturing family and a safe environment, free from fear, abuse, and neglect. Parents, guardians, relatives, and neighbors all share a responsibility to prevent these devastating crimes, and our government plays a critical role as well.
Please speak for our children.
Join the Blog Carnival
It will help if we can first raise awareness among ourselves. Speak out about child abuse issues. Raise child abuse awareness by writing in your blogs be it a self-hosted blog, blogger, wordpress, tumblr or facebook note. All of your posts will be placed together in a blog post called a "carnival". A Blog Carnival is, at its heart, a themed collection of permalinks to other blog posts.
Here is how
1. The blog entry can be a personal experience, a commentary, proposals to raise awareness on child protection laws. If you do not have a blog, you can also post here at blogwatch.tv Just register at http://blogwatch.tv/wp-register.php
2. Once your blog entry is posted , submit the link to the Blog carnival.