""Bad officials are elected by good citizens who do not vote." George Jean Nathan
The rooster crowing from afar reminded me that it was time to wake up. What an unholy hour 5:00 AM was, as I grumbled and struggled to get off from bed. I was doing this for my daughter, M as it was her opportunity to register at the barangay center over the weekend since she works during weekdays. The previous saturday, she was unable to register because the barangay cut-off was 500 registrants. The Commissions on Elections (COMELEC) staff advised her to come as early as 7:00 AM to fall in line. I also thought it was time for me to reactivate my voter's registration. My name was delisted because I was out of the country during the past two elections (before the 2007). M and I were pleased with ourselves for arriving at the barangay hall at 6:00 AM but what did we discover?
Two hundred people were ahead of us. I groaned. I learned that the early birds queued as early as 3:30 AM. Why oh why did it have to be this complicated? If I didn't love my country enough, I would have left right there and then. My experience in the barangay voter's registration was truly a test of patience and determination to be a registered voter. Imagine the whole registration process lasted from 6:00 AM till 2:00 PM.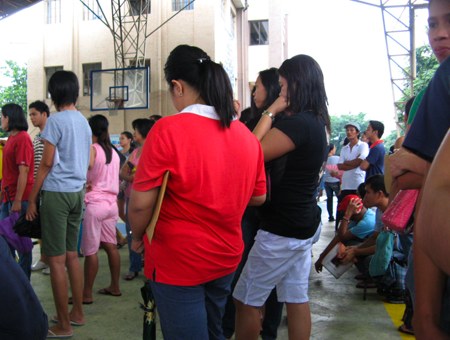 Let's see COMELEC's Registration Procedure and how it applied to me and my daughter's experience.
FIRST STEP A qualified applicant need only to appear personally at the local COMELEC office.
It does not say that you might queue for hours so be ready to bring a small stool (which we did. M went home to get more papers), water and snacks. For the next two hours, I didn't want to remain idle and bored. I voluntarily guarded the queue from latecomers who might insist on cutting in. Filipinos can be so nice to the point that they are abused. A woman pointed me to a man who jumped the queue beside her. I asked the person if it was true but he just ignored me and left the line. It was at that point that I called the barangay workers to moderate the line. The line soon became orderly when the people were told that they shouldn't allow anyone to cut into their line,
Being a responsible citizen starts at simple tasks and good manners like " fall in line and don't cut in".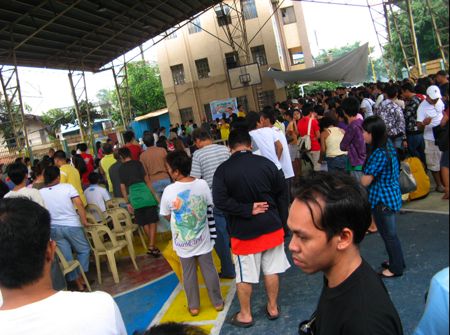 Read More »A Test of Patience at the COMELEC Voter's Registration