Updated: I posted this 7 years ago and thought of bringing it back in the light of Erap's recent campaign bid for Mayor of Manila.
Enjoy!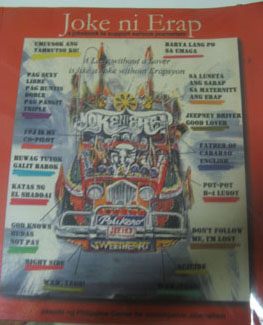 April 12, 2006: With the start of Joseph Estrada's plunder trial , the Erap jokes are back again in circulation:
Jinggoy: dad, kita madadalaw ngayon. May urine test ako bukas. ( Dad, I can't visit you today. I have a urine test tomorrow)
Erap: Okay lang anak, aral kang mabuti ha. (that's okay, son. Just study well.)
Erap might have been accused of many things but he left behind a legacy, "the Erap jokes". My son adored Erap simply because of his famous Erap jokes. He found them funny and wanted to know more Erap jokes. We even bought the Erap joke book. Here is one of Luijoe's favorite Erap jokes.
Erap buys a ballpen:

Erap: Miss, do you have a ballpen?
Clerk: Sorry, sir we don't have any ballpens
Erap (angry): Why did you name your store "Penshoppe"?
Luijoe loved to tell this joke to everyone . One time, Luijoe and I passed by Penshoppe ( a teen fashion store) in Glorietta mall and I teased him if he wanted to go inside with me , so I could ask the same question Erap asked.
Luijoe was shocked at my suggestion…"NO, MOM!" He pulled me away towards the play area.
Hehe. My son must have thought I was crazier than Erap.
———–
More Erap Jokes:
Jinggoy: Dad, manganganak na po misis ko. (Dad my wife is about to give birth)
Erap: Dali tumawag ka ng ambulansya at dalhin natin sa Jollibee (Hurry, call for an ambulance and bring her to Jollibee)
Jingoy: dad bakit po sa Jollibbe (dad, why at Jollibee?)
Erap: May free delivery doon (There is free delivery over there)
—-
US Doctor: Mr. President, you have a brain tumor.
Erap: hahahahaha
US Doctor: Why are you laughing?
Erap: I'm laughing because in the Philippines I have no brain but here, I have 2 more!
—-
Erap gets really mad when he sees the next sign :"JFK LEFT". "See?" he scolds his driver. "We're so late even the airport left already".