I feel ambivalent towards Erap.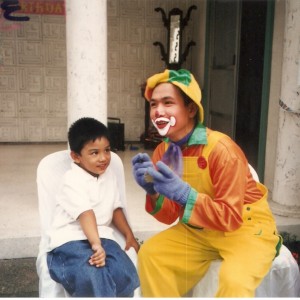 I neither like nor dislike him. My feelings has something to do with the memories of my little boy. My 6 year old son adored Erap. Luijoe thought the world of the former president. Luijoe yelled at the top of his voice that Erap was the smartest president in the whole world, in a jumpacked room at a plane ticket office ten summers ago.
In his booming voice, he threw his hands up in the air , twirling around the room, "Mom, President Erap is so smart, the smartest president in the whole wide world".
awkward silence
Nobody in that room could deny not hearing my son's adulation. It was May 2000 at the height of Erap's unpopularity. I wanted the floor to open up and swallow both of us. I could feel the steely gaze and snickers surrounding us. My boy never sensed the awkwardness of the situation but I wanted to save face.
"So , why is Erap the smartest president in the whole wide world?", as I squeaked the question to my naughty son.
"Mom, his jokes mom. He says the funniest jokes. That is very smart of him" (or something like that)
See my son had a great sense of humor and loved to throw a joke or two. Then he discovered the Erap jokes during one of our conversations. Luijoe overheard us laughing to our heart's content on an Erap joke. He wanted to know why were laughing. He badgered to know the joke. So I narrated the joke
Erap: Miss, do you have a ballpen?
Clerk: Sorry, sir we don't have any ballpen
Erap (angry): Why did you name your store "Penshoppe"?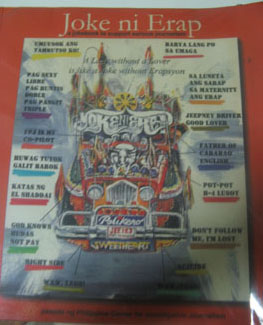 How my boy laughed! Luijoe loved to tell this joke to everyone . One time, Luijoe and I passed by Penshoppe ( a teen fashion store) in Glorietta mall and I teased him if he wanted to go inside with me , so I could ask the same question Erap asked. Luijoe tugged me away. hehe
I bought him the book , "Joke ni Erap" by the Philippine Center for Investigative Journalism in early 2000. Luijoe often packed this Erap Joke book in his backpack and kept re-reading those jokes that he could understand. He loved the book so much, he even labelled it with his name. Here are a few of his favorite jokes culled from that book.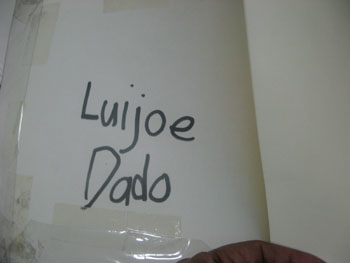 Erap: "I have brain cancer. Yehey!!!"
Ramos: "That's delicate, how come you're still happy?"
Erap: "Now I know I have a brain"
Comelec: Oh, simple math na lang! Ano ang "2 + 2"?

Erap: Three!
Comelec: Sorry
Ronnie: Mataas pa diyan!
Erap: (in his highest-pitched voice) Threeeeeeeeeeeeeeee!!!!
and Luijoe's favorite of all.
Executive Secretary Zamora: Sir, Pwede bang palitan 'tong laptop ko?

Erap: Bakit?
Zamora: Masyadong Mabigat, eh!
Erap: Ba't di ka mag-delete ng files para gumaan?
Like most young kids, Luijoe was already computer savvy and he knew about deleting files. How he loved to crack this joke whenever I carried my laptop.
I smile and tear as I recall these poignant Erap memories with my son.
What an innocent little boy.
In Luijoe's last week in this temporary place, we call Earth, my impish little boy caught Erap on TV and tugged my sleeve to take a look.
"Mom look at Erap. What does corruption mean?"
I pondered. How should one explain corruption to a six year old boy?Should I break my son's heart and explain that he is accused of amassing wealth?
I decided not to lecture him on the evils of government. Corruption is an alien concept for such a little boy. I cuddled my son and just told him that he had problems. My son died a few days later. It was best after all that I did not tell him .
The days and the weeks soon after our devastating loss, seem like a blur, making me a living zombie. Not even the news of the EDSA 2 moved me. I was numb, even apathetic to the political climate.
Here I am 10 years later, watching the news, hearing about Erap, the second leading presidential candidate. The memory jolts me as if I never left the year 2000, as if I am right there with my son. The skeptics might think it is odd that I want to thank Erap for the memories. Even discounting my son's death, it is undeniable that the former president still has charm even to the masses.
Perhaps, I don't know what to do with Erap as a presidential candidate except thank him for being himself , the charming person that he is.
In a few days, on May 27, it will be 10 years since my son died.
Memories like these make it seem my son never left me, that he is alive and well and just laughing nearby.