The most beautiful discovery true friends make is that they can grow separately without growing apart. ~Elisabeth Foley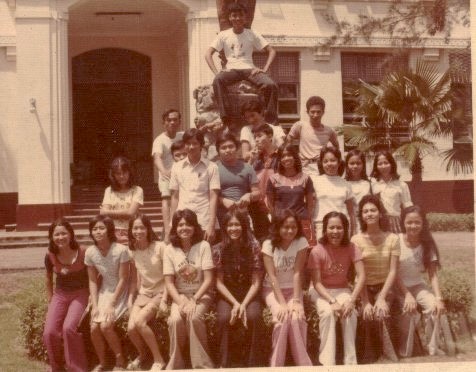 UP College Cebu , 1974
My mediocre grades in high school were not enough to qualify me to the UP Diliman Campus. I was determined to take up college in Manila to gain independence from my sheltered life in Cebu and of course, get the BS Food Technology that was only offered there. I studied in UP College Cebu (UPCC) in 1974 for one year before moving to UP DIliman campus in my sophomore year where I finally got a 1.75 grade to qualify. I look back to my freshman year with a smile and a soft spot in my heart. Indeed a memorable year for me because it was the first time I gained a little freedom to be with friends and to socialize with guys after graduating from an all-girls school since kindergarten. I felt I finally belonged to a group that truly cared and loved me and by fate (via Dicoy's Cupid machinations), my best friend became my first boyfriend, my first love for the next 3 or so years.
Reunions are inevitable and I declined the invitation just as I did with my high school reunions. My attitude towards reunions changed in the recent years after I evolved into a better person. I then became curious of my friends. What had become of them? I felt something missing in my life and wanted to reconnect with my past. This change of heart did not augur well with my husband. He didn't understand why I needed to see my old friends (when he himself does not attend reunions) and in the process, "meet" my ex-boyfriend. Hugging my husband, I reassured him that it is all in the past. I cannot help it if he was my classmate, part of my barkada but I am there for my other friends. For goodness sake, it's been like 31 years? I rolled my eyes as "Batman" retreated to his cave.
Freshman Year, UP College of Cebu 1974. Guess where I am?
I know it sounds like a cheesy Sharon Cuneta movie, but our group coined "Best Friends Forever" as the group name for the UP Cebu College 1974-1978 alumni.
Read More →