The most beautiful discovery true friends make is that they can grow separately without growing apart. ~Elisabeth Foley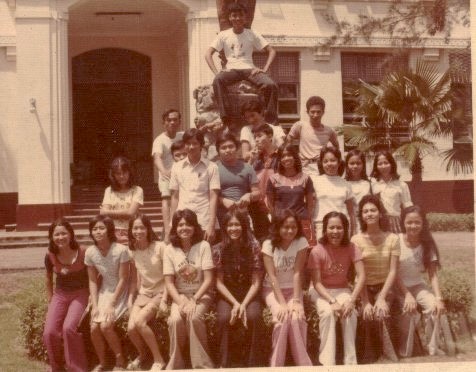 UP College Cebu , 1974
My mediocre grades in high school were not enough to qualify me to the UP Diliman Campus. I was determined to take up college in Manila to gain independence from my sheltered life in Cebu and of course, get the BS Food Technology that was only offered there. I studied in UP College Cebu (UPCC) in 1974 for one year before moving to UP DIliman campus in my sophomore year where I finally got a 1.75 grade to qualify. I look back to my freshman year with a smile and a soft spot in my heart. Indeed a memorable year for me because it was the first time I gained a little freedom to be with friends and to socialize with guys after graduating from an all-girls school since kindergarten. I felt I finally belonged to a group that truly cared and loved me and by fate (via Dicoy's Cupid machinations), my best friend became my first boyfriend, my first love for the next 3 or so years.
Reunions are inevitable and I declined the invitation just as I did with my high school reunions. My attitude towards reunions changed in the recent years after I evolved into a better person. I then became curious of my friends. What had become of them? I felt something missing in my life and wanted to reconnect with my past. This change of heart did not augur well with my husband. He didn't understand why I needed to see my old friends (when he himself does not attend reunions) and in the process, "meet" my ex-boyfriend. Hugging my husband, I reassured him that it is all in the past. I cannot help it if he was my classmate, part of my barkada but I am there for my other friends. For goodness sake, it's been like 31 years? I rolled my eyes as "Batman" retreated to his cave.
Freshman Year, UP College of Cebu 1974. Guess where I am?
I know it sounds like a cheesy Sharon Cuneta movie, but our group coined "Best Friends Forever" as the group name for the UP Cebu College 1974-1978 alumni.

From August 13 till August 15, I re-discovered friendships and the beauty of Cebu. I hated Cebu for many years because traveling there meant having to bury a family member. Yes, 5 family members. Even my son died there. Sometimes in life, we just have to let go of our demons to acquire inner peace. I can work right where I am , right within myself, because the more peace I have within my own life, the more I can reflect into the outer situation. One preparation of inner peace is the right attitude toward life. This meant – stop being an escapist!
I was excited as I checked in at homey Casa Escano Bed and Breakfast owned by Uding's family.
August 13– Welcome Dinner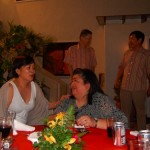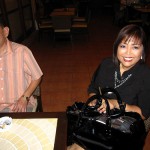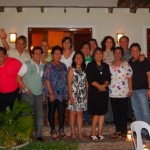 Click to enlarge
I cannot begin to describe the laughter and the shrieks of delight as we feasted on Cebu Lechon and danced (Tony did) to Michael Jackson songs at Robert's house. The heavens seemed to be one with us, as not a single drop of rain fell on the outdoor patio. Just the day before, rains lashed upon this Queen City of the South. The stars stood out as if smiling along with us. Oh how I missed so many parties at Robert's house because my parents were so strict back then. There I was, being teased to my ex but I smiled and shrugged like I always did when the gang did that in the past. Some quirks never die.
Once again , "Best Friends Forever" reunited and got lost in the frolic and fun just as if it was 1974.
August 14– Southern Exposure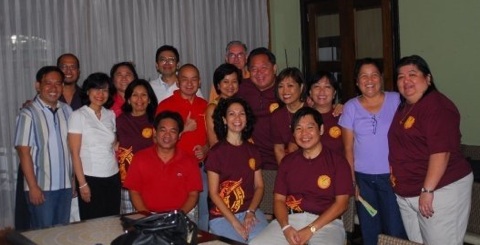 But it was business first as the UPCC Dean presented Future Plans for the college. The college population was just 30 back then and now it's 1,000. There is so much room for growth in this lovely campus.
It's probably been more than 30 years since I ventured to Carcar- Argao- Dalagit- Sibunga but I felt this Southern Exposure was not just a fun outing but a symbol of our growing spirituality in our lives even if some of us are not Catholics. Passing through Talisay reminded me of the family beach house during my high school days.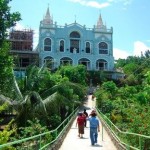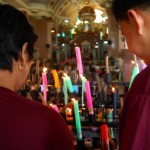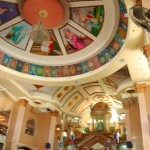 Simala's Monastery of Holy Eucharist
I am not a devout Catholic but whenever I visit these old baroque churches, I feel suddenly so "holy" and at peace. The Monastery of the Holy Eucharist is home to the Lady Of Fatima which is known to shed tears and bring miracles. I was not there for a miracle though as I prayed and lighted candles for my own special intentions : Love , peace and prosperity in my life and for the Philippines.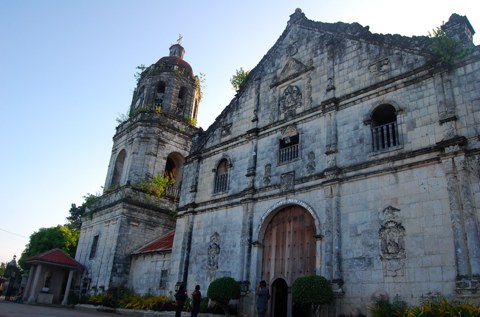 St. Michael Archangel Church in Argao, the construction this beautiful rococo-baroque church structure started in 1734 and was completed in 1788
Coincidentally, the St. Michael Archangel happens to be my husband's patron saint. St. Michael Archangel is depicted in the paintings and sculptures outside and inside this beautiful church. Ever since my son passed away, we think of him as an angel with God.
August 15– Pandanon Island Adventure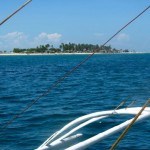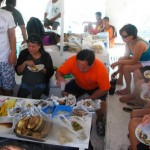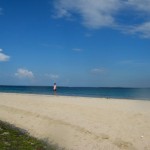 Pandanon island is far from Mactan resorts and its more accessible islands, It is part of the archipelago of North Bohol and is politically appended to Getafe.
There is nothing pretentious or fancy about this paradise in the middle of the sea, the Pandanon Island , pretty much the same description I'd give the "Best Friends Forever". Traveling via a motorized banca from Mactan Island, we made use of the travel time to reminisce about our past..the out of town trips, the teachers, the cliques, the crushes, the unrequited love and so much more that will just have to remain within the confines of that short boat ride. (yes, too bad you were not there) Feasting on "puso" (rice boiled in coconut fronds), Lechon manok, kilawin, Sinugbang Nukos (grilled squid), a fiesta atmosphere on board our humble picnic area marked another celebration of our friendship that continues to be no-frills yet meaningful and deep.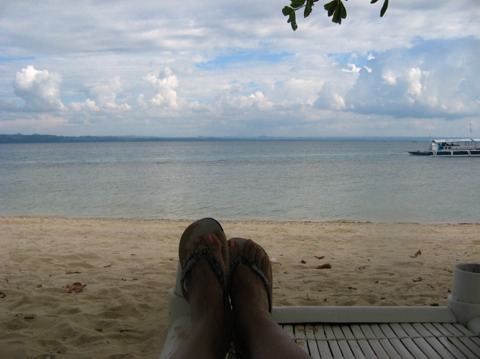 I sat back and relaxed on the lounging chair at Pandanon Island and peered over at my friends, laughing and being child-like just the way we were. I reflected on the significance of this reunion to my life.
Being with my "Best Friends Forever" Group or old friends help nurture my inner child of the present which we all need to do the rest of our lives…the fun loving, happy, frivolous, joyful, humorous moments when I was once young and unsophisticated, even if replaced with a sophisticated, mature and more serious me. It exists in my memory or subconscious because of the poignant memories of my past that helped shape my present motivation and future drive.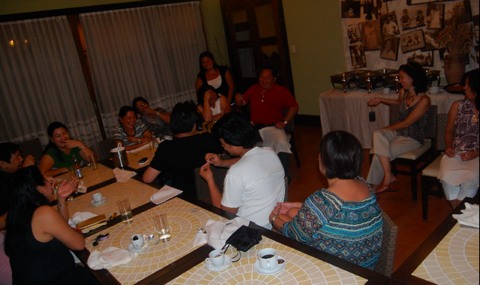 There is more to be said of our reunion but must be left unspoken here because it is just between "Best Friends Forever" and myself. But I will leave you with some lessons learned from this memorable "Best Friends Forever" Reunion.
1. Take time to play and have fun each day.
2. Be honest with others about your thoughts and feelings.
3. Enjoy the fruits of your labor with no guilt feelings.
4. First love is only a little foolishness and a lot of curiosity.
5. Set limits on how you are going to relate to others.
6. Not to be so serious, intense and inflexible about life.
7. It is OK to make mistakes, laugh at them and carry on.
8. A friend can tell you things you don't want to tell yourself.
9. Prayer helps us refine and affirm what we want out of life.
And most importantly, "A true friend reaches for your hand and touches your heart".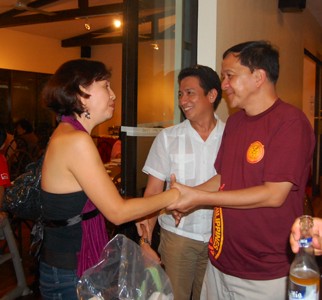 Yesterday brought the beginning, tomorrow brings the end, and somewhere in the middle we became the best of friends. ~Author Unknown
PS. As soon as I arrived in Manila, the "batman" left his cave and gave me a loving hug. All is well. 🙂