Let me explain.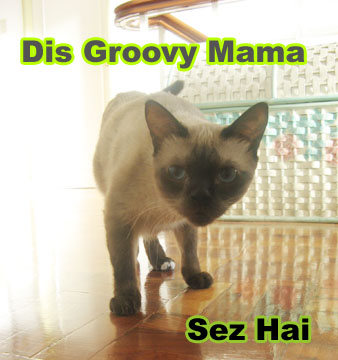 It started when I exclaimed "That's awesome!" to a plurk. Was it Baddie or Pau who noticed that I said that? I forgot who, but Helga begged that I utter LOLcat words. Lauren seemed visibly "annoyed" that her friends were encouraging me to LOLcat speak. If you don't know yet, LOLCat is an image combining a photograph, most frequently a cat, with a humorous and idiosyncratic caption in (often) broken English—a dialect which is known as "lolspeak", or "Kitteh!". The truth is I find LOLcat so funny. I love our cats and I sort of speak LOLcat to these furry creatures. I know my limits. I will sound ridiculous at my age to utter LOLCat words.
Many years ago, I believed it would have been far out . Can you dig it?
Being a seventies child, I often heard the word "generation gap" from my high school classmates. It occurred to me that one day I'd be a mother.
I'm not going to be that kind of mother.
I'd "betcha by golly wow" will strive to bridge that generation gap. I was gonna be in the groove of things. I twirled and peered into the mirror as I admired my long, waist-length hair, Hot Pants and neon orange top.
Yup, I will be a groovy mom. I will be their mother and maybe their best friend.