Protest against MERALCO electricity price hike. Join Facebook page.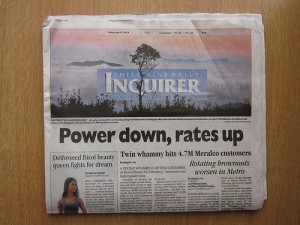 It was my daughter who first made me aware of Chuvaness Meralco bill for one month worth PHP 41,902.95 pesos. Poor Cecille has lost sleep and energy to do anything and trying to make sense of this. I too was perplexed when my usual bill of 8,000 pesos suddenly hit close to 15,000 pesos. Thinking it was my two girls airconditioning consumption, I advised them that our electricity bill was just too much. I thought it was that grounded lamp outside the gate.
Really, why does it have to be double that amount? Couldn't there have been some way for us to slowly absorb the cost?