Are you curious about the lifestyle of 7 to 14 year old Filipino children? Sure, we know they have the inherent ability to assimilate new technology and adapt to change at such phenomenal rates but how much? Today, I attended the presentation of Cartoon Networks' New Generations Philippines results of the first fully-localized study dedicated to Filipino kids with previous studies done in 2003 and 2005. Cartoon Network believes that such study is an integral part of its on-going quest to learn about kids, their lifestyle , opinions and behavior. The approach in conducting the study was based on face-to-face interviews with 1,000 child and parent pairs, surveying Filipino kids aged 7-14 years and their parents from socio-economics classes A to D in three metropolitan areas of Cebu, Davao and Manila in September and October 2007. Synovate Philippines was commissioned to conduct the survey.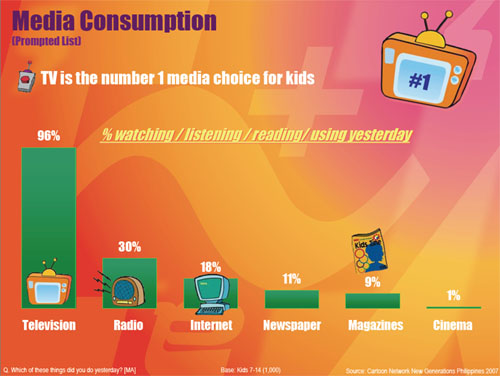 The results are quite disappointing. TV is the number one choice for kids among various forms of media consumption.
46% are internet users of which three quarters have their own homepage.
More than 75% go to malls with their parents at least once a month.
They've got PHP 37 billion to spend annually.