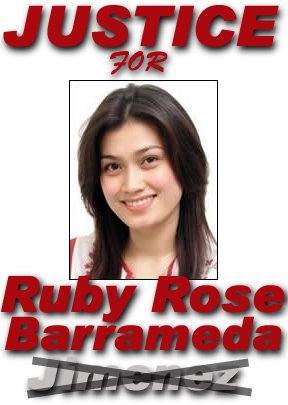 Image courtesy of Pedestrian Observer
Ruby Rose's death was just so shocking that it took me many days before I woke up from my stupor to blog about it. Her death was just too gruesome that even a seasoned police investigator found it difficult to describe the circumstances on how Ruby Rose was handcuffed and gagged with packaging tape before being strangled with a steel wire and cemented in a drum, which was then sealed in a steel case and dropped in the waters off Navotas. Now how disturbing and horrifying can that description ever get? Yesterday, Ruby Rose was finally laid to rest. Her dad's message just tore my heart out.
The grieving father, Roberto Barrameda, promised Ruby Rose that the family would continue to seek justice.

""We're sorry that your daughters are not here to see you. But you must understand their situation right now," Barrameda said in the direction of his daughter's casket.

Hours before the burial, Judge Gloria Aglugub of Las Piñas Regional Trial Court Branch 254 denied the Barramedas' petition to allow Ruby Rose's children to visit the wake.
Judge Gloria Aglugub released a resolution denying the motion of Ruby Rose Barrameda-Jimenez kin to allow the children of the deceased to visit the wake based on ridiculous notion that the children were not willing to go to the wake. Oh come on!
I am so angry at the violent nature of her death and more so, when the judge denied her children from attending their mom's funeral. Why are there so many legalities surrounding the custody of the children even at the time of the final resting rites? Despite the family rift, I know these kids love their mother and are grieving. Does taking away the kids' right to their mom's funeral protect them from further trauma? Sooner or later, Rose's kids will know the real story behind their mom's death.
The poor grieving children may not appear to be traumatized yet but they will surely re-experience or re-visit the loss every time they pass through a developmental stage. Grief and loss, when it takes place, cannot just be swept under the rug. Losing a mother is a real occurrence in a child's world and we must allow that child to grieve. As adults and caregivers, we must do everything in our power to help them navigate that journey from sadness to hope. But does Rose's father know that? or the judge?