One of the [tag]Christmas presents[/tag] I gave the two girls is a BLESSING BOX, an idea I got from Darcie Sims' The Blessing Box tip. And no, I don't think it's Oprah's original idea.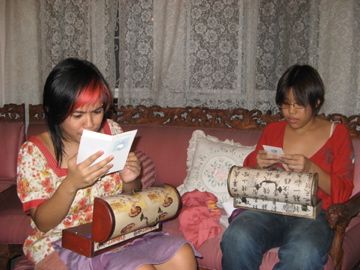 Inside this little box, are tiny messages and reminders of the joys and blessings of my life. Instead of keeping a litany of hurt and failure in my head, now I commit these "gifts of love" to paper and place them in my box, where I can read them, touch them, hold them any time I need to. This little box represents the best things in my life and I never again have to fear forgetting the love and the light in my life. They are all here, in my Blessing Box, waiting for me to cherish them again and again and again…

Make a [tag]Blessing Box[/tag] for yourself this season. And watch it change your life. Never again will you count what you have lost or forgotten. Now you will always be reminded of the treasures in your life. No matter how sparkly or rusted, these memories and blessings are yours, to treasure, to cherish, to keep, to hold, to share.
Days can get tough in the lives of the girls, so literally I hope they can count their blessings. Sometimes when life will deal them with a tough blow, I hope they open the Blessing Box, just to remind themselves of all the good things they have.

With intense concentration, the 2 girls read the long dedication in a Christmas greeting card . They had to concentrate because within the card was a tip on how to find their next gift. It forces them to read the whole card or else they won't know where to locate their "gift wish". They are lucky I didn't torture them with riddles. hehe