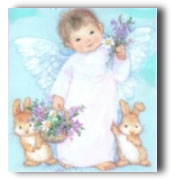 Pyro died. Another child left too soon. I only found out today about Pyro's death. I wished I had been there for his wake. For the past 11 months since I discovered Mec's blog on her pain over Pyro's illness, I longed for a miracle, hoping against hope that Pyro would make it. It reminds me of that fateful day when I thought Luijoe would also wake up from his unconsciousness. We always hope. We don't give up. I can't help but tear over Pyro's fate. Just a month earlier, Pyro had been treated for germ-cell carcinoma, an already rare type of cancer, only to have doctors abroad find that what he actually had was Ewing's Sarcoma… a rarer type of cancer. Despite having lost a child myself, I cannot say that I truly understand their pain. Pyro suffered for more than one year battling the ravages of a tumor that pressed on his heart and lungs. My Luijoe died a sudden death.
I cannot imagine their emotional roller-coaster of hope and fear: surgery or drug therapy may bring remission, a welcome period of normality and expectancy that the worst is past, only to have our hopes dashed as symptoms return with renewed intensity. The pain is unimaginable, unspeakable and excruciating.
Mec, the loving aunt of Pyro writes eloquently of her grief and her love for her nephew. Their grief journey has just started. For newly bereaved family members, everything has changed since the death of their child, especially their priorities. What was once so important is now comparatively trivial. What once gave them pleasure now feels somehow significant. Rather than make plans for a 'new, year', there are many who must learn to live with what has now become for them the 'new normal.'
While most of us talk of New Year goals, New Year's Resolutions , our newly bereaved parents and family members struggle towards a new normal, a new life without their beloved child.
Even though our stories are different and we can't know exactly what each other is feeling, we, more than anyone, come closest, and can validate each others so-called 'crazy thoughts' with the reassurance that what is felt and experienced is, for us, the 'new normal.'
In Memory of
Joseph Pyro Pinon
July 21, 2003 – December 27, 2006