Marie (not her real name) only knew bitterness and heartache after two failed marriages. Now 50 years old, her eyes glimmer with hope as her fiancee's trip to the Philippines nears. I felt her excitement as I asked "How did you meet him?" and Marie replied "Filipinaheart.com". She added "My friend is lucky she found a loving husband in the midwest. For years, she knew nothing but verbal and physical abuse from her husband-addict . She introduced me to the FilipinaHeart.com site". I never expected Marie to resort to a dating site to find another love, a third chance to find a man for keeps. Oh yes, I understood her loneliness. "You know, even if we are 50 years old, we are still attractive to men", she teased me. Of course I wouldn't know that since I have dated no other man in my life other than my husband for 29 years now. If I were in her shoes, I'd date all over again though. Her eyes lit up as she shared her webcam conversations with her fiancee. It felt like high school all over again as we continued on with our girl talk. Marie is just one of the many faces of the Filipina. She is is an upper middle-class, educated, pretty and kind person. I've never met anyone who used a dating site so her experience really piqued my curiousity. I asked tons of questions and her answers? Well, I 'd rather keep them to myself.
What I realized now is those photos in the Filipina dating websites are just photos. We don't know the story of their lives. The image of a Filipina is not merely a photo as she can be your friend who's there for you, no matter what, your sister, mom or the broken-hearted woman.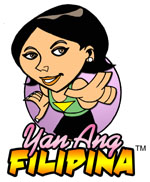 It's been four months now since the Filipina Images was first launched on August 8, 2007. To refresh your memory, the FilipinaImages.com is a collaborative effort of all the bloggers, inspired by past Filipina SEO campaign and recently revived by Dine Racoma, Lorna and myself. We didn't want The Filipina Campaign to end in our respective blogs and die a natural death. The Filipina Campaign is a never-ending project. It doesn't belong or benefit to one individual or organization. It is not self-serving. It is not link-bait either. It is timeless and relevant.
There is progress in the last four months:
1. In two months after the launch, FilipinaImages.com is Page One In Google Search Engine Results Page (SERPs) for Filipina and even became number 1 in US Google SERP's
2. My sister as co-founder was recognized among others for her role in the Filipina Images and given an award 100 Most Influential Filipina Women in the U.S..
3. Jayvee believes that Filipinaimages.com should be nominated in the Anvil Awards. In his entry, Philippine Blogosphere Pitch: Why not aim for the Anvil Awards?, he cites
What exactly am I pitching? Why can't we pitch the ongoing Filipinas Campaign as an entry in the 44th Anvil Awards happening in February 2009. ….

In fear of misrepresenting the Philippine blogosphere again ( ) I would like to enumerate the benefits of having the local blogosphere and SEO industry work as a beneficiary and stakeholder submit the campaign as an entry. First, it gives due recognition to the booming SEO industry in the Philippines. Second, it can be a platform to turn the Filipinas campaign into something even bigger in the future. Third, it shows a united effort among the online community to come up with a purely online multi-sectoral entry. This will REDEFINE the Philippine online community to the public eye, as it sometimes seems like we're all just preaching to the choir.
In just a few months, we have achieved a balance of "Filipina" Search Engine Results (SERPs). Thank you for being a part of this campaign. The Filipina heart is beautifully shown in all the 100 plus entries.
– – –
As a thank you gift, I am giving away three wordpress t-shirts (view sample). If you have linked FilipinaImages.com, you could win a chance to get a free wordpress t-shirt. Raffle will be on or before December 5, 2007 with 2 bloggers as witness. Yes, three t-shirts to be raffled off. Sign up here or post a comment below with a link to your Filipina entry.