Every man ought to be a macho macho man,
To live a life of freedom, machos make a stand,
Have their own life style and ideals,
Possess the strength and confidence, life's a steal,
You can best believe that he's a macho man
He's a special person in anybody's land. (Village People – Macho Man)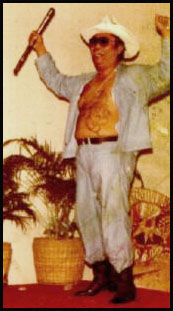 Dad dancing Village People "Macho Man" at a Christmas Party in the late seventies
It's the booming laughter I remember the most. It's a laughter that runs across the room that never failed to cheer me up. My father may have passed away 17 years ago today but his sense of humor, the laughter and the positive attitude remains alive in me.
My earliest memory of dad was his round belly that looked like a pillow stuffed under his polo-shirt. I was convinced that fathers also got pregnant just like mom. As I grew, a little older and a little wiser, I realized his paunch stayed the same way, and no baby would ever come out of it. That often puzzled me. I often laid my head on his soft paunch, but only just for a minute because dad would find it uncomfortable.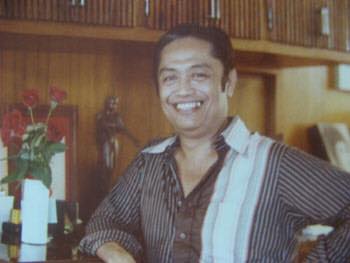 My sister , Myrna believes that dad's legacy is his example of strength and perseverance to us, the seven children and eighteen grandchildren. I learned by watching him suffer from the ravages of Stroke, that I should never give up on life, and to hold on to every precious moment with my loved ones, fully aware that, like a candle's flame, life can flicker out in an instant. His laughter just resonated . Enthusiastic, effervescent, so full of life!
Above all these, the best thing dad gave us is his legacy of true love and family devotion. Even though he is gone, that love and strength of character live on as we now pass these to my daughters, to our granddaughter's' children, and so forth down the generation line.
Listen to my podcast of this post
Today, I want to remember my Daddy old boy, round and pudgy, full of life, his voice confidently booming across a room, his loud laughter rising above a crowd. He may not have the body of a muscled macho man, but he lived the style, the ideals, the strength and confidence of a true-blue macho man.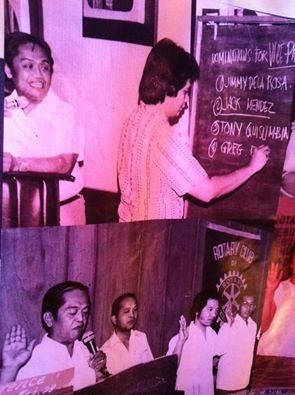 My dad has always been my role model. I may have been a late bloomer in citizen empowerment and community work, but Dad was always at the back of my mind all these years. I hope he is proud of his children, who in one way or another are following his lead. My Dad, Jose P Lardizabal, was our role model for community service and leadership. Dad was an accountant and a corporate man but he was very active in PICPA, Jaycees, Rotary (a Past District Governor), Caritas (Board President), Sacred Hospital and Southwestern Univ, St Martin de Porres (for special children), Enercon (chairman), Sinulog (Chairman), UP Cebu MBA, and many more.
Dad is a special person in anybody's land. He is alive and well in my treasured box of memories. May Dad still be smiling down upon us from Heaven, happy about how our lives have turned out.
I miss you, dad.