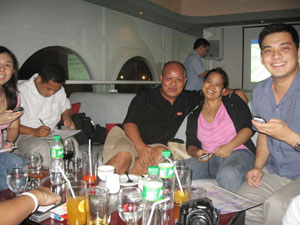 I had so much fun tonight. Actually the most exciting part of the night was finally meeting and chilling with techies and bloggers in real physical time. I am thankful though that Globe-Innove sponsored this meet. For the first time in my life, I felt that I was not alone in my passion for internet work and online activities. I don't know many people my age that are into the online world of blogging or even e-commerce.
Before the division into 2 groups, early birds like Jayvee, Abe (such an exuberant guy), Kiven, Bimbo and myself ate and talked about well…Google adsense. Psst, we can share Adsene tips some other time.
What can I say? The food, the company was great!
In Group 1 , I was joined by web developers/designers Markku, Bimbo Isidro , Rico and Kiven hoping that our google page rank increases as we socialize. Group 2 was larger because they were near the door. They were also so noisy! Hehe. I didn't get to meet all of the Group 2 bloggers except for Connie (she's so pretty in person. Her pics don't do her justice), Jayvee (A handsome SINGLE guy with a winning smile), Jangelo ( such a devoted husband who brought along his lovely wife) and , Mark (whom I met towards the end of the meet). Hopefully I can get to talk to Gail and Anton in another bloggers meet.
So what did the Globe-Innove ask from us? I think they gathered our views on the internet, outlook in life, our blogging purpose, etc in order for the future developments or improvements of their products or services. The recommendations from our group covered some of our complaints against Internet Service Providers in the Philippines.
1. Don't congest the DSL/ lines and set/deliver a minumum standard of broadband connection
2. Trained customer service
3. Remove lock out period
4. offer a money back guarantee
What I wanted is the Globe Visibility or the like where I have the ability to surf anywhere even in the mountains. But I understand Globe Innove doesn't handle that service. The byline of Globe Visibility is "For business that goes places"….hm, can they consider bloggers as businessmen? (*Edit- Read my latest entry on Globe Visibility and my Macbook)
View Some photos (I'm not in there)
And Globe-Innove gave us a gift pack. Whee! Boo!
A jacket, knick knacks, and a one month worldpass where we can use unlimited wi-fi for free (?) I'm not sure what it can give. Too bad it wasn't a one year pass . Hmm.
A bloggers meet is good for the soul! So much laughter that can surely destress your worries for the day. Till next time, bloggers.
Thanks again Jayvee (and Globe Innove) for inviting me to this fun gathering.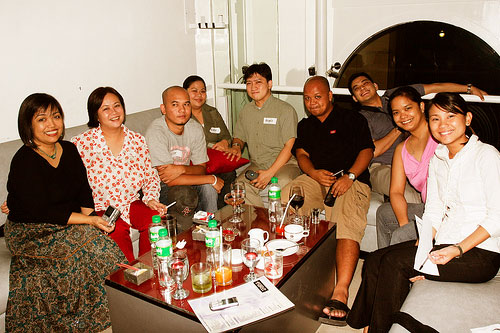 The above photo from Anton
you can read other entries from
Kiven on Globe-Innove Blogger Meet at Greenbelt 2
Gail on A night with bloggers
Bimbo on Globe Innove Blogger Meet
Anton on Power Blogger's Meet and Unfulfilled Expectation
Abe on Link Building Strategy (Globe Innove Blogger Meetup)
Connie on The Globe Innove meet-up
Jangelo on A Missed Opportunity (My Thoughts on the Globe Innove Sponsored Bloggers' Meetup)
Jayvee on Globe Innove Aftermath
Marc on Globe's Blogging Adventure
From other bloggers who were not present at the Meet:
Migs Paraz on Globe/Innove Bloggers Meetup: A Wasted Opportunity?