Death leaves a heartache no one can heal,
love leaves a memory no one can steal.
~From a headstone in Ireland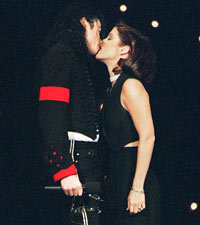 Lisa Marie Presley is obviously in grief. She is devastated. In her heart-wrenching blog entry,
He Knew
, Lisa is gutted and feels like she could have done more for her ex-husband, Michael Jackson.
14 years later I am sitting here watching on the news an ambulance leaves the driveway of his home, the big gates, the crowds outside the gates, the coverage, the crowds outside the hospital, the Cause of death and what may have led up to it and the memory of this conversation hit me, as did the unstoppable tears.

A predicted ending by him, by loved ones and by me, but what I didn't predict was how much it was going to hurt when it finally happened.

The person I failed to help is being transferred right now to the LA County Coroners office for his Autopsy.

All of my indifference and detachment that I worked so hard to achieve over the years has just gone into the bowels of hell and right now I am gutted.

I am going to say now what I have never said before because I want the truth out there for once.

Our relationship was not "a sham" as is being reported in the press. It was an unusual relationship yes, where two unusual people who did not live or know a "Normal life" found a connection, perhaps with some suspect timing on his part. Nonetheless, I do believe he loved me as much as he could love anyone and I loved him very much.

I wanted to "save him" I wanted to save him from the inevitable which is what has just happened.

His family and his loved ones also wanted to save him from this as well but didn't know how and this was 14 years ago. We all worried that this would be the outcome then.

At that time, In trying to save him, I almost lost myself.
One of her readers hit the nail when she commented on " No matter how much you love someone, you cannot control them. I'm sure you have learned that just from being a parent. People are going to do what they are going to do. If you throw a rope to a drowning man, he still must grab it. You threw a rope, and you kept it there for a long time. He could have grabbed it if he wanted to; for whatever reason he didn't take it. I'm sure many threw him ropes, some wanting to help him, some wanting to hang him. You did what you could, and of course your children must come first. If you chose otherwise, then you would be suspect"
Leslie did all she could. Sometimes people we love do things we don't approve of. We react. They react. Before long, we are all reacting to each other and the problem just gets worse. Leslie did the right thing to detach with love. When we get hooked into an attempt to control or force others to do something they don't want to do, it is hurting us. When the way we're reacting isn't helping the person or solving the person, it is time to detach. And she did detach for her sake and that of her children.
We are not in control of people, places and the past. The only thing we can control is our own person, our attitude. At that point in time, I believe Leslie did the right choice.
Today, her entry shows the searing pain of grief and questions now filling her mind. Regretful statements uttered so commonly by the bereaved are "If only"… I , too, have asked the same. I have heard other bereaved ask many questions, echoed by my own, of 'why', 'what if", the "would've-should've-could've's', and hundreds of other cries of grief that burn inside each of us.
As soon as one receives the news of a loved one, shock, numbness, denial, and disbelief are often experienced. The gamut of emotions is a cushion against the full impact of the loss. As time passes and these emotions wear off, others emerge, often including guilt, anger, loneliness, despair, sadness, and regret. These feelings are all part of the emotional reaction called "grief" and may be so overwhelming that one often does not understand what they are experiencing.
It is good that Lisa expressed her grief in a blog entry. It is healthy for newly bereaved to express their grief in a positive way.
Newly bereaved shouldn't take the advice of those around to ""get hold of yourself." On the contrary, one should surrender to their pain. The newly bereaved are not limited to Michael Jackson's family or close friends. As fans, Michael Jackson's music entered our lives and is part of our treasured memories. Even if fans didn't really know him personally, there is a connection and naturally one also grieves the loss of someone who touched their lives. It is okay to grieve too.
I hope those are also grieving a loss or death of a loved one release their grief and know that it is normal.
Cry. Wail. Rant. Wring your hands. Voice your anger, your guilts, your regrets. Expend your pent-up emotions. You will feel much better afterwards.
I am sure Lisa feels better now after she voiced out her grief.