Tired from aimlessly walking around the Eastwood mall, I sat by the door with my daughter while waiting for Butch to pick me up. Who would drop by in front of me but this friendly Santa Claus who then chirped "Hello" with a gleaming smile. I smiled back at him and asked for a photo. Snap…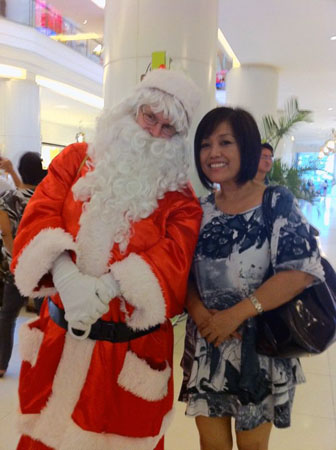 Santa Claus is so much a part of my childhood memories. Feeling like a kid, I wanted so much to have a photo shoot with Santa Claus again. My overweight dad was often chosen to wear Santa Claus costume during children's parties. I was five years old when I first caught daddy playing Santa Claus in parties. He was dressed all in red and white fur, from his head to his foot. A bundle of toys flung on his back, and he looked like a peddler just opening his pack. As he handed me a gift, I saw his wedding ring and my eyes beamed "Daddy is Santa Claus". He pretended not to hear me but I knew. For some reason, I still believed in Santa Claus.
I stopped believing Santa Claus was real by the age of seven. It was my sister Lorna who told me that she caught dad placing gifts by the bed. For some reason, I was not disappointed. In my child's mind, daddy is the real Santa Claus.
It's always good for us to pause
And think awhile of Santa Claus–
That jolly symbol we revere
When we approach the changing year.
Behind his beard so long and white,
In which our children take delight,
There beats a heart from color free
Which bids all children "come to me."
MARSHALL M. MORGAN, "The Spirit of Santa Claus
And just like the spirit of Santa Claus, my jolly dad's laughter boomed throughout the house just like Santa Claus' "ho-ho-ho". From then on, he asked us to make a wishlist just before Christmas. I was giddy to receive more than one gift. The surprise of unwrapping gifts thrilled me. One thing he always bought us were board games like scrabble, Chinese checkers, the game of generals, Monopoly. I felt so much love and warmth from my dad. These precious memories is what I carried to my family.
Dad is not around now. He died 7 years ago on a Holiday season of all months. Perhaps he wanted to remind us about the spirit of Santa Claus.
Santa Claus is anyone who loves another and seeks to make them happy;
who gives himself by thought or word or deed in every gift
that he bestows;
who shares his joys with those who are sad;
whose hand is never closed against the needy;
whose arm is ever outstretched to aid the week; whose sympathy is quick and genuine
in time of trouble;
who recognizes a comrade and brother in every man he meets upon life's common road;
who lives his life throughout
the entire year in the Christmas spirit. –
EDWIN OSGOOD GROVER, Vicki Howard's The Book of Santa Claus
Just like Francis Church said the world would be dreary if there was no Santa Claus!… There would be no childlike faith then, no poetry, no romance to make tolerable this existence."
I believe in the spirit of Santa Claus.