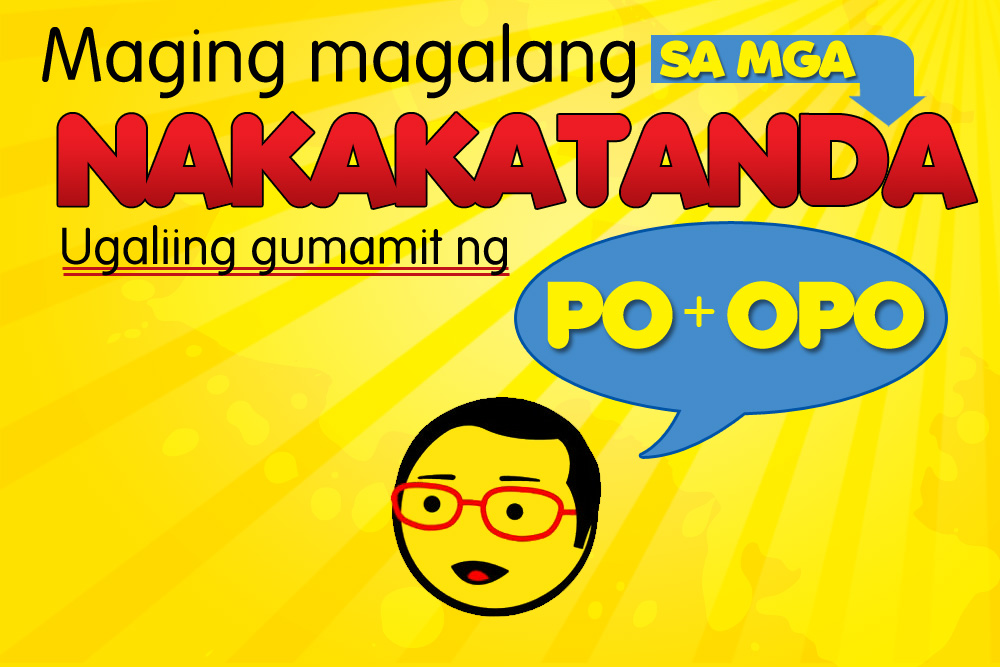 Image via benjaminivanlamiagratitudine.blogspot.com
Mom, you never taught us how to say "Po" and "Opo", complained my two daughters. I felt guilty. Did it reflect badly on my parenting skill?
Saying "Po" and "Opo" is foreign to me. (In Filipino if some phrases or sentences ends in "po", "opo", "oho", "ho" or has these words, it only means that you do have a high respect or you are very polite to the person your talking to.) I choke on the words. Not that I am rude but being raised in Cebu during my formative years, those Filipino polite words are non-existent in the Cebuano vocabulary.
I often wondered why my parents didn't teach us either. They spoke in Tagalog. I guess it was because we lived in Cebu and they didn't want to confuse us with the dialect.
As much as I'd like to attribute every aspect of our submissive nature to the Spaniards, the word "po" " actually traces way back to our Pre-Hispanic roots. It comes from the Malay word "Pupo", a sort of verbal equivalent of the Thai greeting and sign of respect that involves joining one's open palms together. Words, signs, and gestures of respect towards elders and superiors are in fact quite common in Asia; from the Japanese, to the Koreans, to the Vietnamese." I asked one of my friends who is used to saying "po" and she said that  "growing up, the word "po" was never drilled into my head. It was almost as if I learned it through osmosis, like it was just a fact of life, along the lines of hamog or binat. I belonged to a different generation, of course; a generation that still played outdoors every afternoon, back when habulang base, patintero, and piko actually existed in real life and not just in textbooks."
I remember a conversation between my aunt and dad. My aunt chastised my dad that we were impolite children just because we didn't address her with a "po" and "opo". I would have agreed with her but we spoke to her in English and it didn't seem right to end each sentence with "po" and "opo". At that time, I wasn't too fluent in Tagalog (still not fluent but getting there) so how can I labeled rude or impolite?
Not saying "po" or "opo" does not hold value to me. I just wasn't used to saying it. During my twenties, I tried to get into the habit of saying "po" and "opo" since I already lived in Manila and guess what? I ended up saying "po" and "opo" to the guards, the vendors, my peers, and just about anyone. I embarrassed myself even more.
It's great that a majority of Filipinos still have words like "po" and "opo." They're unique, charming, and truly Filipino. But let's save them for our mothers, fathers, aunts, uncles, and grandparents; people who deserve our respect just by virtue of their existence. Because whenever we over-use these words, we're only giving other people reason to disrespect us.
Most Filipinos may say "po" or "opo" but are they polite or courteous in the MRT?  The ""me first" mentality I see in queues drive me nuts. And don't start me on the mad driving skills on Manila's snarled highways.