Thirteen Things On My Work Station
I am quite a minimalist. I abhor clutter and like to keep most of my envelopes and papers inside the drawers but it's impossible to clear my work station totally. Here are the 13 things lying on on my table right now:
1. My desktop 21 inch monitor, of course.
2. My PLDT telephone
3. My Web Awards
4. Picture Frames standing on the desk
5. My Starbucks Planner
6. HP Office Desk Jet
7. A notepad
8. Calculator
9. Ants
10. Recipe Book
11. Beeges CD Cover (which is playing)
12. BPI Credit Card Bill which I have to pay online
13. My Macbook
And here is my work station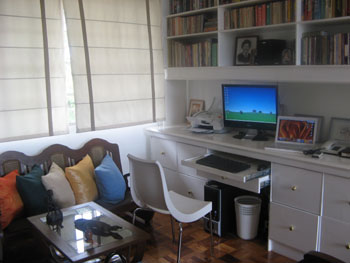 Get the Thursday Thirteen code here!
The purpose of the meme is to get to know everyone who participates a little bit better every Thursday. Visiting fellow Thirteeners is encouraged! If you participate, leave the link to your [tag]Thursday Thirteen[/tag] in others' comments. It's easy, and fun! Trackbacks, pings, comment links accepted!
View More Thursday Thirteen Participants