Time = life; therefore, waste your time and waste of your life, or master your time and master your life. Alan Lakein
My first job as a Production Supervisor at a candy factory was to undertake a study on the time and motion activities which I used later on for implementing a production schedule. The techniques I learned as Production Supervisor came in really handy when I became a parent 5 years later. As moms, we learned to multi-task and set priorities in our child-rearing activities not to mention work, couple and me time!
Benjamin Franklin once said, "Do you love life? Then do not squander time, for that's the stuff that life is made of."
If there is one thing I am proud of my kids (even my departed son), they knew time management. Never were they tardy for school. Never did I ever have to yell at them "Come on, hurry up". Sure, sometimes it was hard to wake them up but they knew the schedule of each school day and their play time. Their dad may not be a prompt person but you know the kids didn't have to follow their father's footsteps. There is no such thing as inherited trait of "being late". Teaching my children the values early on in life , particularly the important lesson of time management was crucial part of their growing years. I prepared them for a lifetime of self-discipline helped them in their adulthood.
Time management is not necessarily about getting lots of stuff done, because much more important than that is making sure that you are working on the right things, the things that truly need to be done.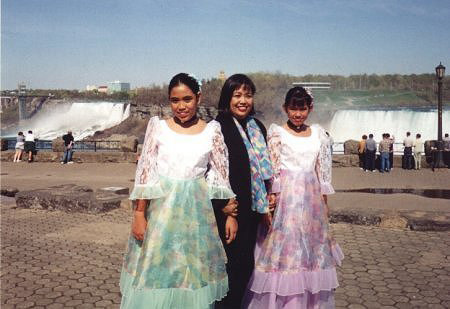 During their pre-teen years, my two girls traveled twice to the USA and Canada through a
children's choir
. This entailed discipline and time management skills when it came to costume changes that needed to be done in 1 minute. It also involved checking travel times and being prompt during rehearsals. I am proud to say that the two girls were never lectured by their choir conductor for tardiness. How did I teach my kids?
1. Set clear priorities on daily activities.
This means give a daily schedule. There was a time for schoolwork, naps and play time. By the time, the girls ate solid food, I gave them an hour to finish their lunch. If they weren't done, I removed the plate. The consequence of getting hungry is not eating their lunch properly. They learned that one has to eat at the proper time. Bedtime was also strictly followed. No late nights for my kids up to their pre-teen years. As they reached their teen years, I gave more allowances for them to arrange their schedules but still the bedtime and waking up rule was followed.
2. There are consequences if time is not managed properly.
Of course they knew this very clearly once they were at school. Tardiness had consequences. In fact, I remember as a kid, the tardy were listed in the blackboard.
3. Give them an idea on the possible duration of an activity.

As young kids, I didn't want them to study long hours so I told them that the maximum is only 2 hours, from 6:00 to 8:00 PM. They had to finish their homework really quickly or their assigned tasks. It worked quite well and by the time they reached their fourth grade, the kids studied on their own. I reminded them though when bedtime was coming soon, "It's almost bedtime. Ten minutes more so wrap things up".
I learned to adjust the lesson of time management at every stage of my kids' life. I gave them more leeway to make decisions on their own and handle their schedules properly. It helped that I installed time-telling tools such as clocks in every room of the house and gave them watches to monitor their time.
I often told them that if they didn't manage their time well, they will be far less productive than they could be and get a lot less done. They will also feel much more stressed and overwhelmed, and struggle to find time to spend with the people they care about and to do the things they enjoy.
My two girls are not little girls anymore. In fact, they are adults, working and busy managing their work and social life. Lauren knows when to work hard, and play hard that she even took the time off to New York for a short vacation. M is devoted to her new job but takes the weekend off to socialize with her friends.
Without doubt, parents should give their children an early head start on the lesson of time management. With proper guidance and the right tools , kids will definitely learn this important lesson well.
As a treat, I am having a contest for mommies out there in cooperation with Kids Watch Central (KWC)
KWC Time Management for Mom and Kids
1. Please share the most effective time management techniques that you give out to your kids via the comment section below.
2. Share short anecdotes on how you implement these techniques and what was the outcome of these to your children.
Place it in the comment section.
Aside from managing your time for the different activities that they undertake, teaching kids how to tell time also gives kids a head start on the virtue of discipline.
The three (3) most unique and interesting comments will be given one (1) Kids Watch Central Watch.
Deadline for Submission of Entries is until July 20, 2009. I will edit this entry to announce the 3 winners. Please note that I reserve to change the winners if I find out that you also won in Teacher Julie, Imomonline, Yoga Jane or from Jenn Tan. Good luck!
Winners may claim their prizes at GeiserMaclang c/o Arbee Panga at Unit 7D Tuscan Building, 114 V.A. Rufino St., Legaspi Village, Makati City.