You don`t have to be a "person of influence" to be influential. In fact, the most influential people in my life are probably not even aware of the things they've taught me. Scott Adams
In 2007, I drew up my top 10 list of Influential Emerging blogs. Today, 8 out of 10 continue to be influential bloggers except for two blogs that are now gone. Not a bad forecast, right? This year, I continue to support the Top 10 Emerging Influential Blogs for 2009 Writing Project. Let me just tell you that my choice of the top 10 is based on blog-hopping from fellow bloggers' suggestion in social media, friendships and my belief that these blogs will emerge as Influential blogs not just for 2009 but in the years to come.
1. Ukay Manila
I know I am biased because the blog owner is my daughter. Disclosure now in the open, let me move on. See, in the light of the current economic situation, one should find means to diversify income and become prudent in consumer spending. Lauren hits both objectives when she launched this blog on December 2008.
I believe ukay shopping is a way of resisting the consumerist logic of today. People don't really need a top that costs P800 or a pair of jeans that cost P3,000, but we buy them anyway. Why? Because we are all advertising targets who are led to think that filling up our wardrobes with overpriced (but mass-produced!) clothes is the only way we can feel good and go about ""expressing our individuality and style".
Carlo Ople struck a nerve when he classified bloggers for PR practitioners. I believe he became influential because, his name crops up when mentioned in blog conferences or round table discussions. It spurred discussion on encouraging bloggers to create quality content. Other blog topics bore fruit that contradict Carlo's classification of bloggers.
Founded by seven of my mom-blogger friends, this is a blog to watch for. The group's shared vision among seven mothers…seven friends….all partners in a journey will bring Filipino mothers into the world stage. Mom bloggers are influential- to reach out to other moms to indeed rule the world by raising the next generation of good citizens for our country. Well, we already know moms are running the world, because they're are the ones who nurture us, every child to their adulthood, our presidents, CEOs, another set of mothers and more.
4. Patay Gutom
I've known this food blog even before the Patay Gutom Bloggers became controversial in Carlo Ople's entry on 4 Types of Bloggers: Value, Hobby, Journal, and Google. They are anything but patay gutom, by the way. They are influential because I feel they are inspiring bloggers to start a blog out of passion and fun! Lovely photos in their entries too.
5. Hay! Men! Ang Blog ng Tunay na Lalake
See family members laughing? The Tunay na Lalake blog is an alternative to Home entertainment.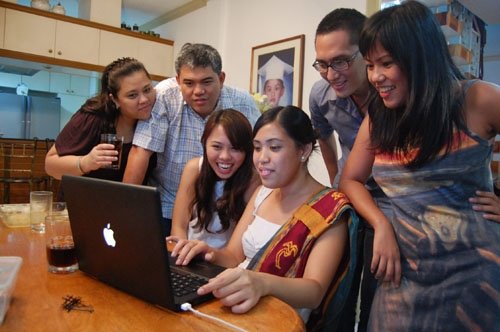 Influential because the humor is very contagious and we can take a moment to laugh it off instead of dwelling on negativity.
I believe most of us are struggling bloggers. Even I look at myself as a work in progress. One point in our little lives as bloggers, we struggle to achieve something, no matter how small or big the goals are. When I started this blog, I felt exactly like Roy, Struggles aren't new to me, I don't even know why I still exist and how I survived. and slowly, I started a new life.
7. Dilis Media
Who doesn't know Juned? Well, he's not a newbie when it comes to blogging. But…I love the magazine blog format. That is something I have never done. I know a lot of bloggers have one or two blogs and even more. Reading diverse topics is akin to munching on dilis . As Juned aptly says One cannot survive on a single Dilis. One can but it will not be satisfactory. It will not appease the hunger and provide one with the needed energy. One needs to eat more than one. As such this blog came about.. Juned is also a brilliant writer and I want to write like him but that would make me a copycat, right? That would be taboo, too.
I like family blogs and a group of cousins that chronicle their adventures (or misadventures) seem like fun. My own adventures with my cousins during my teen years would have made it to a blog post if only blogs were in existence then. I believe we should encourage more group blogs that chronicle family bonding experience.
9. Regnard Raquedan: Self-Titled
08-08-08. The date that Regnard started his blog. Yes, an auspicious day to start a blog. I have always known Regnard as a Web & Usability Consultant, very influential in web development and internet marketing and that's about it. Finally, through his personal blog, I get to peek a bit into his personal life. Not that I want to stalk him, but it is always good to know the person behind all that techie know-how.
I love Ria's enthusiam towards making the most out of teaching and learning.. inside and outside the four walls of the classroom. I hold a high respect for teachers as they help shape the future of our country through education.
There are tons of new blogs out there but I am limited to listing down ten blogs only. It is my hope that most of them make it to the final top 10 but even if not, I believe my top 10 will evolve as the influential blogs that make things happen.
You too can nominate your choices for Emerging Influential Blogs of 2009 and check out their official site.
Thanks to the sponsors: Absolute Traders, My Brute Cheats, and Business Summaries.
Join the Top 10 Influential Emerging Blogs for 2009 Writing Project.