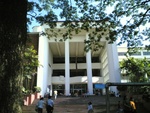 Michael Tan's Opinion column on the "World's Best Universities" which he based on the Times Higher Education Supplement-Quacquarelli Symonds (THES-QS) World University Rankings provided so many insights on the state of Philippine Education . I'm glad to see that the universities of my two girls made it to the top 500 , including two other universities. We can't compare the Philippines to America, Australia or the UK. Harvard is the number 1 school followed by Cambridge. But take look at Indonesia, a country less developed than the Philippines. It had three universities, all state-run, beating us in rankings
Let's look at how the Philippines did. The University of the Philippines (UP) came in 299th globally and 47th among Asian universities. I have to say that's not too bad, considering how UP has had to plod along with shrinking budgets and with the flight of so many good professors. Trailing behind UP were three private universities: De La Salle (392nd), Ateneo de Manila (484th) and, talk about a photo finish, the University of Santo Tomas at 500th.
With slashed budget from our government, it's surprising that the state university is still alive and kicking. When I brought M around the UP campus as an incoming freshman, I was appalled at Palma Hall's old chairs, broken windows, and dirty walls. It was as if they had not done any cosmetic renovation since I graduated over 30 years ago. I was confident that UP had dedicated professors inspite of the decrepit state of some classrooms. In the beginning, M's heart was really not into the state university. She wanted to join her eldest sister at Ateneo. I insisted that UP is the better school and for economic reasons, it was the better option than Ateneo. I convinced her that her maternal grandmother was one of the pioneer students of the UP Diliman Campus. It was my mother's legacy to pass on the values and great education that UP had to offer. After much tears and several arguments, she relented. Today , M is full of gratitude that she chose UP.
Now what about Ateneo? L is not too happy with Ateneo not because of the education but on the student mix. I'd rather not discuss that here because that is her personal opinion. As a parent, I'm not completely satisfied if the tuition fee investment is worth it. This is just one example. Ateneo does not have computerized or online registration. Maybe they had years ago but today, it does not exist. I know UP and La Salle has, and even the university where my husband is connected. Ateneans have to queue based on their random number on their scheduled day. Not only that , they have to go to the Ateneo campus to retrieve their grades. I know I am comparing UP and Ateneo but still, compare the semestral UP tuition of 7,000 pesos ($140) versus Ateneo's 55,000 pesos ($1,100). As to the quality of education, I believe M gets a better deal compared to L. Education is not all about academics and campus activities. (*edit November 7-The latter sentence was misunderstood by an Atenean loyalist I think. What I meant in the last sentence was that the heterogenous campus mix in UP gives M a distinct advantage over L's Ateneo's student population. See first sentence of this paragraph. )
UP is still among the world's best, but if we worked harder on the entire educational system, we should have more reason to be proud. Ultimately, we should be able to look at these university rankings as indicators of our current development strategies, as well as predictors of the country's future.
Edit (November 21,2007) Based on the current Times Higher Education Supplement and QS Top Universities survey, only 2 universities in the Philippines make it to the top 500
1. UP drops from rank 299 to 398.
2. Ateneo now outranks La Salle taking the 451th rank
3. La Salle is not in the top 500 (now at 519)
4. UST drops out of the top 500 and is now at 535
Also read Low rankings for RP universities
UP, meanwhile, has not been giving data to THES-QS survey for two years, said Jose Wendell P. Capili, associate dean for academic affairs of the College of Arts and Letters, and yet it continues to rank. While something to crow about, there is a sense in UP that it's still better than a number of universities on the THES-QS list. Many UP officials also feel the ranking is skewed toward schools with money, and that it does not have emphasis for fields such as arts and the humanities, Mr. Capili said.

But UP economist Solita C. Monsod said Philippine universities should treat the rankings as a "wake-up call."

"[We should not have this] false sense of righteousness … everybody is being compared to everybody," she told BusinessWorld.

Local universities should also not take offense that others in the region have a higher rank, because "it is what it is." At least, the global rankings are a "consistent benchmark," Ms. Monsod said.