In the past two days after Typhoon Milenyo ravaged Metro Manila, I was able to drive around the city and take a few photos of the devastation including Fallen billboards (Milenyo" toppled at least 30 billboards in the metropolis)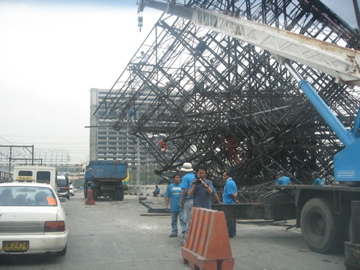 When the influx of billboards invaded Metro Manila highways , the sight suffocated me. What an eyesore! I don't know with you but I don't enjoy watching these ads. I guess it was the visual pollution that got to me. Too much visual clutter or clutter surrounding my confines disorient me. I need to see a blue skies of the horizon and the landspace as far as my eyesight can see. But no, the billboards loom in front of me taunting me to purchase or be loyal to their products or service.The use of provocative images like Bench Ads, the old Bayantel Satisfaction guarantee ad, and many others infuriated me. Not only are these billboards an eyesore, it's a motorist distraction which could lead to accidents and injuries. Three months ago, the work towards the ban on billboard gained media coverage. When I blogged about the ban on billboards , Bayani Fernando initiated the dismantling of these billboards. But some local mayor arrested the MMDA workers and Bayani got smacked with a restraining order to cease and desist the dismantling. Why? Because these ad agencies have the right to recoup their investments on their gigantic billboards. Or are they protecting the pockets of the local government conspirators? Never in their wildest imagination did the judges consider that these billboards can cause possible deaths and inconvenience to the public. True, business need to be protected but not to the detriment of the public good.
Before typhoon Milenyo struck Metro Manila, a few accidents already occured such as a house crushed under the weight of the towering giant and that time the Metro Rail Transit came to a halt when the billboard landed on its tracks and caused an electrical short. Still there was no action taken by the local government. Afraid of losing revenue ? or money in their pockets?
Did it take Typhoon Milenyo to finally make them realize the dangers of these gigantic billboards?
With the death of a driver from a killer billboard in EDSA, local government officials are now all for the ban of billboards.
" What can I say. I told you so" says Bayani Fernando as he supervised the cleaning operations.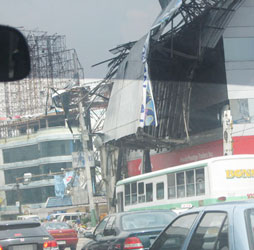 The Billboard (now partially removed) that killed a driver in a van along EDSA, Estrella St in Makati City
One of my daughters is leery of the existing trusses that withstood the ravaging wrath of Typhoon Milenyo. Are these structures stable after it was shaken by Typhoon Milenyo? she quips. I fear for the safety of everyone who pass along the major thoroughfares in Metro Manila. Another typhoon is forecasted to arrive in the next 4 days. What if one of these structures fall down? Should we wait for another disaster to happen?
Before and After Photos of a Billboard ad in Ortigas Avenue/C5
As of this writing, most of the tarpaulins have not been unfolded for public view. If the ad agencies place these back up, I will only be reminded of the deaths , injuries, property damage, and potential dangers. When I see a billboard ad of say "a restaurant", I will view this ad with anger and disdain.
In the past, these ad agencies discovered that billboard ad campaign worked to develop brand loyalty and product recall. Let us tell these advertising agencies that their billboard ads will not work for us anymore. Let them find a more effective marketing campaign. Like provide better services or products should be a start. Or they can choose from dozens of advertising vehicles ranging from flyers to cable television.
We , the consumers need to do our share to work towards the ban of billboard ads along congested and major thoroughfares nationwide. Let's not wait for another death or accident to happen. Boycott products/ads that are plastered in these killer billboards. Make Noise. Blog about it.
(Edit October 3– Citing data from the Outdoor Advertisers Association of the Philippines (OAAP, Santiago named Globe Telecom, Bench, Marlboro, Chowking, Penshoppe, Jollibee, Philippine Long Distance Telephone Co., Smart Communications, Greenwich and Tokyo-Tokyo as the top 10 billboard advertisers.)
View related typhoon Milenyo entries:
1. Death by Advertisement
2. Typhoon Milenyo Aftermath in Makati City Village
3. Typhoon Milenyo Aftermath Photos
4. Photos of Fallen billboard Trusses