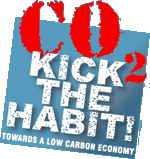 Rina Bernabe of the Renewable Energy Coalition, ( a multi-sectoral alliance of civil society groups and industry players working for the passage of the Renewable Energy Bill in Congress) sent me an email if I could write about Renewal Energy in my blog. If she didn't email me, I wouldn't have known that tomorrow (June 5) is World Environment Day with the theme "Kick the Habit! Towards a Low Carbon Economy."

Rina is right. I normally don't post policy issues in my blog but I was once upon a time a Food Technologist working on renewable energy sources in the early 80's. Renewable energy sources is close to my heart. I experimented on solar dehydration of dried fruit products and brought this technology all over the Philippines. I am surprised that 28 years later, the Philippines is still struggling with renewable energy sources. What happened to the Department of Energy projects that I was involved back then? I clearly remember in the seventies a department was created just for renewable energy resources. Was it just a trend back then?
If the government pursued their earlier projects 30 years ago, would we even have a Renewable Energy Bill pending in Congress?
In danger of being lost in the shuffle of congressional investigations and backlog priority bills is the Renewable Energy Bill
· Congress has every reason to pass the Renewable Energy Bill.
Imperatives of energy security and climate change demand the full development and utilization of the country renewable energy resources
Has been pending in one form or another for 19 years now
Certified as urgently needed legislation in the last (13th) Congress.
Supported by various groups such as the Renewable Energy Coalition, a multi-sectoral alliance of energy industry players and environmental NGOs. Business groups such as the Makati Business Club and the Joint Foreign Chambers have also identified the bill among a package of legislative reforms that will enhance the country's competitiveness.
Why do we need the Renewable Energy Bill?
* Energy security: The Philippines remains to be dependent on imported energy, and is affected by the volatility of oil prices. In 2007, the country's oil imports totaled $8.8, up 10 percent from the 2006 level of $8 billion. Consequently, the high cost of energy has a negative impact on the country's economic growth in various ways. For one, foreign investors are compelled to consider other sites in the region due to the uncompetitive power rates in the country. This, ultimately, has repercussions on the ability of the country to generate jobs for its growing labor force. High power rates also translate to higher production costs and therefore higher costs of goods produced. This makes Philippine products less competitive in the world market.
The development, therefore, of the country's renewable energy resources will provide a long-term response to the country's huge oil import bill. Being indigenous, renewable energy sources are not subject to control or supply interruptions, and price fluctuations resulting from increased demand, reduced supply or market manipulation of major oil-producing players.
* Climate Change: The use of fossil fuels for power production causes air pollution, water pollution, land degradation and global warming. Air pollution causes diseases and even premature deaths among vulnerable populations. The most serious environmental threat facing the world today is the emission of greenhouse gases (or GHG) which lead to climate change, known to many as ""global warming." Aside from rising temperatures, the adverse impacts of climate change include erratic shifts in rainfall and wind patterns, sea-level rise and brutal storms.
Renewable energy is recognized as a long-term solution to the global effort to avert climate change. With no net carbon emissions, renewable energy could help mitigate the environmental impacts of our expanding energy use.
The problem is our Senators are preoccupied with other energy-related issues such as Meralco power rates, amendments to the Electric Power Industry Reform Act (EPIRA), and the escalating oil prices, but it is hoped that they will prioritize the Renewable Energy Bill as part of a package of long-term solutions to our energy and environment issues.
Time is a crucial factor since the session breaks again for almost two months this June 13. During the Energy Summit in February, Energy Committee Chair Miriam Santiago said that she expects bill approval by March, since a significant number of legislators have already expressed support to the bill. However, the legislative mill has moved slowly since then and the RE Bill has been overshadowed by more controversial issues that would take time to resolve. It is time for the Senate to seriously prioritize the deliberations of the bill if it intends to find long term and sustainable solutions to the energy and power problems of today.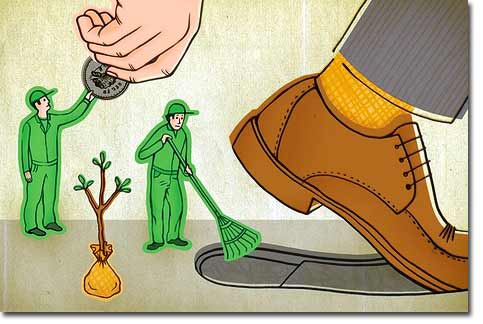 (photo credits)
In the meantime, we don't have to wait for our government to pass the Renewable Energy Bill. Each of us can bring an important help adopting a more responsible lifestyle: starting from little, everyday things as turning off the lights or appliances. It's the only reasonable way to save our planet, before it is too late.
June has also been declared as Environment Month in the Philippines and there will be activities throughout the month in celebration of this. For their part in the Renewable Energy Coalition, we are participating in a World Environment Day exhibit at the Greenbelt 3 concierge. The exhibit opens on June 9 and runs until June 11.