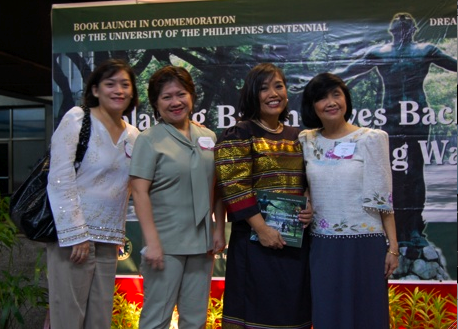 imom, Dine, me and Annamanila
I am truly blessed to be part of the yearlong celebration of the University of the Philippines (UP) Centennial through a book launch, Iskolar ng Bayan Gives Back, the Enterprising Way. The book of which I am one of the writers, features 25 UP alumni who have made—and continue to make—their mark in business here and in foreign lands, living up to the UP tradition of excellence and nationhood. The project was initiated by the University of the Philippines Small Scale Industries (UP-ISSI) and the Small Enterprise Research and Development Foundation (SERDEF) where I worked for 7 years before I retired in 1987 upon giving birth to my second daughter.
My case subject was Loida Nicolas-Lewis whom I interviewed in September 2007.
Interview with Loida Lewis in September 2007
Loida was married to Reginald Lewis, considered as one of the most successful and richest African-Americans and has been described as instrumental to her husband's business success. After her husband died from brain cancer in 1993, Loida took over the family business and was successful in the company's growth. At the moment, she is the Chairman and CEO of TLC Beatrice, LLC (the Lewis Family investment firm), TLC Beatrice China (operates retail convenience stores in four major cities in China) and TLC Beatric Foods Philippines (operates a meat processing plant in Naga City).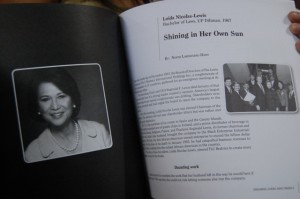 Click to enlarge
Too bad she didn't make it to the book launch but I was glad her executive assistant, Lisa Soriano represented Loida in her behalf. I am grateful to Lisa who ensured that I got an interview when Loida arrived from New York in one of her short visits to the Philippines.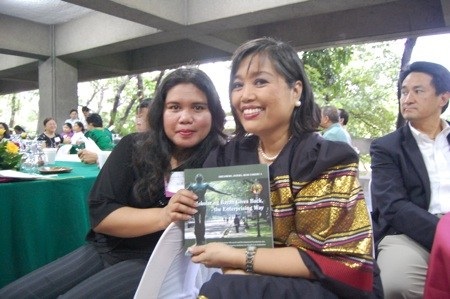 With Lisa Soriano
Annamanila is responsible for making me part of this project. I had been dying to work again in the University of the Philippines Small Scale Industries since the day I left in 1987. Twenty years later, I am back at the UP-ISSI to pay tribute to the University's role in producing the country's statesmen, technocrats, professionals and managers. I am proud to be part of the first book that celebrates the University's capability of nurturing entrepreneurs so critical to nation building.
I hope you get to buy this book because it documents the stories of 25 UP alumni in business including their start-up years, problem solving and growth strategies, management style and business philosophy, entrepreneurial competencies and ways of managing information and sourcing assistance. In the course of my interview with Loida, I attempted to tie up the enterprise with the college education she had, her social development activities with her past status as iskolar ng bayan who might felt obliged to give back.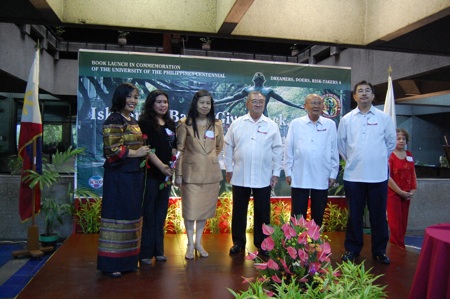 Almost all of the UP alumni featured in this book credit the University education they've had for their enterprising and achieving ways. The UP taught them to be independent, to think "out of the box", to be resourceful, to compete with themselves rather than with others, to aspire to serve society. The 25 stories do not represent the most outstanding of UP-bred entrepreneurs since it would have taken a full blown study to identify these.
It is enough to know that all their stories inspire. For example, one thing I believe is sharing success just the way Loida says it.
"I believe in sharing success. If one is able to earn profits, these should be shared among those who helped earn it".
And to those in business, Loida's tip,
You can say whatever you want– at the end of the day, did you make money? Do you have cash flow? Because if one doesn't have cash flow, one will not last long in business.
Inspite of her hectic schedule, Loida continues to nurture her spiritual side.
"My day starts with Zen meditation. Then I read what's on the readings for the holy mass of the day. In that way, you connect to a higher source. I would think that's what keeps me very balanced, feet on the ground."
Whether you are a UP alumni or not, you will pick up valuable lessons from the book.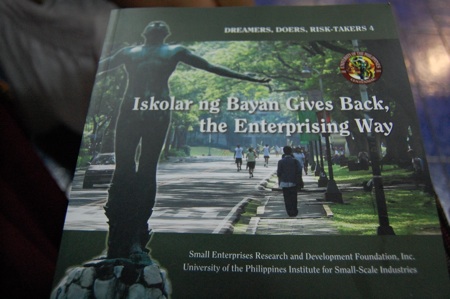 Where to Buy the Book
University of the Philippines Small Scale Industries (UP-ISSI)
E. Virata Hall, UP Diliman, Quezon City
Tel. number (632) 9206923 or (632) 9287076-79
Email: [email protected]
Philippine Blog Awards and Nokia
Aside from the Awards that will be featured this year. There are a number of awards graciously sponsored by this 2008's co-presentors. And one of them is Nokia's Kaleidoscope of Connections.
Here are the details: ( or read info at Nokia's: Kaleidoscope of Connections Award)
Challenge: Produce a video of how you connect with others using mobile technology
Your post will be judged on concept, style, and its popularity.
Prize
1st place – Nokia N95 8GB
2nd place – Nokia 6220 Classic
3rd place – Nokia N78
How to join:
1. Videos must run for 1 minute and maximum of 5 minutes and be
uploaded in the given (Kaleidoscope) Share on Ovi site.
2. The video must also be uploaded in their personal blogs with a link
back to the Ovi site.
3. The Blog where the video was posted and the specific link to the
video post must be submitted here.
* Entries should be posted on or before September 15, 2008
* Announcement of winners will be on September 21, 2008 during the
2008 Blog Awards
* Videos submitted should not have been used in any other contest
* Videos should be General Patronage – No R-18!
* Videos submitted will be property of Nokia Philippines, Inc.

3. The video can be shot using any camera or cameraphone.