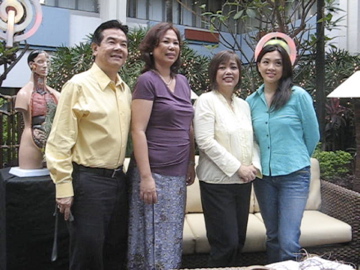 The overwhelming response to the episode, "Positibo ang Pinoy" in ABS CBN "Salamat Dok" shows the wide coverage of the show not only in the Philippines but in the USA , Australia, Saudi Arabia or wherever the Filipino Channel is . Right after my 15 minute segment, I checked my phone and to my surprise saw 31 text messages and 21 missed calls. For the next two days, my phone received a barrage of "missed calls" and text messages. I lost count. It probably reached to over 100 messages and 50 missed calls. Basking in the cool morning breeze , the show was shot live in an outdoor scene. See, I never thought anyone would be watching a 6:00 AM show so I gave away my cellphone number freely . I have often done that in other TV shows and newspaper interviews. My cellphone number and The Compassionate Friends website flashed on the screen for bereaved parents who might want to join our support group. Though I got around 20 legitimate queries from bereaved family members, the rest of the inquiries probably misunderstood "The Compassionate Friends" purpose. Maybe they thought I was their compassionate friend. I can do only so much , really. Much as I want to help the world, I have a family to attend to and I need to focus on my mission to help bereaved families towards a positive resolution of grief.
Receiving a barrage of text messages and missed calls made me realize the value of the text messaging among cellphone users. Without revealing the content of the text messages, these are some of my observations.
1. [tag]Cellphone[/tag] text messaging is used as "talk-therapy" . Cellphone users unload their problems to someone who had been there. Knowing someone out there is listening comforts them. Even to acknowledge a simple "I understand" evokes a "Thank you so much" reply.
2. The missed call phenomena mystified me. I asked my sister ( a psychologist) for the possible reason. It's a practice among cellphone users to call a phone then hang up to alert us that there is a message. But this was not the case for most of the missed calls. My sister deduced that these cellphone users need to ring someone who they know is on the other end. It snaps them to reality. I don't know.
In an essay, "The Cell Phone and the Crowd: Messianic Politics in the Contemporary Philippines"
. In an essay sent over the internet signed ""An Anonymous Filipino," the use of cell phones in Manila is described as a form of ""mania". …..

""Mania" according to the Oxford English Dictionary is a kind of madness characterized ""by great excitement, extravagant delusions and hallucinations and its acute stage, great violence." The insistence of having cell phones near by, the fact that they always seem to be on hand, indicates an attachment to them that surpasses the rational and the utilitarian, as the remarks above indicate. It lends to its holder a sense of being someone, even if he or she is only a street vendor or a highschool student. Someone, in this case, who can reach and be reached and is thus always in touch. The ""manic" relationship to cell phones is thus this ready willingness to identify with it, or more precisely with what the machine is thought capable of doing. One not only has access to it; by virtue of its omnipresence and proximity, one becomes like it. That is to say, one becomes an apparatus for sending and receiving messages at all times of the day and night……
Maybe for a brief moment, the lonely cellphone user is connected to someone and feel relief they are not alone.
(Photo above: TV host, Former Secretary of Health Jaime Galvez Tan, Dr. Rachel Rosario , me and TV host Cheryl Cosim )
New Year Episode on December 31, 2006 is "Masakit sa Tenga?" (Painful to the ears?) Digital Mp3 layers, paputok na "Boga", mas malakas, mas okey nga ba? Ano ang posibleng epkelto nito sa pandinig kung aabusuhin ang paggamit?