I had the craziest schedule ever. It would have been alright if not for this stuffy nose and sneezing fits.
8:30 to 10:00 AM At the sanctuary of St. Peter's Basilica, I attended the 40 day mass for Jullian Elaine "Apple" Book (yes pronounced as book). I barely made it. The mass originally scheduled at 10:00 AM was moved to 9:00 AM. I was still in Makati at 8:30AM so I drove quickly and arrived in time for the last part of the mass.

(Permission was granted by the parents to post this picture online.)
Before leaving, I gave them a comforting hug and an invitation to our monthly meeting this Saturday, March 18.
10:00 to 11:00– Driving back from St. Peter's Basilica in Quezon City to Makati to fetch my daughter.
11:00 to 11:30– Arrive Makati. Rest.
11:30 to 12:30– Driving daughter to UP campus for rehearsals.
I wasn't supposed to be driving her today but you know, she always gets this last minute rehearsals. Family is important to me and I adjusted my schedule to accomodate her . Of course, I could have told her to commute but …you know , protective mother.
12:30:1:30- Quezon City to Makati
1:30- 2:30– Achooo. Achooo. REST.
2:30- 4:00 Met a beareved mother for coffee.
4:00 – Pick daughter from Ayala MRT station. Haha, I surrendered. She had no choice but to commute . I was already too tired to drive back a third time to Quezon City.
Yes, I am tired but touched by today's events. Happy to know that I have given a little comfort to these two bereaved families. They exude hope. Hope that the future will somehow get tolerable. Hope that time will be kind and cure their heartache or at least make it manageable, bearable.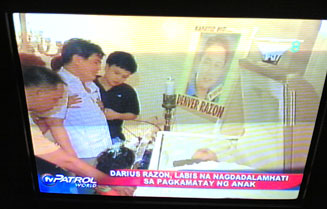 Oh, I just heard that Darius Razon's child died of an accident today (read news). The shock must have been so overwhelming that he had to be sedated. He also lost another child due to a fire accident in 1992. I want to reach out and comfort Darius Razon and his family . I hope he will somehow find The Compassionate Friends when he is ready.
Anyway, if you know of bereaved family members who have lost a child, please invite them to our monthly meeting this Saturday, March 18.
Venue: Room 109, Ground Floor, Greenhills Christian Fellowship (GCF)
Address: Ruby corner Garnet Rds.,Ortigas Center, Pasig City (Behind Galleria)
Map: View Location Map
Time: 4:00 to 5:30 PM (No dues. No Membership Fees.)
Come, take my hand, the road is long. We must travel by stepping stones, No, you're not alone, I'll go with you. I know the road well, I've been there. Don't fear the darkness. I'll be with you. We must take one step at a time. But remember we may have to stop awhile. It is a long way to the other side and there are many obstacles.