May marks another month , another year for you but May of any year since May 27,2000 reminds me that my son is no longer with me.It will be his 7th death anniversary this year.
So why am I still blabbering about my son? Have I not moved on?
This quote best sums up any parent who have lost their child.
""Death ended your child's life but not his or her relationship to the family" and ""You give up the old person who was physically connected to a now deceased child and make different connections with your child who has died."
I received many emails from friends or relatives describing how their bereaved relative or friend doesn't seem to be moving on because the dead child's items are still being kept or they still talk about them. Also there are emails from bereaved parents who claim they are often criticized and even ridiculed by others for expressing their continuing love and connection to their dead child.
I maintain a sacred bond with my son which is very vital to my well being. I have these moments when I dream and imagine what my son looks like now. There was even a time that I wanted to attend the Grade 6 graduation ceremony of Luijoe's classmates last year. I just wanted to see how they look like hoping to catch a glimpse of my son's face through them. When I learned that a blogger had a 13 year old son, I told her to hug him for me. So yeah, wishful thinking.
My prayers were answered last Sunday , well sort of…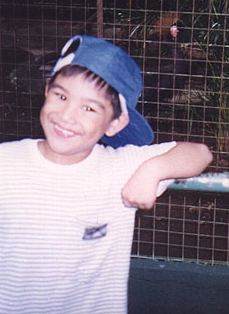 At the grocery store, I met a mom who I haven't seen in maybe 7 years. As she hugged me, I struggled to remember her name. My memory fails me but I knew her as a mom of one my kids' classmates years ago. When she uttered her daughter's name , Nisha, it sort of rang a bell. She began to talk of her 8 year old daughter who nearly drowned at the Boracay beach but got saved by Nisha. "it was as if someone pushed Nisha to save her drowning sister" . Then she uttered Luijoe's name which is music to my ears (I like it when people say his name). My mind raced "Oh so Nisha was Luijoe's classmate". The revelation thrilled me to no end.
The mom continued on. . On the night of that near fatal drowning incident, Nisha talked animatedly of Luijoe as a handsome and quiet boy loved by their classmates. Aww, I nearly teared with joy. Was that Luijoe that guided Nisha to save her drowning sister?, I pondered.
My heart skipped as I asked excitedly "so is Nisha around?" Nisha was just nearby as her mom called for her. In front me stood a petite 13 year old girl who then gave me a hug and a shy smile as a gentle breeze passed between us. It's just silly but looking at Nisha, one of Luijoe's best friends comforted me. It was as if Luijoe stood in front of me. This is how Luijoe looks like today just by hugging Nisha. He was there right in front of me.
And when you feel that gentle breeze
Or the wind upon your face,
That's me giving you a great big hug
Or just a soft embrace.
Source: Excerpt from the poem "Letter from Heaven"
So dear friends, it is quite normal that grievers often have moments when they feel somehow "in touch" with their dead child or loved one. This feeling may be triggered by a dream that was clearer than other dreams – our awareness seemed heightened, our dream experience was immediate, direct, unmistakably "true."
All of these thoughts occur especially when it is nearing his birth and death anniversary. It doesn't mean I haven't moved on . It means that my child's legacy transcends time and space.