You think any pain is worse than the pain of losing a child? Whatever words you hurl at me mean nothing to me. Be grateful, you are alive…that your family is intact. Don't waste your energy on me. Life is so beautiful to waste it on negative energies.
I've known pain worse than you'll ever imagine. So eat your words out. They are trivial and foolish.
One of the ambiguous gifts of pain (and they are ambiguous: they are gifts and I would never have chosen them) is that it enlarges our perspective. Petty complaints, internet trolls and the mean-spirited are fleeting annoyances. They are not something to dwell for a long time. People with whom I thought I had nothing in common are now my special friends. Vocational prowess drops down on the list of life's priorities. Relationships are what matter.
I feel profoundly and gratefully connected to friends and family. I have a sense that all of us dwell in mystery, that we are connected to the earth and sky and to the rhythm of the universe.
I trust all will be well.
Asides….
What's Your Coffee Bean and Tea Leaf Story Contest– Starts April 18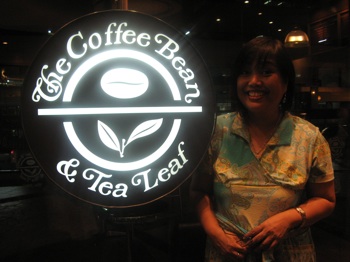 Win a trip to Hollywood, Los Angeles, USA for 4 days and 3 nights, with accommodations and pocket money. How? Join the What's your Coffee Bean and Tea Leaf Story? Contest. Submission of entries will be from April 18 to May 18, 2008. The contest starts tomorrow, April 18.
Food Tour at Trinoma Malls, Serendra and Bonifacio High Street
When: April 25 at TriNoma Mall and and April 28 at Serendra and Bonifacio High Street
Time: 2:00 PM to 6:00 PM
Read more details at Spot Pass Bloggers' Food Tour