I miss my babies, my children.

My home has been a semi-empty nest since 2010 when my second child flew to Australia to work then eventually taking her post-graduate studies. During college, they lived in dorms close to their school in Quezon City when we used to live in Makati. That wasn't too bad because I saw them once a week.
Nothing hits hard when the last child finally leaves home. My eldest daughter moved to her condominium on May 1. She had been paying for her "shoebox" as she calls it since she was 22 years old. I am proud that she is a property owner at so young an age . The fact that she saved a huge portion of her salary to invest in this property the last three years or so is quite an achievement.
My second daughter moved to Germany on April 30 and is officially an OFW. I am just as proud of her academic achievements and getting a job in Europe for the next three years. At her age, I traveled around Europe. The difference is , she gets to work there. She is truly blessed.
I have been preparing for this but when the day finally came, it hits a raw nerve. I would always whine during their last few months at home…"Oh you are leaving me. I will miss you".
Don't get me wrong, I am happy for them. Children should learn to be independent from their parents as soon as they are able to. I wanted them to feel that they can survive on their own, yet having their parents close by. My mom died of breast cancer when I was a teen-ager. If that should have happened to me, I did not want them to feel helpless. Though I lived on my own after college, I felt my girls lived a sheltered life. I prepared them for it. They slept with me on the family bed till they left for college. It is a nice warm feeling having them close in my arms. The family bed ritual gave them a feeling of security as they ventured on their own.
I have long accepted that my children are riding off into their own future, maybe as shakily or as steadily as when they rode the first bike I gave them. Maybe it is my turn to have this shaky feeling at times.
I have no regrets. As a full-time homemaker , I gave up a career and took care of them during their growing years.
I am grateful for blogging which gives me an avenue to pursue a passion, doing something good for the country and the future of my children. It offers a distraction from the loneliness that hits me hard during this time of the month.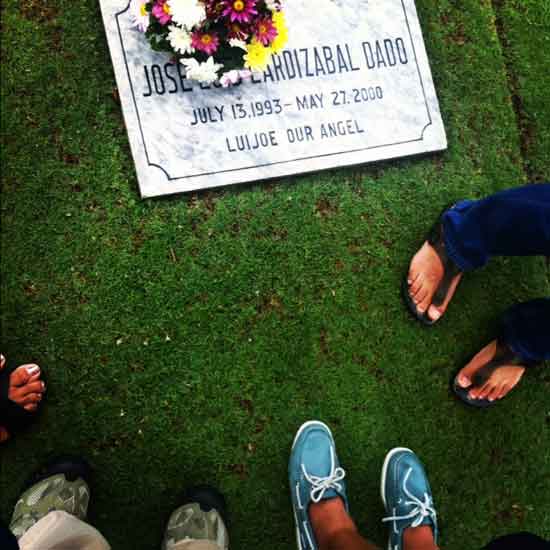 I can't suppress this pang of sadness and loneliness because it is Luijoe's 13th angel date, today.
If Luijoe were alive, I would still have a child around the house because he would only be 19 years old.
If Luijoe were alive, he would probably be with me, hugging me every now and then till he is 23 years old until he decides to travel abroad like my second daughter did.
If Luijoe were alive, the sound of a child's footsteps on the hallway and cries of "mom" would still fill the air.
If. if…it is my grief talking and knowing that love never dies … and the sadness of having no children at home at times like these. Oh well, there are my two cats, the two helpers and my husband to keep me company.
I know this crushing sense of grief is just for today.
Tomorrow will be better.