A mention of my twitter name @momblogger alerted me .
"Is it true that you have chosen Villar?" , someone tweeted.
I replied that I will neither confirm nor deny that as I have stated in my entry, My presidential candidate
It does not matter who my candidate is. As project editor of Blogwatch.ph, it is prudent that I keep that choice only to myself and my close friends, the people I trust. Certain quarters cannot distinguish me as a voter and me, as the editor. Blog Watch remains non-partisan.
You are free to speculate, of course.
Most of the comments agreed with my short list (Manny Villar, Dick Gordon and Gibo Teodoro). A few raised eyebrows "Villar?!?" as if I just uttered the devil's name.
The skeptical often are bewildered…Why oh why is Manny Villar in your short list? That's what I'd like to talk about. Why Manny Villar?
With the negative campaigning and half-truths being flung around, one is confused with propaganda, counter-propaganda and black propaganda.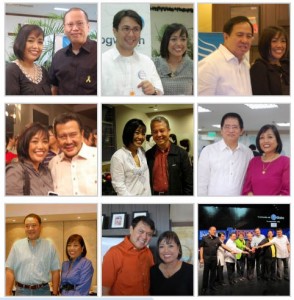 I am blessed with this wonderful opportunity as project editor of blog watch where I get to scrutinize these candidates, at least seven out of the nine presidential candidates.
A rational decision based on research, intensive interviews and attendance to three presidential forums was slowly forming in my head the past months. Insights gained by this experience paved the way for my decision to include Manny Villar because of his leadership, managerial ability, experience (I wrote more about it here with Dine and Wenchie.) I believe our presidential candidate should have all three characteristics to manage the economy well enough to create more jobs and address this issue of poverty. Understanding of issues against him included fact checking and discernment.
It helped a friend vouched for Villar's high moral standards since she worked with him in the senate for many years. ( read Pia Cayetano's comments on Manny Villar)
But…a friend's testimonial, his track record, competence and platforms were not the only factors to consider in the selection process.
The way a candidate handles his campaign gives me an insight to the governance of this candidate.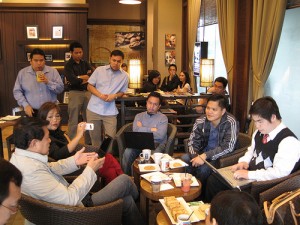 Do you know the challenges I face to get these presidential candidates? I am a virtual unknown. Blog Watch just launched on November 24, 2009. Who are we anyway?
I took my chance with Manny Villar for our first interview in December 17, 2009. An interview earlier that year left me with a favorable impression . I felt he was very open to bloggers, easy to talk to, patient, even if I had caused him discomfort with my questions on Twitter and Plurk. ( I heard he bought a laptop the next day to empower himself with the semantics of the online world). He was patient enough not to roll his eyes when clueless me asked him "what exactly are you accused of in c-5?"? I like to laugh and loved that he laughs as loud as I do (the other candidate that made me laugh so much was Dick Gordon). His three children impressed me. They are humble, simple and very loving to their father as they attentively listened to the bloggers interview him.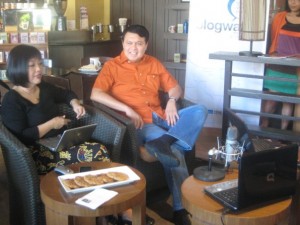 It helped that Villar's new media guys were attentive enough to my interview request. Sure enough, Villar agreed to our first interview and his staff, his lovely daughter, Camille were once again around to give him support. Towards the end of our interview, he acknowledged the role of new media in the presidency.
All the other candidates where Blog Watch had connections with, were easy to communicate once I was able to establish the purpose of our interview.
This was not the case with Noynoy Aquino.
My persistence to interview him before the start of the campaign period was perceived as an impolite request. Not that Noynoy himself was attending to my request. Of course, there is a campaign team behind him and though apologetic, was quite helpless in giving us a slot till 6 weeks later. I want to say more and I am being nice here when I say I don't want to come off as "negative campaigning". Let me just show you a friend's article on Why Noynoy is not in my shortlist to make the long story , short.
My impression was it was not easy to communicate with Noynoy. It took an inner inner circle (whatever!) to get through him.
Why should it be difficult to get an interview schedule when all the others didn't give us a hard time? ( I found out that even Yahoo and PCIJ were unable to get an individual interview with Noynoy)
Why should it be hard to talk to a candidate about their plans?
In the course of the campaign period, issues cropped up. If I needed to be clarified on news accounts, I often got my request either from the new media guys or Villar's staff. I would sometimes run across Villar's children in forums and they struck me as really nice children with impeccable manners who would approach me and plant a kiss on my cheek. Villar raised such beautiful kids. I am impressed and thought his parenting style played a role in the personality development of his kids. Even Pia agrees with me.
I know impressions can be misleading (and this is all for show as skeptics want to point out to me) but I trust my gut feelings on these encounters.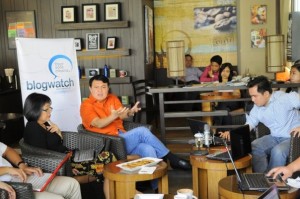 Let's face it, the powers of the presidency is almost imperial. The abuse and misuse of these powers is right smack in front of us for the past nine years. Do we allow this abuse and misuse to happen? The next president might also abuse these powers. If we get the right people elected, we cannot fold our tarpulins and say ""phew, now they will change everything". If we, the citizenry won't try to know what is happening, nothing will also happen to us.
There is only one power that can face and surmount this abuse of power and that is the power of an aware, vigilant, organized citizenry.
So you ask, what am I getting at?
The fact that Villar is open to new media in a presidency is a factor crucial to a participative citizenry. The fact that he made himself accessible through his staff throughout the campaign period shows the type of organization he manages and an insight on his governance. A president needs to be open to the people and easily accessible when questions arise.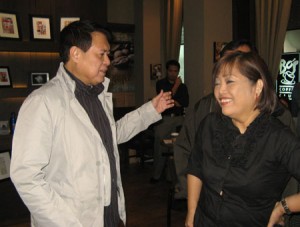 In the first interview that July 2009, I asked a photo op with him as proof that I interviewed him so that I can show the photo to him when I need to follow-up on his plans.
"I will still keep my promise even if I am elected or not.", Villar assured me.
Even after elections, I will make it a point to be vigilant as our new president grapples through the difficult transition to democratic restoration and economic recovery.
For those undecided on Manny Villar, this article, Undecided on Manny Villar? might give you insights to all the issues and controversies.
You might want to know how to go about Selecting a candidate to vote for as President, read on Why Gibo Teodoro and Dick Gordon.
source of July 2009 photo- from Chuvaness