Don't just create; create to change; change to improve; improve to increase. Aspire to inspire. — Israelmore Ayivor, Become a Better You
Technology fascinates me. Ever since I laid my eyes on the Radio Shack's TRS-80 microcomputer in 1980, I got hooked. I love technology. I love gadgets. Since then, I have seen the growth of technology. I also toy around with it for fun and to just be. Most of all, I use these gadgets to advocate for social change for good.
Yes, I aspire to do good and be meaningful, yet in the process, I encounter setbacks in my advocacy. As a citizen with an online voice enabled by technology and social media, I have the capacity to connect directly with the people who matter and who could make a change.
It is challenging.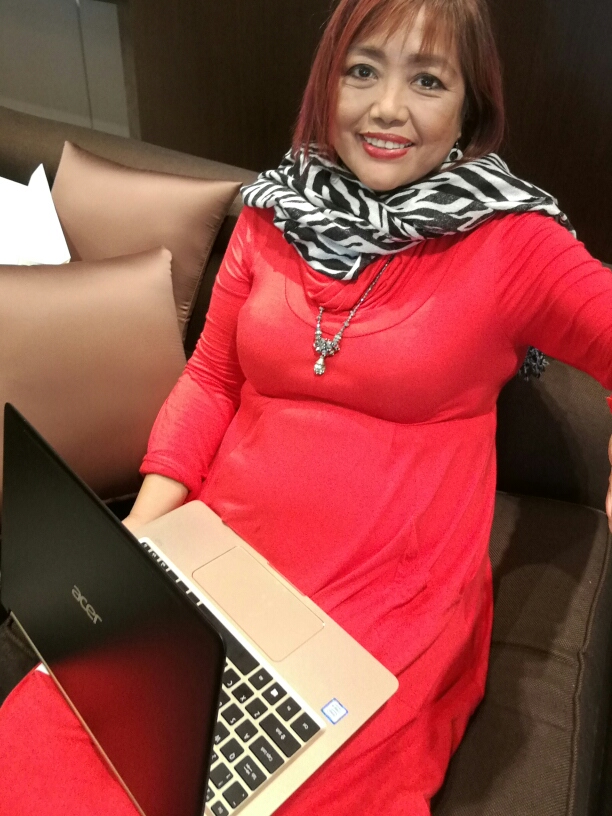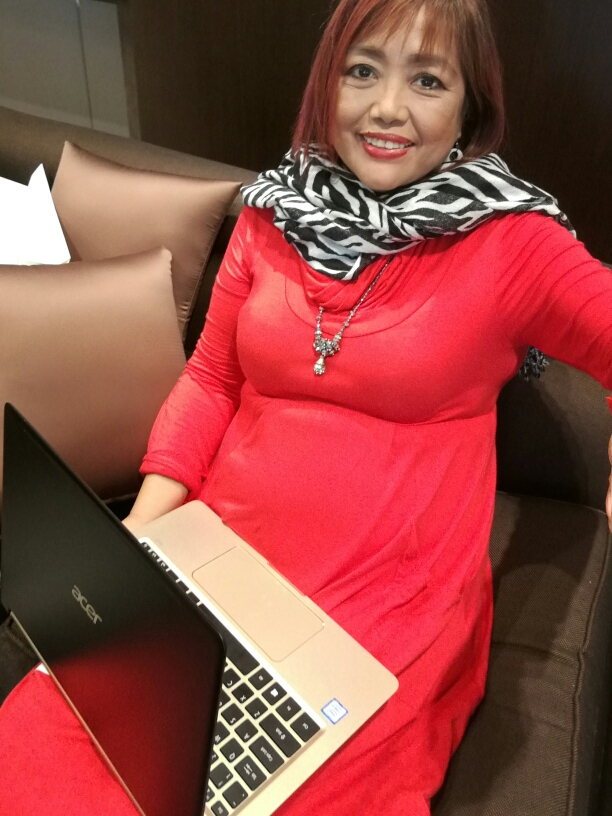 A few years ago, a reader pointed me to  Mayen who was accused of a scam by her boyfriend who was based abroad.   I wanted to give Mayen a voice, a chance to be heard. The boyfriend wrote numerous scathing blog posts about her and the alleged scam .  She did not have the budget for internet cafe fees to blog her story like most of us do.  Facebook was not popular and free back in 2007. To cut the story short, I read the blog posts of her boyfriend and interviewed her as well.  Upon hearing both sides of the story, I concluded she did not scam her boyfriend .
Sadly, because of that interview, I got  accused of being part of the scam. Yes, a scam supporter. Oh my, for the next seven years or so, I got harassed online including anyone associated with me. He used my name for a blog site to write  false stories about me. My photos were plastered on his website, as a scammer. The site , noemidado.blogspot.com and noemilardizabaldado.blogspot.com  , both fake accounts were used to attack me as a scammer. Just because I gave a voice to his former girlfriend ?  The former website has since been taken down.
I used the same technology inflicted upon me to dispute that I was in cahoots with a scammer. For instance, the boyfriend used search engine optimization techniques to label me a scammer in his blog posts . The online harasser just wouldn't stop. Well, I wrote a blog post to counter the label.  No one believed him, of course , but I was annoyed  that my friends  were harassed in the process.  Since I wrote extensively about myself and the alleged scam, I left it at that.   Pretty soon, writing about myself and with the help of other bloggers, the scammer posts about me got buried in the search engine results page.
Getting too focused on fighting back the online harasser is a waste of time. I have better things to do with my life.  Imagine being harassed for more than seven years?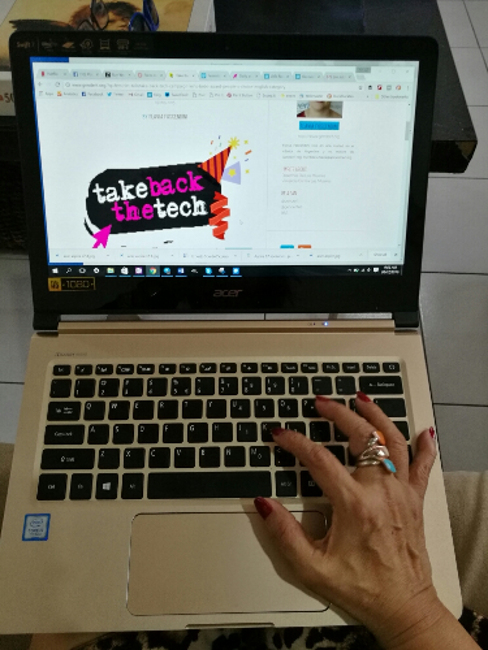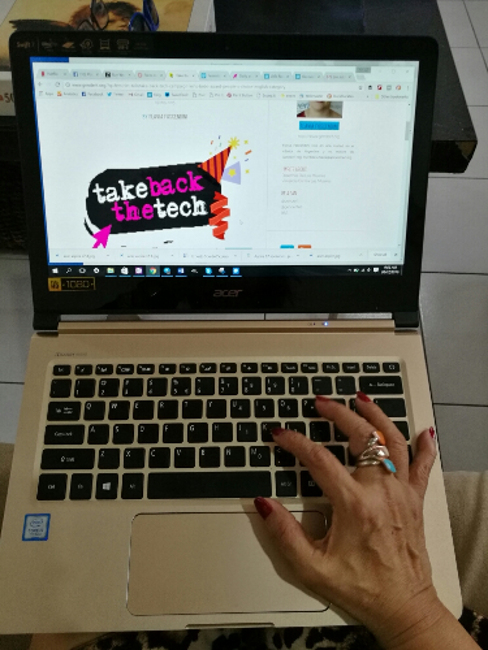 The online harassment did not end with that one horrible person.  Trolls soon proliferated social media and prove to be disconcerting as well but I learned to stay on focus with my goals . As a woman advocate, I always aspire to take back the tech when I meet these  challenges .
Robert Browning once said "Aspire, break bounds. Endeavor to be good, and better still, best."
I kept on going .  I  continue to work towards the dismantling of patriarchy and putting an end to fear, helplessness, humiliation, and one that condemns violence and identifies and supports all diversities.
Echoing the Take Back the Night campaigns by women's movements in different parts of the world, the campaign saw the importance of reclaiming the transformative potential of digital spaces for the exercise of women's human rights, including the right to freedom of expression, public participation and safety.
I am aware that I will always be attacked for my vocal opinions in pushing for change for social good . I know my advocacy can  be disruptive and the kind that I will be judged for all the time.  I also need to protect  my fellow sisters online including myself.  Thus, it is important that we must all aspire to take back the tech when online attacks hit back at us.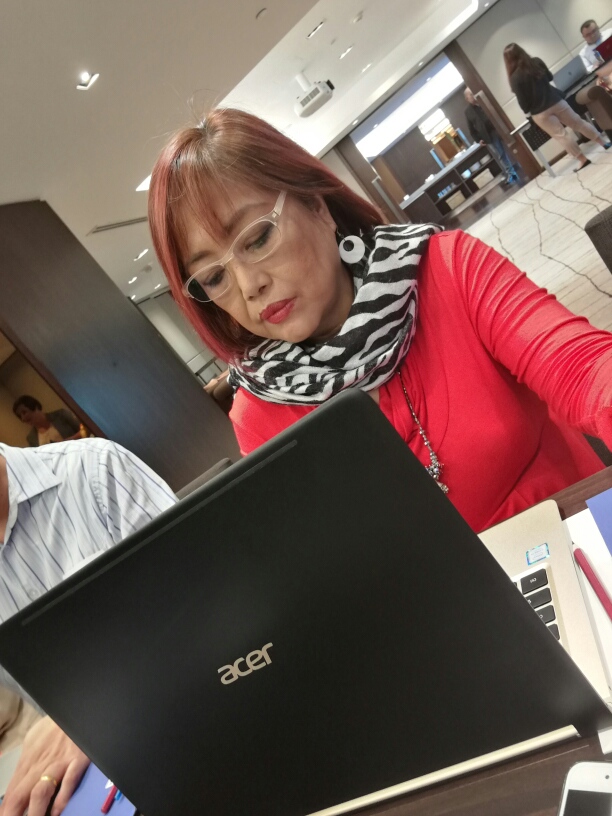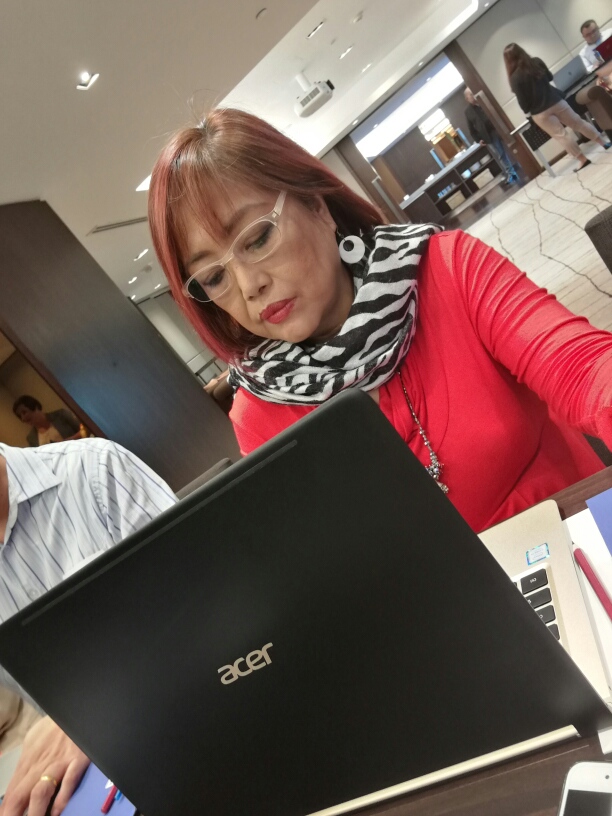 If you are vocal on the internet, here are some things to remember:
Secure your use of the technology. Always stay on the safe side but do not be threatened and be silenced. Seek help from trusted friends if you need techie support.
Fight for truth, justice and accountability. Use the internet wisely and meaningfully. Double check your sources if unsure.
Do not be silenced nor be used by purveyors of lies and half truths.

Resist bigotry and all forms of discrimination including gender-based violence in the internet.
Let's all aspire to take back the tech!