Mom, you never taught us how to say "Po" and "Opo", complained my two daughters. I felt guilty. Did it reflect badly on my parenting skill?
Saying "Po" and "Opo" is foreign to me. (In Filipino if some phrases or sentences ends in "po", "opo", "oho", "ho" or has these words, it only means that you do have a high respect or you are very polite to the person your talking to.) I choke on the words. Not that I am rude but being raised in Cebu during my formative years, those Filipino polite words are non-existent in the Cebuano vocabulary.
I often wondered why my parents didn't teach us either. They spoke in Tagalog. I guess it was because we lived in Cebu and they didn't want to confuse us with the dialect.
I remember a conversation between my aunt and dad. My aunt chastised my dad that we were impolite children just because we didn't address her with a "po" and "opo". I would have agreed with her but we spoke to her in English and it didn't seem right to end each sentence with "po" and "opo". At that time, I wasn't too fluent in Tagalog (still not fluent but getting there) so how can I labeled rude or impolite?
Not saying "po" or "opo" does not hold value to me. I just wasn't used to saying it. During my twenties, I tried to get into the habit of saying "po" and "opo" since I already lived in Manila and guess what? I ended up saying "po" and "opo" to the guards, the vendors, my peers, and just about anyone. I embarrassed myself even more.
Most Filipinos may say "po" or "opo" but are they polite or courteous in the MRT? The ""me first" mentality I see in queues drive me nuts. And don't start me on the mad driving skills on Manila's snarled highways.
Another pet peeve is "Ma'am". The first time someone addressed me as "Ma'am" was from a news reporter over 2 years ago. Hearing "Ma'am" shocked me mainly because it meant I am OLD. I often cringe when I am being addressed as "Ma'am". When I became a blogger and met new bloggers, I often requested them to just call me "Noemi". A few bloggers still call me "Ma'am" which I don't bother to correct sometimes because I also understand that maybe they are not comfortable calling me by my first name. I understand that our parents often teach us to respect our elders.
But really, why do I need to be called "Ma'am, Madam, Miss Noemi"?
Just call me plain old …Noemi. Or if that bothers you, call me momblogger.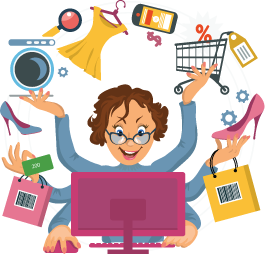 Shop here for Home and Living at Lazada.