A pet peeve of mine  is being called "Ma'am". The first time someone addressed me as "Ma'am" was from a news reporter over nine years ago. Hearing "Ma'am" shocked me mainly because it meant I am OLD. I often cringe when I am being addressed as "Ma'am". When I became a blogger and met new bloggers, I often requested them to just call me "Noemi". A few bloggers still call me "Ma'am" which I don't bother to correct sometimes because I also understand that maybe they are not comfortable calling me by my first name. I understand that our parents often teach us to respect our elders.
But really, why do I need to be called "Ma'am, Madam, Miss Noemi"?
In a reddit discussion, yeh-nah-yeh says "Australian culture values egalitarianism, that is every being equal. An average taxi driver would address the Prime Minister by first name or "mate". It often results in better outcomes as ideas are judged for their quality not for the seniority of the person proposing them and junior people are free to question and criticise the work of older people leading to improvements." That's what I mean. In the internet, people should argue and discuss amiably without the nagging thought that this person has an honorific title.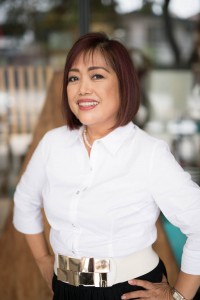 Sylvia Claudio has a take on the penchant for titles:
The penchant for titles besets other cultures, but Filipinos take it to the extreme. At a recent international conference a Filipino participant put the title "Atty." before his name. This prompted a Malaysian participant to ask me what that meant. My reply that this was an abbreviation for "Attorney" resulted in a long side explanation – much to the detriment to our appreciation of the attorney's presentation. Later, my foreign colleagues were even more befuddled by a recitation of titles like "Engr." (for engineer), and "Arch." (for architect).
Though we should be proud of our professional attainment, titles do not happen in other countries. There is no "Atty" appended before a lawyer's name in the United States. Claudio addes that "We are also a society where an atty., an arch., and an engr. may be the first person to have finished college in their entire family and tribe." Pinoy culture, just like in most of Asia, value hierarchy and seniority.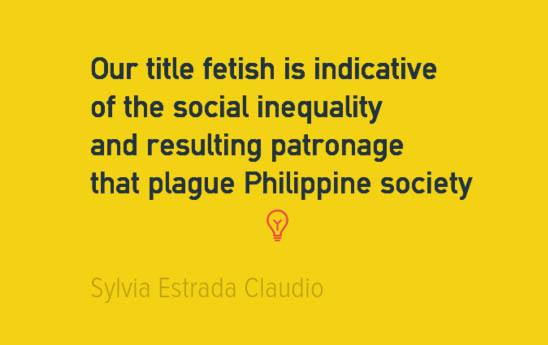 I agree with Claudio that "Our title fetish is indicative of the social inequality and resulting patronage that plague Philippine society. In a just society, it would not be difficult for anyone to become a lawyer, an architect, an engineer, a geologist, a ballerina, a soprano, social worker, and whatever else they should desire."
As University of the Philippines professor Tet Maceda observes, senior professors and administrators were addressed by their first names. "Despite our increasing seniority we have not taken to calling ourselves "Ma'am." There are, after all, many Filipinos who reject these titles. Maceda fondly remembers being answered on the phone with "Emer here" and not "President Emerlinda Roman here."
Claudio adds that there is a proper use for titles such as President Aquino is called "Mr. President" . She adds that in a democracy, such honorifics should be reserved for the highest government positions.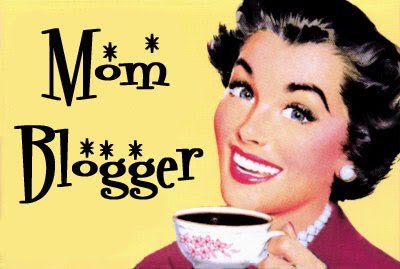 It is one reason I use the monicker "momblogger" because it is a nickname that anyone can call me. I always believed in using my first name in social media accounts but almost everyone would call me "ma'am" . In 2007, I created my internet name as "momblogger" (well I am a mom plus a blogger) for people to address me in case they felt awkward calling me "Noemi" . How would I have known that it would also be my "personal brand" today?
Now that you know my pet peeve… just call me plain old …Noemi. Or if that bothers you, call me momblogger.