If you do need an office within minutes,  check out the website of voffice.com.ph for the plans you want to avail then use my referral page or call +632 2242 000 and tell them that I referred you.
Remember my small office home office? This is in the second level of my home.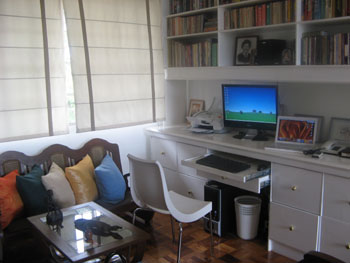 Before the move to my current residence, my home office was beside the kitchen.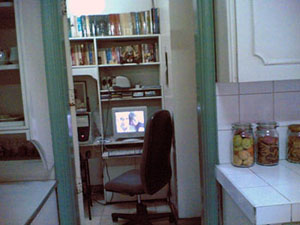 I called it either Home-office, Business-office (HOBO) or Small-office Home-office (SOHO) . Whatever you call it, I've been a work-at-home-mom since my second daughter was born in 1987. I like that my home office is a small nook that allows me to be in touch with kitchen activities and family members hovering behind me. Everyone was yelling distance away except for my kids if they are in their bedrooms. That's because the walls of their rooms are almost sound-proof.
Now that I got even busier as a social business consultant and blogger, meetings took place in coffee shops. Meeting at my SOHO was not ideal because of the distance and secondly I wanted my privacy. Having to meet at coffee shops has its space limitation during meetings. The solution was a virtual office space .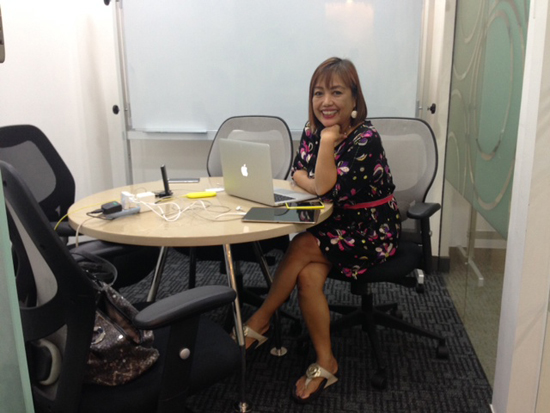 I discovered voffice.com.ph,. vOffice in short for Virtual Office, gives you everything you need to efficiently run your business less the cost of maintaining a physical office. It gives you a prestigious business address, telephone & fax number, professional receptionist to answer your call, working space, full equipped meeting facilities, on-demand secretary and more. I got their Platinum plan.  Let me tell you about the benefits of using vOffice, my virtual office.
1. Prestigious Bonifacio Global City address at One Global Place (5th Avenue & 25th Street)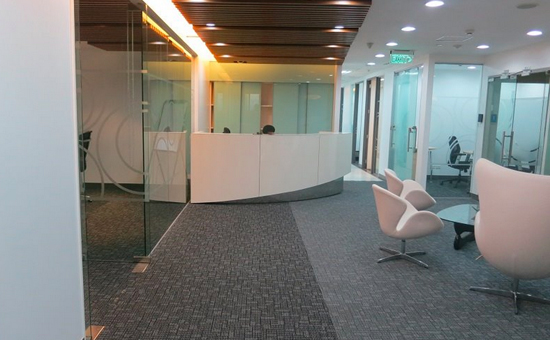 I am always at the Global City so I liked that there are offices there at the Fort Legend and One Global. My Fitness First Gym is just across One Global Place so that is quite convenient for me. They also have a Makati address at Mavenue building. The best part of the voffice experience is I can also use the facilities of the Fort Legend (open 24/7) and Mavenue in Makati. . I like the idea of the Makati office with an open space, fresh air, roof deck area, fresh plants and a cup of hot tea to accompany you while you work.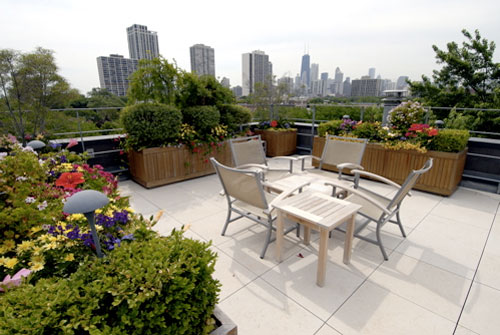 I have only experienced One Global Place so far but in the next few months, I will be visiting the two others. I can also use the virtual office at Melbourne, Singapore , London, Hongkong, Ho Chi Minh City, Kuala Lumpur Jakarta Selatan ,Jakarta Pusat, Shanghai , Beijing and Bangkok.
2. Affordable rates.
For the platinum plan, it costs 3,600 pesos a month. If you divide that by 25 working days, that is only 144 pesos a day, pretty much the cost of a large sized coffee mug order. One can get more out of the 144 pesos a day.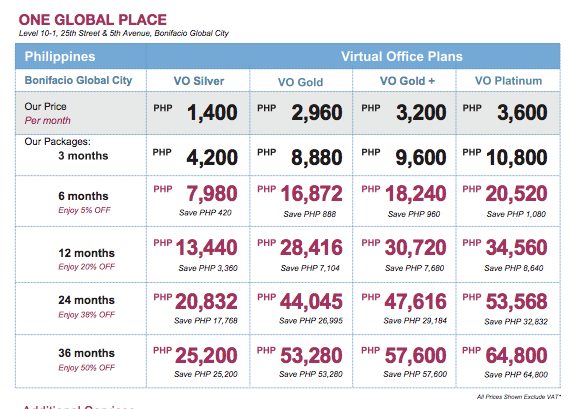 Here is what I can get:
1. Receive Mails & Parcels on my behalf.
2. SMS or Email notification.
3. Local & International Mail Forwarding.
4. Scan & Email service is available upon
5. Elegant Reception Service.
6. Calls Handling
7. Dedicated Local Telephone Number.
8. Professional Call Answering.
10. SMS or Email notification.
11. Call Screening and Transfer.
12. Personalized Voicemail.
13. Fax Services
14. Dedicated Local Fax Number.
15. Instant Fax Forwarding to your email
and comes with an unlimited use of a fully WIFI-ed business lounge and
– 8 hours per month worth PHP 7,200 per month
– 2 teleconference at 20 hours per month
– Executive Office Suite at 3 hours a month
I will expand on this more.
3.  Flexibility of using meeting rooms at 8 hours a month in over 25 locations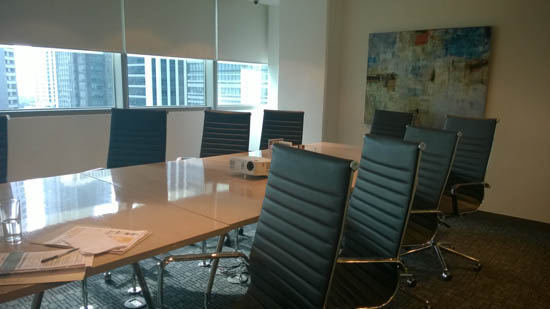 I log on to MyvOffice.me to reserve a meeting room in real time. The voffice was quite useful when I needed to power my gagdets after a storm. My home did not have power for three days.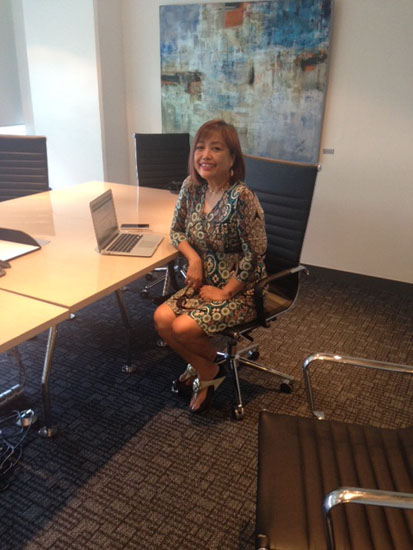 4. Unlimited use of the fully WIFI-ed Business lounge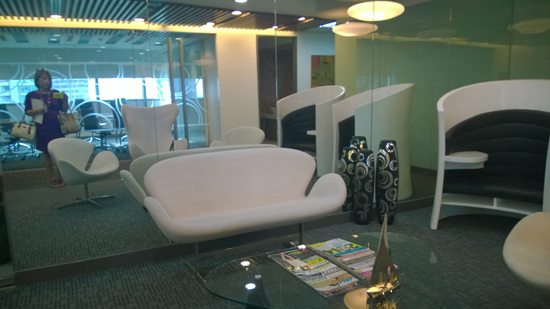 if you have used up your meeting room hours and are not willing to pay for additional, using the business lounge or pantry is an option. Those nifty white chairs are quite functional. There are power outlets within reach unlike a coffee shop where it is "first come first served". It can get noisy though since this is the main lobby and there are many people coming in and out.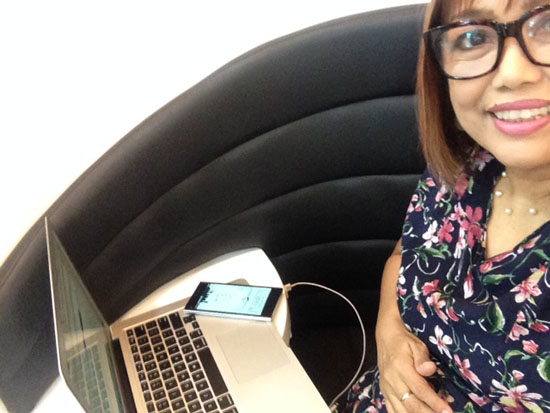 5. Unlimited coffee at the pantry
How I love the pantry. There is a ref, a microwave, water dispenser , spoon , fork , glasses and mug.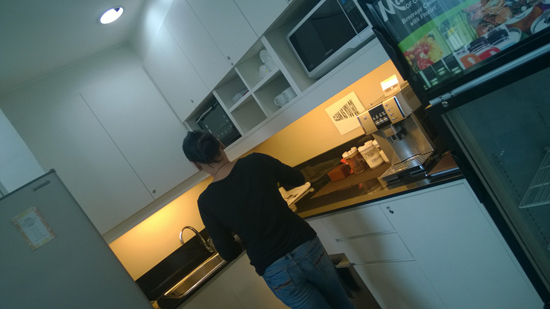 The best part is unlimited quality coffee . Now that is worth the 144 a day cost of a virtual office, right?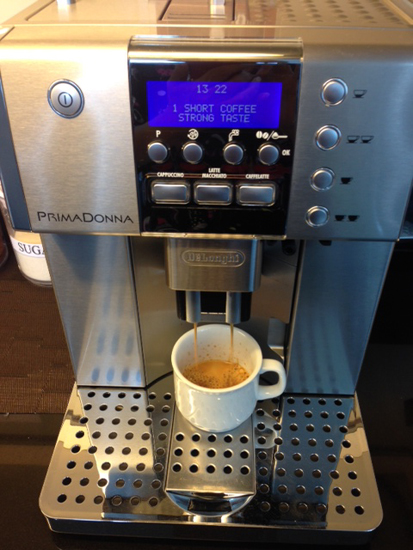 6. Close to my gym
This is the "The Fort Strip" , a view from the pantry and where my Fitness First gym is located.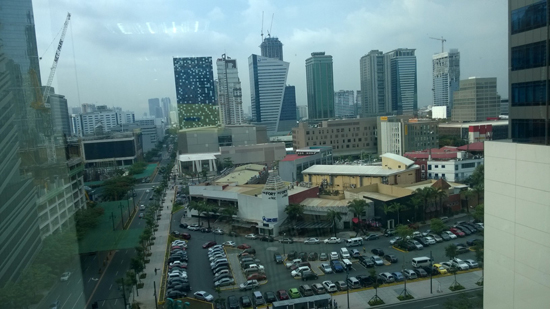 Physical activity can't just be limited to tapping on my macbook finger exercises . My daily routine entails a two-hour gym workout in between my work After a workout, I can just walk towards One Global Place.
7. Receive calls and parcels
The ability to receive small parcels is an advantage. Having been stalked for over seven years now, I do not relish giving out my address or phone number to anyone. In fact, I had to change my landline and mobile phone numbers last year . With a dedicated phone number, the receptionist receives calls for me and then forwards it to my mobile number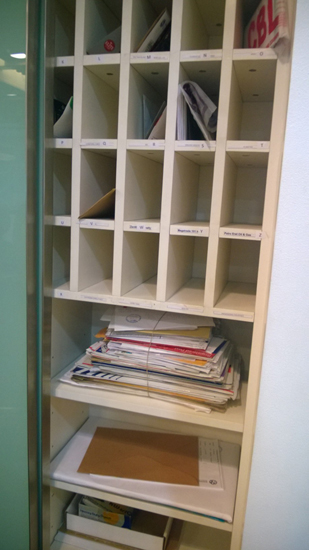 8. An Elite Card Advantage
Having this Elite Card gives me discounted rates from their partner hotels, restaurants and boutiques with as much as 15% discount on selected partners. Click here to see the list.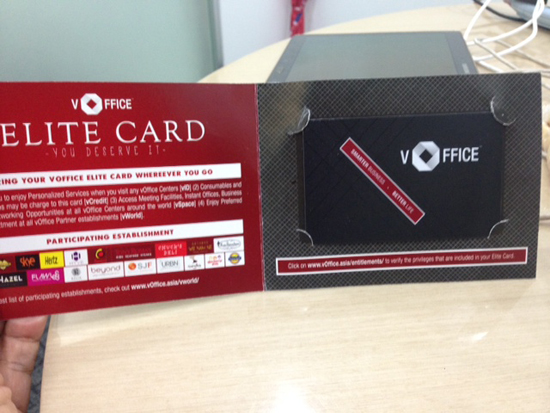 I can see the benefits of a virtual work space for start-ups and small sized entrepreneurs. One does not need to invest in a lease for office space or get a mortgage for a building. My business operates well in a virtual environment. Technically, my office is wherever I am . With the current technology , I can conduct my business anywhere but having an address in my business card is more professional. First impressions mean a lot. I don't want to use my home address as the business address. With a virtual office, there is relief from the stresses of a traditional one.
If you do need an office within minutes,  check out the website of voffice.com.ph for the plans you want to avail then use my referral page or call +632 2242 000 and tell them that I referred you.