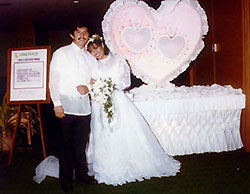 It was in Twitter that I saw someone post…"asdfjhsda I'm so sick of weirdos! WHY CAN'T I ATTRACT NORMAL GUYS????????". No offense to the guys who are attracted to that person right now, but the problem is not the guy. It's you and me who are attracted to these types of person. My daughter and I had a conversation about how I got attracted to her dad. I remember now. I never lacked of a father image. My dad was a loving father, great provider and a mentor on handling life's problems. But my loving dad was boring. He was so traditional and conservative, afraid to venture into the unknown. A perfect example was a trip to Europe with my sister and dad in the early 80's. Dad preferred to take organized tours while my sister and I wanted to take the nearest train and just venture on our own. Most of all, he wasn't demonstrative with his love. He never hugged us or said "I love You". Subconsciously, I chose a spouse that was passionate, affectionate, happy go lucky and adventurous and to put it mildly, "wild and unconventional". The truth of the matter was my marital problems were mainly caused by this happy go lucky trait.
When I planned on a separation with my husband a few years ago, I imagined I would find myself in another relationship. Who was I kidding? I needed to fix ME, first and foremost. The issue is about us and not the other person. That is the heart, the hope and the power of recovery.
Often, we learn about ourselves from the people to whom we are attracted. The basic question is : What then is a healthy attraction towards people?
1. In recovery, we strive towards a healthy attraction to people. We allow ourselves to be attracted to who people are not their potential nor to what we hope they will become.
2. We need to work family of origin issues. The less one needed to work out on these issues, the less one needed to work through them with the people one gets attracted to. It meant one needed to finish our business from the past as it helps us form new and healthier relationships.
What I needed to do was reach out to my inner adventurous spirit. I didn't need a partner to compensate this for me.
3. The more we learn to love and respect ourselves, the more we will become attracted to people who will love and respect us and who we can safely love and respect.
Once we take care of ourselves, we start to value ourselves. Loving ourselves overflows and it transcends to others that value our love.
4. Be patient with yourselves. The type of people we find ourselves attracted to does not change overnight.
5. Learn to take care of yourself during the process of forming and initiating relationships. Learn to tread slowly, to pay attention and even allow mistakes , even when we know better.
6. Stop blaming our relationships on others or on God and begin to take responsibility for them. We can learn to enjoy the healthy relationships and extricate ourselves more quicly from the dysfunctional ones.
We learn to look what's good for us instead of seeking what's good for the other person. We need to take responsibility for ourselves and learn what we need to learn.
Trust that the people you want and need will come into your life.
I trust that my daughters will form a healthy attraction to people in their lives. I trust that they will be open to the lessons they need to learn about themselves in relationships so that they will be prepared for the best possible relationships with people.