It's been a year and 2 months since I subscribed to three (3) Philippine Internet Service Provider (ISP) namely, Globelines Broadband Budget Bundles, Smart Bro and PLDT MyDSL. At the time of installation, I believed it was not yet time to make a review. Give it a year, I said to myself. What do you know? I survived to tell you about these 3 ISP's. As a netrepreneur, my business relies on fast and reliable internet connection. I am sure other parents out there will be interested to know my experiences with these ISPs.
Let me add a fourth ISP, the Smart 3g which I use specifically for my macbook.
Take note, I am a paying subscriber located in Pasig City near the Quezon City area. I added speed test results (using speedtest.net) to show how most of our ISPs never deliver the promised speeds. I start being a "reklamador' and then call support if speed falls below 50% after all it is my right to get the services I paid for.
Anyway, here goes:
1. Smart Bro- 999 pesos for a 256 kpbs connection– installed March 2, 2007
This internet connection is located at Lauren's computer. Installation was pretty fast with only 1 day waiting period. During the first four months, there were barely any connection problems. Slow speed started to occur sometime June 2007. Calling the Smart Support (6727277) is agonizing. It's best you have a speaker phone when you dial their number.It can take anywhere from 30 minutes to 1 hour before you can get to talk to someone. They make you do all that PING, bandwidth testing on your PC before they call in the tech support to go to your place. I keep telling them that they have congested their cell sites. They replace the antenna thinking it's defective. I complain it is a congestion problem. After a replacement of the antenna, the slow connection continued on especially starting at 6:00 PM .
SMART BRO's dismal performance turned me into a "nasty" person and sometime August, I threatened to report them to the National Telecommunications Commission for non-existence of an internet connection. This was after waiting again on the phone for an hour. Fortunately, the nice technicians came. They are amazed that I am given support a day after my phone call. I kept thinking the SMART BRO tech people must have googled my name and found out I was a blogger. Maybe? They changed my base station to a less congested base. I was optimistic this would work but no….slow connection still happened. I was more emphatic this time "If you can't give me a stable internet connection, then just release me from the locked-in period". In fairness to the tech guys, they did a great job the third time around. Since August 2007, SMART Bro connection has been very stable.
Speed Test
Upload: 305 kbps
Download: 235 kbps
Promised speed: 256kbps reaches 100% (They might have also upgraded to 512 kbps)
Rating– 5/10 only because calling SMART BRO Support is torture and they tend to congest their base station. Though Support takes time to answer your calls, they give feedback in your cellphone regarding the progress of your report.
2. Globelines Broadband Budget Bundles – 2 MBPS with landline. (now at 1,995 pesos only)
The Globe Broadband connection is attached to M's desktop. The thing I like most about Globe Broadband is that their modem comes with a wi-fi router. At its peak usage, 3 laptops and a desktop connect to this wi-fi connection. During the first few months, calling Globelines Support at 9198888 took at least 45 minutes. For the past 7 months now, I didn't have to wait too long for tech support to pick up my queue. I have encountered 4 connection problems with them so far. The first one lasted for one day with no internet connection. My succeeding problems with them was dropped wi-fi connection. I experience dropped wi-fi connection problems every 30 minutes but I can live with it since it goes back up in a 5 seconds or less.
Speed test (using wi-fi in two separate tests)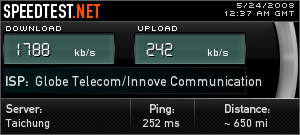 Upload: 1788 kbps
Download: 242 kbps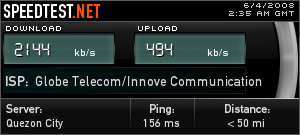 (edit- June 4, 2008)
Upload: 2144 kbps
Download: 494 kbps
Promised speed: 2 MBPs at almost 90% speed and surpassing the promised speed of over 100%
Rating 7/10 because their connection has been quite reliable with minimal downtime. It could be better if wi-fi connection is more stable with less frequent dropped wi-fi connection.
3. PLDT MyDSL 1MBps and landline bundle at 999 pesos a month
At the time of installation, my plan was 768 kbps speed. Currently, the plan is a 1000 MBps.
Of all the 3 ISP's, PLDT was the last to install. From April 2007 to March 2008, PLDT has dropped connections every 15 minutes or so. I called their Tech Support (171) and it took them a week to get a technician to our house. It was the landline tech personnel who made sure that there were no problems in the landline connection. After they assured me that all the lines were working well, I thought my DSL connection would be smooth. I was wrong. The dropped connections continue till March 2008. Upon calling PLDT support, they keep saying that they are working on it. I gave up calling on them. Maybe because I have another reliable ISP to run to when their connection is not working.
On April 2008, I wanted to terminate their services but they said I can't because of the 2 year lock in period. I got exasperated. I said I wasn't willing to pay services since I don't have a stable internet connection. I threatened to report them to NTC. What do you know? A technician came three days after.
The problem? A defective modem. Oh dear, to think I suffered a year of dropped connection because the first few technicians didn't think to check on the modem.
So far, I am receiving decent connection from PLDT Mydsl. Decent=not frequent dropped connection.
Speed Test

Upload: 436 kbps
Download:300 kbps
Promised speed:768 kbps reaches only 56% (speed that time was less than 1 MBps)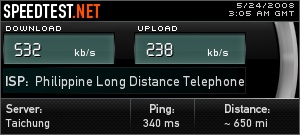 Upload: 532 kbps
Download:238 kbps
Promised speed:1000 kbps reaches only 50%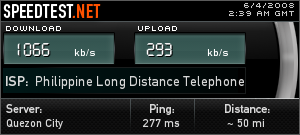 (edit- June 4, 2008)
Upload: 1066 kbps
Download:293kbps
Promised speed: 1066 kbps reaches over 100%
Rating 4/10 because of the lousy PLDT myDSL connection I suffered for a year. Support is not "supportive". They keep saying they are working on the problem without giving feedback.
4. Smart 3G connecting to my Nokia e51 at 10 pesos per 30 minutes of use.
I only use Smart 3g with my macbook whenever I am out of the house. I am quite happy with smart 3g. It often delivers. Sometimes it gives me a message that I am out of credits but all I do is restart the phone modem. Speed depends on location. It can go as high as 1200 kbps or as slow as 100 kbps.

Upload: 723 kbps
Download: 107 kbps
Promised speed: No data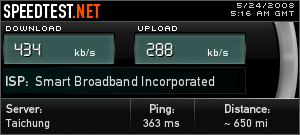 Upload: 434 kbps
Download: 288 kbps
Promised speed: No data
Rating 7/10 because it often gives me the internet connection. However, not all places in the Philippines are covered with the fast 3g speeds. One can get a gprs speed which is sufficient to open emails only.
My suggestions to the Philippine Internet Service Providers:
1. Don't assume that we don't know anything about computers. Don't say we have a virus when you don't even know if I am using a mac or a PC. Just because I am a woman doesn't mean I am clueless about computers. Don't assume we are ignorant.
2. If you are going to have long queues in your Tech Support lines, consider using the SMS system that Destiny Cable (my old provider) uses. When there is a tech issue, I would just send a text message with my landline to their support. When they are free, they return my call. Works like a charm.
3. Stop using the byline line faster than dial-up when you promote your broadband ads . You can't fool someone like me who has been using cable internet for 9 years now. Yes, you can fool the dialup users but how long can you fool them?
4. Stop congesting or overcrowding your servers. There is huge potential and an untapped market for internet users . You can still earn profitably as demand rises.
To all those who have asked me which is the better internet service provider among my 4 ISPs, I can say it is Globelines Broadband because of the more or less stable internet connectivity and prompt customer support. But remember, not all ISP's reliability are the same in any locality. I heard Globe Broaband is really bad in Cavite and Makati City.
My ISP recommendation is based on my location which is Pasig City.
Rating my 4 ISPs
In conclusion, here is my score card of my 4 ISPs based on stable internet connection and customer service reliablity:
1. Globelines Broadband could be better
2. Smart 3g (ties with Globe Broadband)
3. Smart Bro
4. PLDT MyDSL (Worst)
How would you rate your internet service provider?