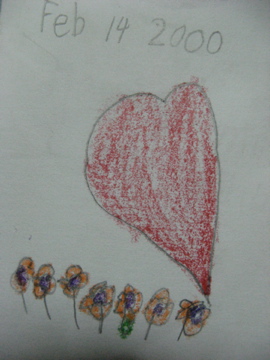 Two Valentine's Day from the two most important guys in my life (next to my dad) strike me as the most memorable. The first one is my first Valentine's day with Butch, my ex-boyfriend. The second is the last Valentine's Day Card that my son lovingly crafted for me.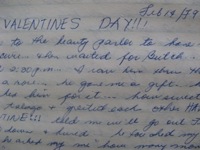 Leafing through the yellowed pages of my diary, I found a journal entry written on February 14, 1979. The wonderful thing about keeping a journal is one is able to relive those youthful years and feel giddy all over again. Oh my, were we that cheesy!? Looking back that day, I wrote down I saw him through the window carrying a single red rose and a gift. Clutching the red rose, Butch chuckled at the scene unfolding before him. Just like the movies, he muttered. Three pages of sweet nothings where my sappy ex-boyfriend declared his undying love and our dreams in my paper journal. In the last part of my journal entry, he had whisperd "Let's make Valentine's day the whole year through". kilig. Today is our 39th Valentine's Day celebration.

Though our love endured, it was not all roses and sweet nothings.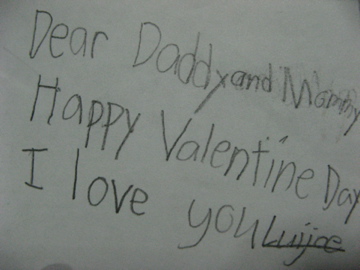 The childlike scribble of the I love you that my son wrote in his hand-made Valentine's day card never fails to bring tears. Tears of joy, of course. Reading through the same journal entry of February 14, 1979, Butch and I wove dreams of our first born son who we called Jose Luis back then. (Jose because both our fathers are Jose's and Luis for Butch's real name.) Many years later, the dream of our Jose Luis materialized whom we nicknamed Luijoe, for short. The reality lasted for six glorious years. I caress the crayon drawn heart in this card to remind myself that death may have taken our son away but his love and memories remain alive and pure in our hearts.
As restaurants are filled to the brim with loving couples on Valentine's Day , I will celebrate it at home with my husband . Let's remember what love truly is…
Love is patient. Love is kind. Love isn't jealous. It doesn't sing its own praises. It isn't arrogant. It isn't rude. It doesn't think about itself. It isn't irritable. It doesn't keep track of wrongs. It isn't happy when injustice is done, but it is happy with the truth. Love never stops being patient, never stops believing, never stops hoping, never gives up.

Love never comes to an end
<< 1 Corinthians 13 >>