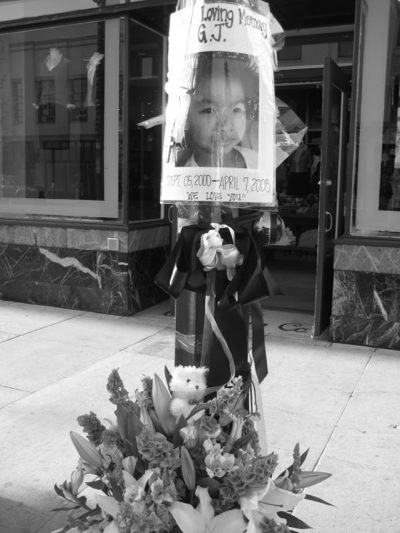 Photo from gjaysworld.org
A reader sent me the link to GJay's blog, which was started by his uncle Raffy dela Rosa. I thought at first Gjay (Jose Gabriel Dela Rosa) was injured and may have hope of recovery but…
It's been a month since 7 year old Gjay passed away. The nature of his death was a freak vehicular accident in Pasadena, USA. Imagine this , a loving family arrives in the USA expecting to have fun during a summer vacation and a few hours after their arrival, this tragic accident happens to them…
Just after arrival to Los Angeles, California from Manila, Philippines on April 04 2008 for their first family trip in the USA for a supposed one month vacation. A sudden tragedy occurred with this loving family around 630Pm by Pasadena, California. While walking across Colorado boulevard and fair oaks road to grab dinner with our singson (Dennis and Jun) cousins on the first day of their arrival. A Nissan altima collided with a Toyota corolla hitting Jose Ricardo and Jose Gabriel from behind just before reaching the end of croswalk and pinned them to a lamppost. The immediate effect had the father down with a busted open/ wrecked right knee down and Poor Gjay who was unconscious bleeding from the nose and ears and losing a leg. The mom (Chichi) likewise suffered minor injuries and high blood from the incident. Gjay was in full arrest with heavy blood loss and same as the dad when the paramedics came in and took him to the hospital.
Gjay's death really tormented me because the nature is similar to my son's death even though the de la Rosa's family is in much much worse situation. We, too were in a family vacation when tragedy struck us on a bright and clear sunny day. During the vacation, all one can think of is being together, enjoying the sights and sounds, laughing and prancing around. Not a death in a family. The accident is very shocking, just too shocking that I was numb for days.
All I can do is pray for them because the road to recovery can be very rough.
Even if I have lost a child, I still am at a loss of words. It's just terrible. No words to describe. One thing for sure. Though death is the end of life; death is not the end of love. Those we love and miss remain in our hearts and minds and souls as long as we live. Memories stay with us forever.
Death takes away. That's all there is to it. But Grief gives back. By experiencing it, I am not simply eroded by pain. Rather, I become more aware, more compassionate, and probably be of help to others. Grief is powerful alchemy. It plunges us into sorrow and forces us to face the finiteness of life, the mightiness of death, and the meaning of our existence on this earth. It does more than enable us to change; it demands it.
It is possible to be enlarged, to find new direction, and to allow the memory of our loved one to live on within us, not as a monument to misery but as a source of strength, love, and inspiration.
I know Angel Gabriel lives on in the hearts and memories of his family.
Aside from their grief, the family is saddled with medical bills. Click here if you want to help.
Related News