View my Batanes photo gallery.
Each wedding anniversary that my husband and I face every year deserves to be celebrated in any memorable way.
Every celebration symbolizes our annual renewal of our vows to each other —
"to have and to hold
from this day forward;
for better, for worse,
for richer, for poorer,
in sickness and in health,
to love and to cherish,
till death do us part"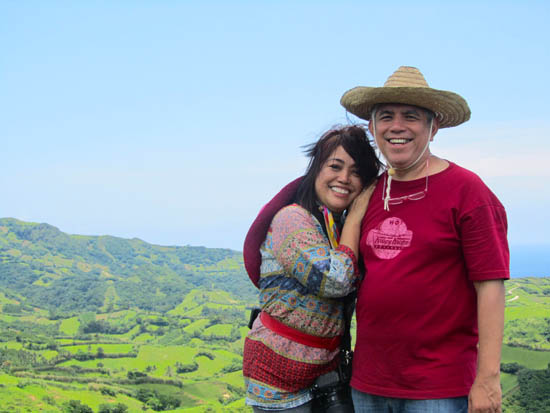 windswept hair atop one of the rolling hills in Racuh A Payaman also known as Marlboro country
So when Andrea invited me to a media tour of the chartered flights from Batanes Cultural Travel Agency (BCTA) I couldn't say no. When SEAIR invited me in 2008, I kept putting Batanes on hold for some reason. This time , I had a reason to say "YES Batanes, I want to celebrate our love there"… but asked Andres if I could pay for my husband's fare just so we could celebrate our 27th wedding anniversary in Batanes. Good thing she allowed me to bring Butch along.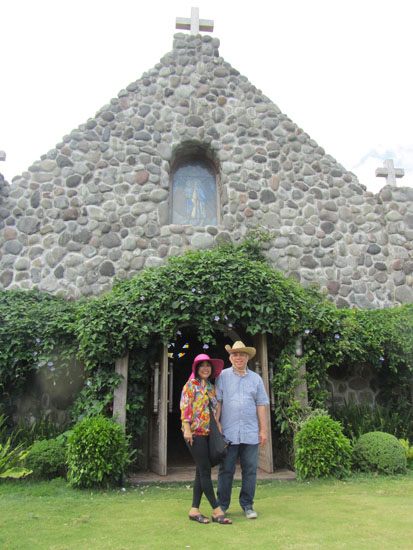 Mount Carmel Chapel in Tukon modeled after the traditional Ivatan stone houses.
Spending our 27th wedding anniversary in romantic Batanes is one gift we gave to ourselves. Being close to such a beautiful and peaceful place gave us the time to reflect and be thankful for all the blessings in our life. If you know us personally, you will know that our married life was filled with drama for most of our 27 years. It is only recently (perhaps 2005) that we reaffirmed our commitment to each other. Like many marriages perhaps, it was a rough journey.. but then as my friend , Bernie reminds me "marriage is always a work in progress and that is what keeps it going."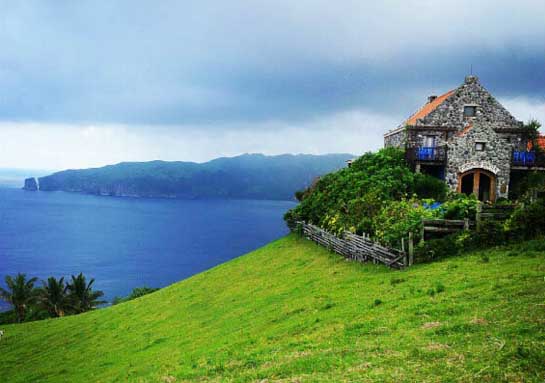 I can't begin to describe Batanes. You will have to discover the beauty yourself. I will write more about Batanes in separate articles. Enjoy just some photos that show the happiness in our faces as we discovered the landscape of Batanes which is unique from other Philippine provinces due to the steep cliffs, rolling hills, deep canyons and boulder-lined shores.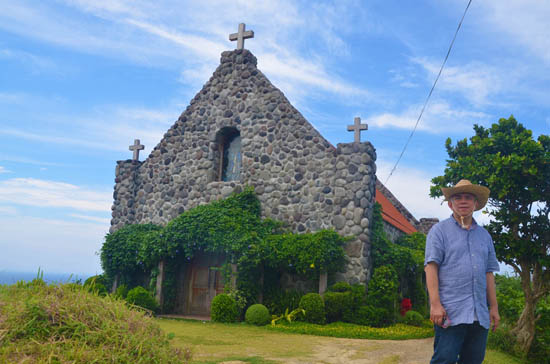 The photo before this was taken by our tour guide so it doesn't show the beauty of the chapel.
"To love another person is to see the face of God." Les Miserables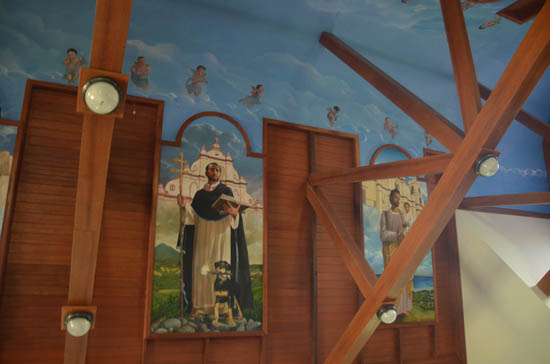 On the ceilings are different municipal saints of Batanes painted by Ivatan artists trained at the Pacita Abad Center for the Arts.
"Our anniversary is a time to look back at the good times and a time to look ahead to live our dreams together."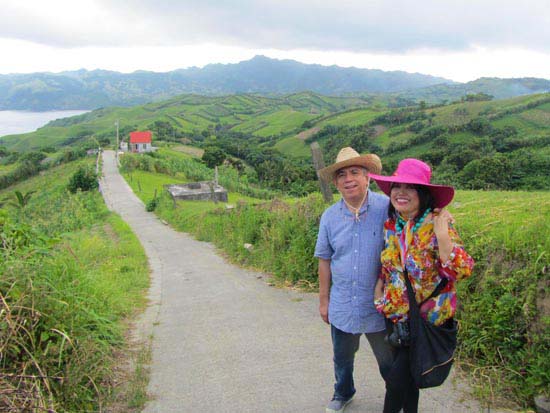 hedgerows "liveng" serve as boundaries of plantation / agricultural crops and boundary of ownership.
The difficulty with married life is that we fall in love with a personality, but must live with a character.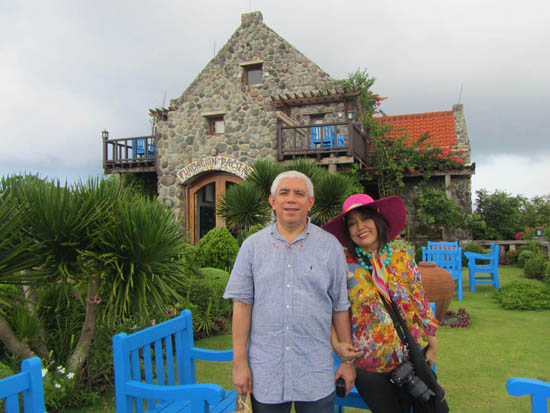 home studio of artist Pacita Abad is now a boutique hotel is the most luxurious accommodation on Batanes Island
"There is no feeling more comforting and consoling than knowing you are right next to your loved one."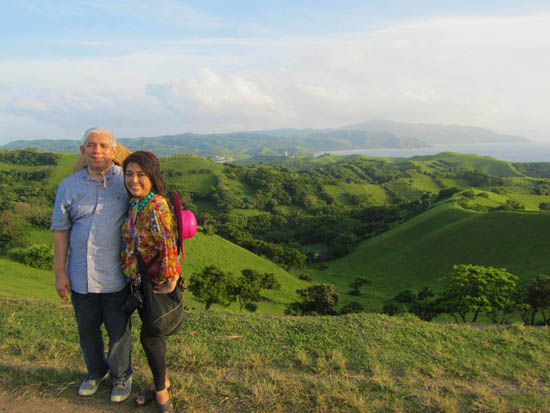 Vayang Rolling Hills
Side by side – Year by year.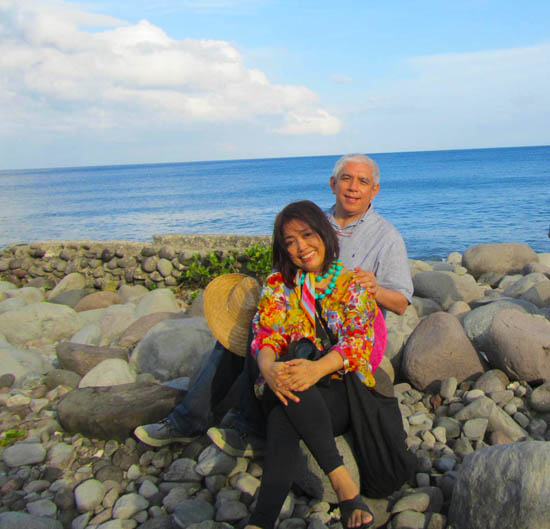 The boulder beach with lots of large stones came from a volcanic eruption from Mt. Iraya in 400 AD.
"A marriage anniversary is the celebration of love, trust, partnership, tolerance and tenacity. The order varies for any given year."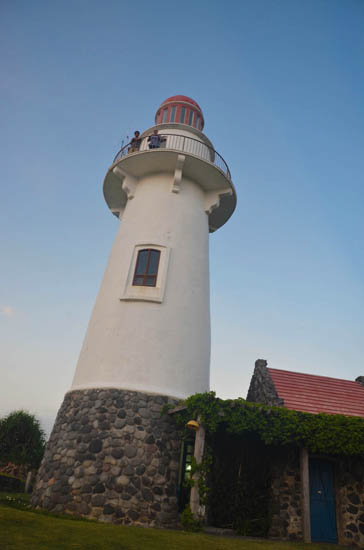 Basco Lighthouse alomg the lush green hills and the open sea provide a beautiful backdrop for the lighthouse.
""A wedding anniversary is the celebration of love, trust, partnership, tolerance and tenacity. The order varies for any given year." Paul Sweeney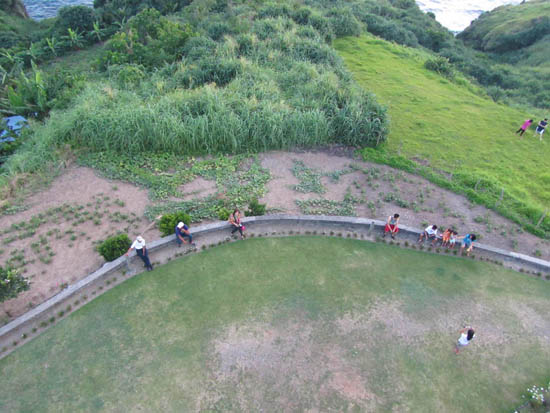 Butch taking a photo of me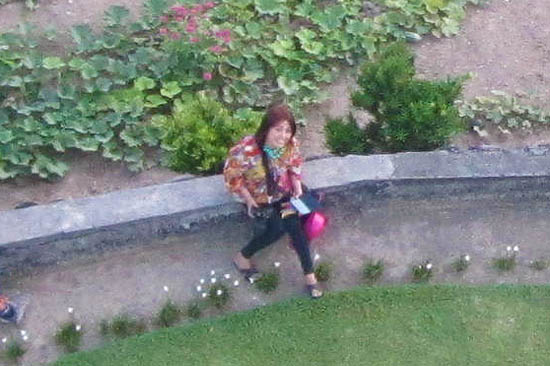 Close up view though pixelated
"Love seems the swiftest, but it is the slowest of all growths. No man or woman really knows what perfect love is until they have been married a quarter of a century. : – Mark Twain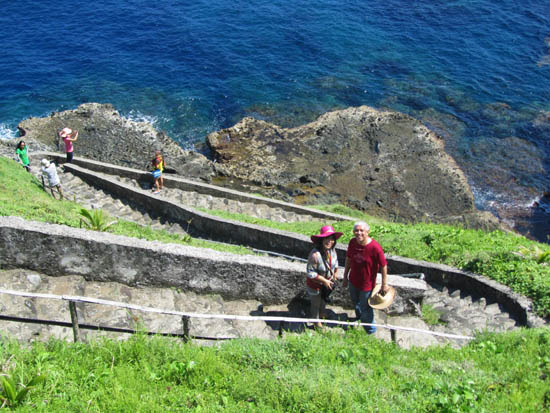 Chawa View Deck, Mahatao
"For you wake one day, look around and say, somebody wonderful married me". Fred Ebb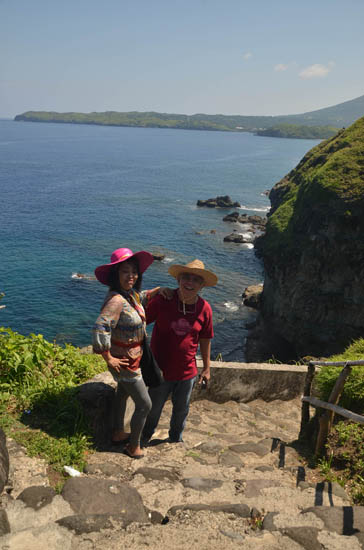 Enjoying the view at Chawa Cliffs
"Married couples who love each other tell each other a thousand things without talking."- Chinese Proverb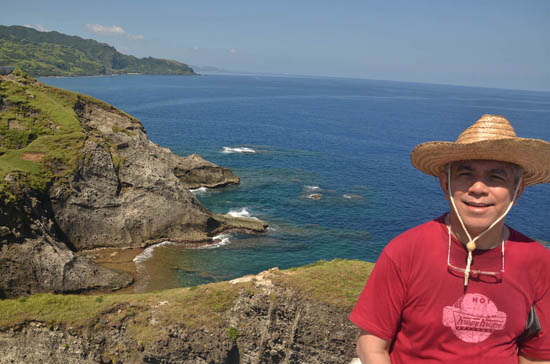 Still at Cliffs of Chawa
"The secret of a happy marriage remains a secret". Henry Youngman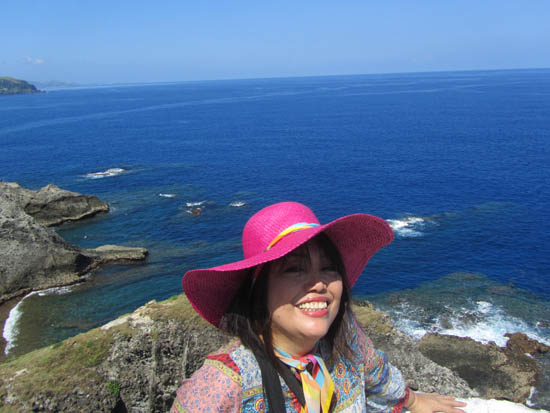 "Love is not blind – It sees more and not less, but because it sees more it is willing to see less." Will Moss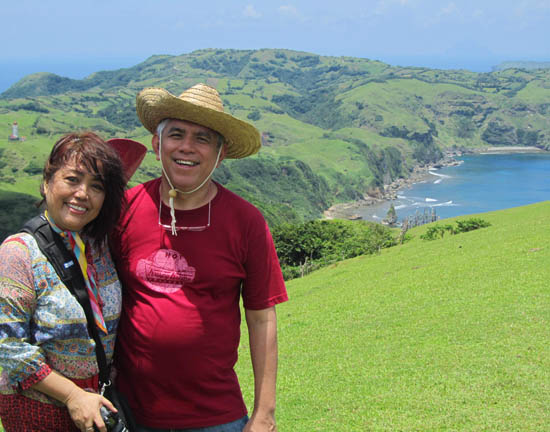 View of Racuh A Payaman is spectacular. Watch the video below for the sound of the wind
"Marriage is a partnership in which each inspire the other, and brings fruition to both of you." Millicent Carey McIntosh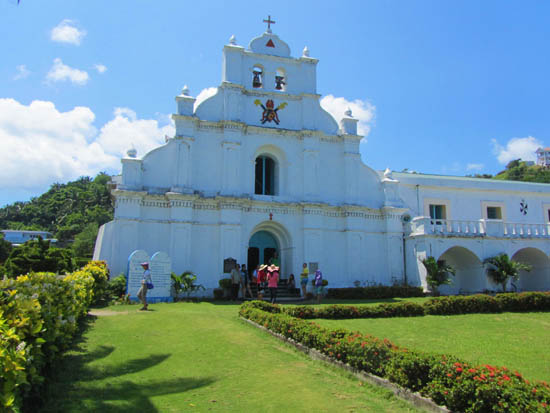 Mahatao Church which is a National Cultural Treasure.
"There is no more lovely, friendly and charming relationship, communion or company than a good marriage". Martin Luther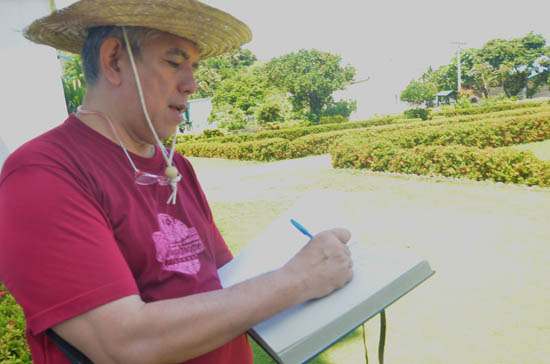 writing the story of our love in Book 505. "MayWang A Libro Du Vatan" (Batanes Blank Book archive) a grant from the Asian Public Intellectuals Fellowship, The Nippon Foundation
"Chains do not hold a marriage together. It is threads, hundreds of tiny threads, which sew people together through the years". Simone Signoret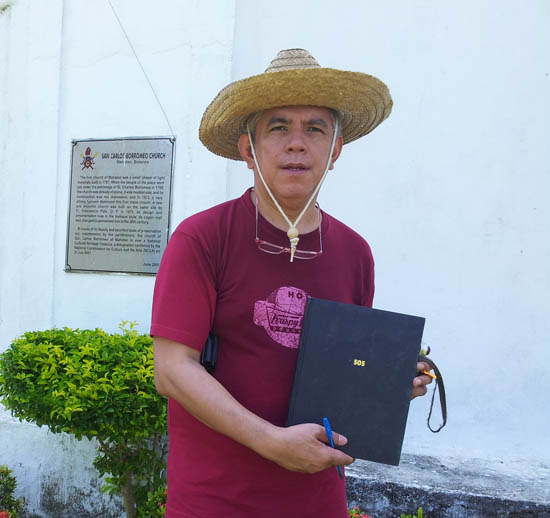 Book 505 from the Batanes Blank book archive. When we return to Batanes, we continue our love story and write it down in Book 505.
Are we not like two volumes of single book ?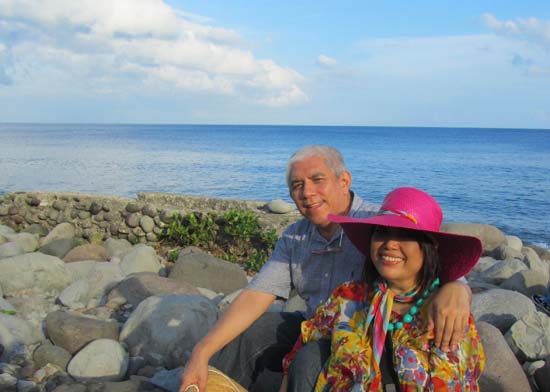 "The goal of our life should not be to find joy in marriage, but to bring more love and truth into the world."
– Leo Tolstoy
For more photos, view my Batanes photo gallery.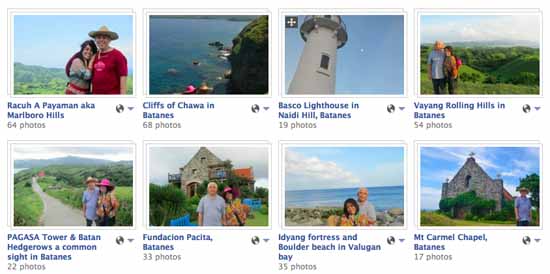 —
I will write more about Batanes.
If you have not been there..trust me when I say everywhere in Batanes is picture-perfect. From the lighthouse in Naidi Hills, to the beautiful communal grazing area of Racuh a' Payaman (or Marlboro country), and the rocky beach in Valuga.
You can fly to Batanes via BCTA chartered flights (Manila-Basco-Manila) at promotional price of 6,200 pesos one way using a British-made aircraft BAE-146. They have started accepting bookings on March 01. Flights will be Tuesdays, Thursdays, and Saturdays starting on March 15. The flight is only one hour and ten minutes, in the comfort of a 94-seater jet. For reservations please call the following hotlines: (02) 635-4810 / 546-1197 / 998-4303 / 475-5267 / 475-5260 / 0917-8112282 / 0999-8894106 / 0908-2309419 / 0922-8213717. or visit batanestravel.com for more details