Listen to this podcast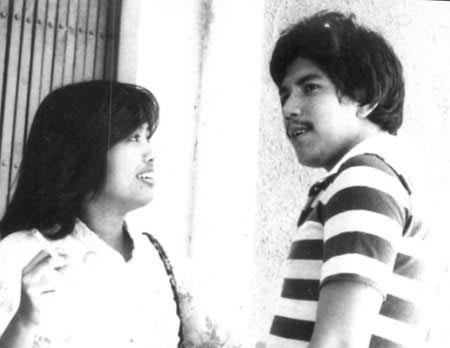 I wrote this 13 years ago, but I thought I'd update it again because today is our couple anniversary. I like to look back at the good old days and dream about the future together. Here is our story: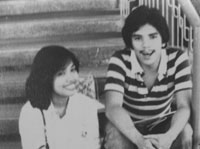 I gaze at my two lovely daughters and smile. I realize they are much older than us.. when we, their parents, were just college sweethearts. My two daughters wailed and wondered when they will meet The One. Will they be as blessed as their parents who found their true love from each other? I have no ready answers. Love just happens when you least expect it. Who would have thought Butch and I would end up together for better and for worse? He became my boyfriend for the most shallow reasons, which was "I wanted a cute boyfriend"
Butch and I met through my college roommate at the University of the Philippines Shopping Center ' restaurant. It was not love at first sight for me. I think Butch was stricken by Cupid's arrow that fateful night. To my great annoyance, he kept staring at me "You have beautiful eyes" all night long. He never let go of me since then. Though Butch was utterly charming and really cute, I wasn't interested. First, he looked really wild as in "jeprox" (the slang word for punk during those days). Second, "mestizos" are not my type. Third, he was two years younger than me. I knew he was 18 years old, yet he lied that he was 20 years old.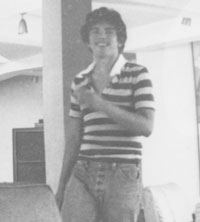 He was very persistent. Riding on his yellow motorcycle, he'd zoom past the dorm as if "by accident" and pretend to be surprised to see me. I liked the attention but felt he was too dangerous. But see, Butch had a way with words (think "bolero") which would make any girl giggle. Fear engulfed me when I began to fall in love with him. His wild and dangerous looks were just too tempting. What was it with "bad boy image" that attracted me to him? For years, I poured over my books just to get excellent grades, but for what? College is supposed to be fun. I wanted to have fun. My motto that semester: be adventurous and grab a cute boyfriend. After all, graduation loomed the following semester. I decided I wanted to have a boyfriend. Not just any boyfriend. He had to be a cute.
My greatest fear though was he'd seduce me. Butch looked really reckless and seductive. Heck. I threw caution to the wind and "went along with him" the night he announced to the world that I was his girlfriend.
I thought, "I am his girlfriend? How did that happen?"
Whispering sweet nothings to my ear, "I will marry you one day. I will be a lawyer. You just see."
I was laughing inside and mused I would never marry this guy. He's a bum. I won't have a future with him. He is my boyfriend because I just want to have fun. I hate my boring student life.
True enough, the following month, I found out he didn't meet the university requirements of passing 21 units, 60% passing of all subjects and to have a passing grade in at least 4 units. He scored a grand slam. The verdict was expulsion from the state university. I knew there was hope, so I dragged him to the college secretary for a reconsideration.
Listen to this podcast
"No, I don't have hope. I will move to San Beda then take up Law after college" he moaned.
"You are going to graduate AB Political Science from UP and proceed to the College of Law", I convinced him to appeal.
Thanks to Dean Martin Gregorio, Butch was granted a reconsideration. Since we became steadies, he passed all his subjects and eventually studied Law.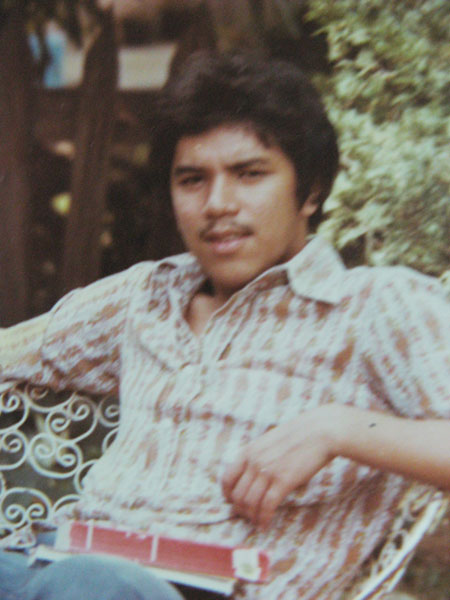 Despite Butch wild streak, he never took advantage of me. Haha. I should give him credit for being a gentleman in that aspect. In fact, we enjoyed a clean and responsible relationship. Friends doubted that we practiced abstinence. True, Butch would suddenly wrap me in his arms and plant a kiss on my lips right in front of my horrified friends, but that was it. We were a romantic couple for 7 years. Locking our hands together, we sat by the sunken garden and watched the sunset as we wove dreams of being together forever and having babies one day. Amidst the Beegees "How Deep is Your Love", time stood still for love struck us. Well, mostly his dreams. I wasn't too sure if he would be a suitable husband.
Two years later…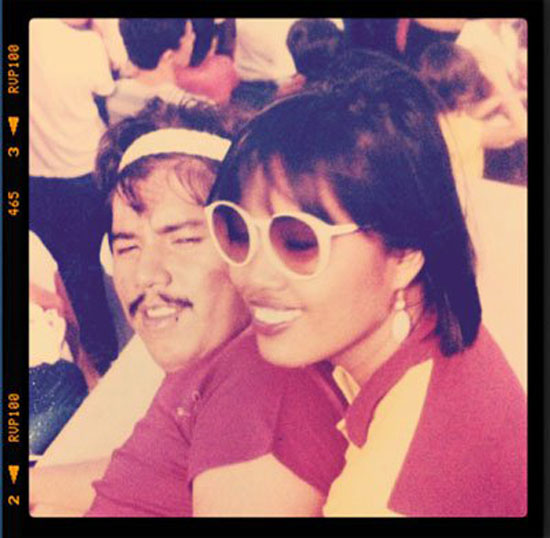 Holding pizza and a dozen red roses , Butch took me by surprise as he knelt down and proposed marriage. How roooomaaaantic, I gushed .
My brain woke me up from fantasy land.
I said "God, No. You're only 20. You don't have a job. You haven't graduated from college"
We married 7 years after we first met in college.
Our love story is quite long , romantic and crazy so I am not boring you to tears . But see, our love spans 42 years. We have two anniversary dates: March 7 when we first became college sweethearts and May 5 for our wedding day. And of course, celebrating the day we met on January 26, 1978. That sums up 38 years together as a couple who are still so madly in love with each other. You know it is true love when you have gone through the worse moments in marriage and yet managed to survive and make the love even stronger than it ever was.
It wasn't all roses, sweet nothings, and icing on a cake type of relationship.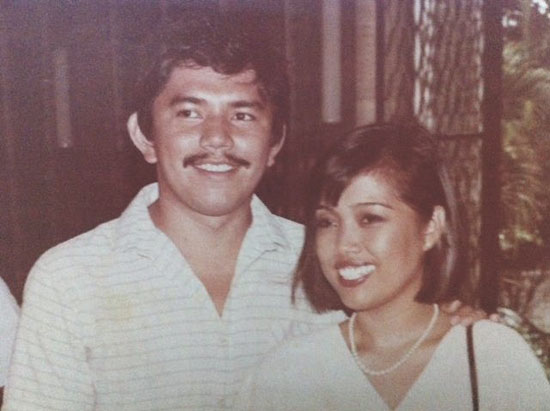 We nearly separated 16. years ago. Grief had overtaken us so much. Our marriage suffered during the first few years after my son died. My husband and I had different ways of coping with our grief. He wanted to talk about Luijoe's death. I preferred to keep quiet and be by myself. This created a distance between us. Sometime in 2005, I packed my bags and muttered goodbye to a tearful Butch. I couldn't stand him anymore. I wanted a new life without him. I made sure the girls were settled in their dormitories for me to make this great escape.
Alas, God destined me to stick it out with Butch.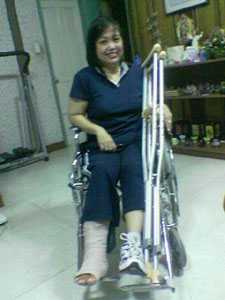 As I moved in to my new pad, I lost my footing on the steps and fell to the ground. Were those firecrackers I heard? Oh dear, that awful popping sound came from my ankles. Holding on to the lifeless ankle, my ex-landlord helped me into a cab and brought myself to Medical City emergency room. Fuelled with pride, I refused to contact Butch but asked L to bring me clothes for my confinement. I suffered a fracture which required insertion of metal rods onto my right tibia and ankle bone. Butch got hold of my accident and drove to Medical City. He insisted on taking care of me.
I had no choice but to live with him and work things out. Truly God works in mysterious ways. It was as if God said, " you can't run away from your marriage. Try to fix it". Eventually, with the help of a caring grief counsellor, we sorted out our problems and renewed our commitment to work on our marriage. The secret in the renewal of our marriage was reliving that first time we fell madly in love with each other.
For the next 6 months, I was confined to the wheelchair or crutches . Sounds like those cheesy Filipino scenes in a movie, huh?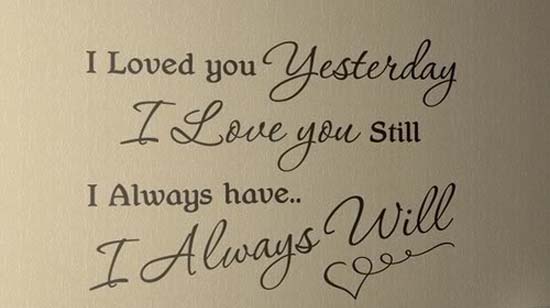 Our love is best seen as devotion and action, not just an emotion. Our love during those college sweethearts ' days were based on shallow emotions towards each other. Today, our devotion to each other has truly led us to true love.
Yes, young love is possible, dear girls. Our love will always be a work in progress till death do us part
Often when the revival of Beegees "How Deep is Your love" plays in the airwaves, the meaning of the lyrics rings true then and now:
Chorus:
How deep is your love
I really need to learn
cause were living in a world of fools
Breaking us down
When they all should let us be
We belong to you and me

I believe in you
You know the door to my very soul
You're the light in my deepest darkest hour
You're my saviour when I fall
And you may not think
I care for you
When you know down inside
That I really do
Epilogue- March 7, 2021
I took this picture on December 30, 2020 when my husband arrived home from a two-week hospitalization due to an asymptomatic case of Covid-19. This illness is so unpredictable that I thought the worst. Would he die? Would we both die? I don't know how I survived those two weeks. Fortunately, my household staff and I tested negative for the coronavirus. But I prayed so hard that we survive this because we have so much to live for. Our coffee project is just starting. We still have to a meaningful life ahead of us. Despite all the hardships in our marriage, I would rather face them than live without the love of my life. Treasure each day with your loved ones. Celebrate life.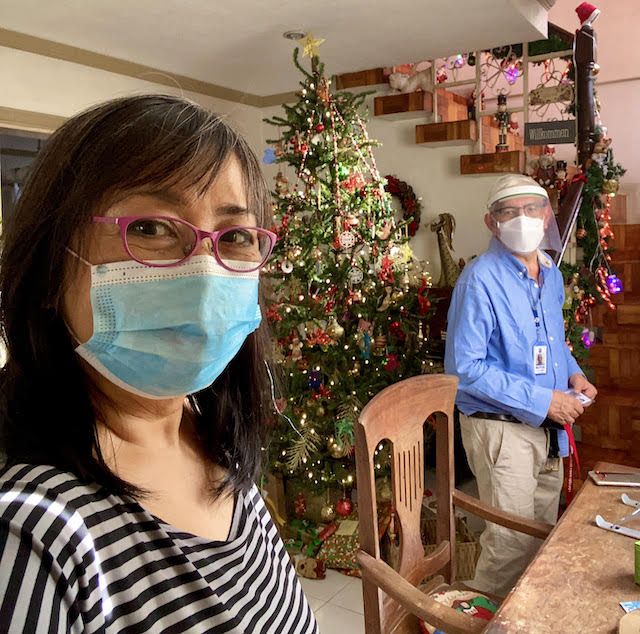 March 7, 1978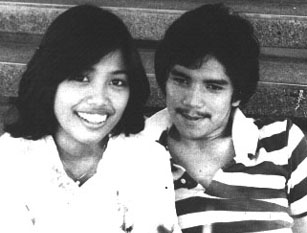 7 Years Later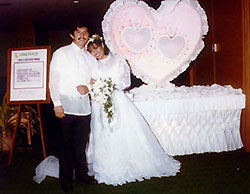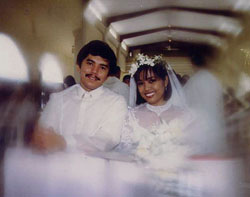 2006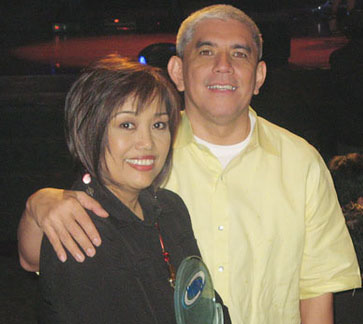 2008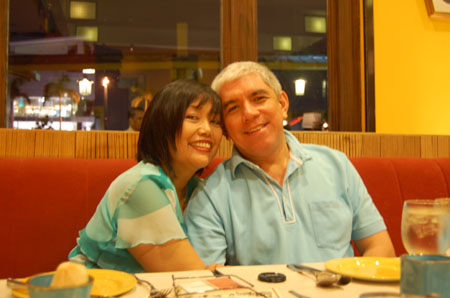 25th anniversary shoot at the UP Campus, March 2010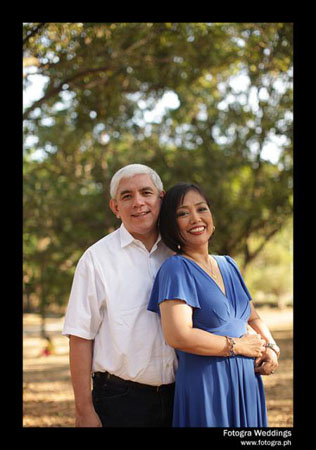 2011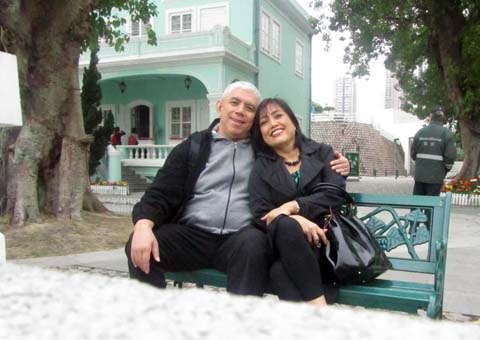 2012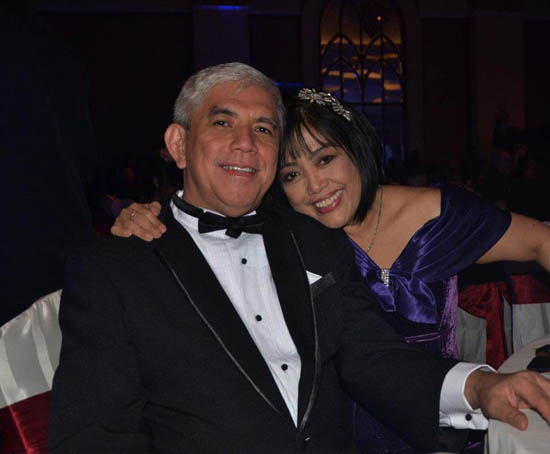 2013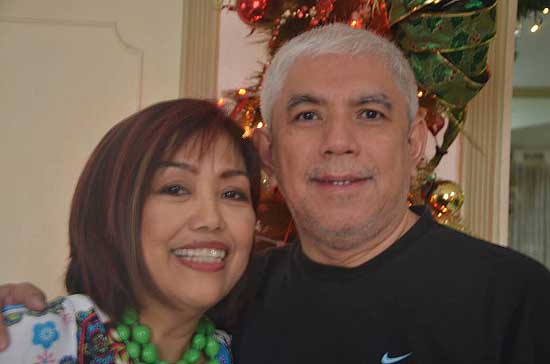 2014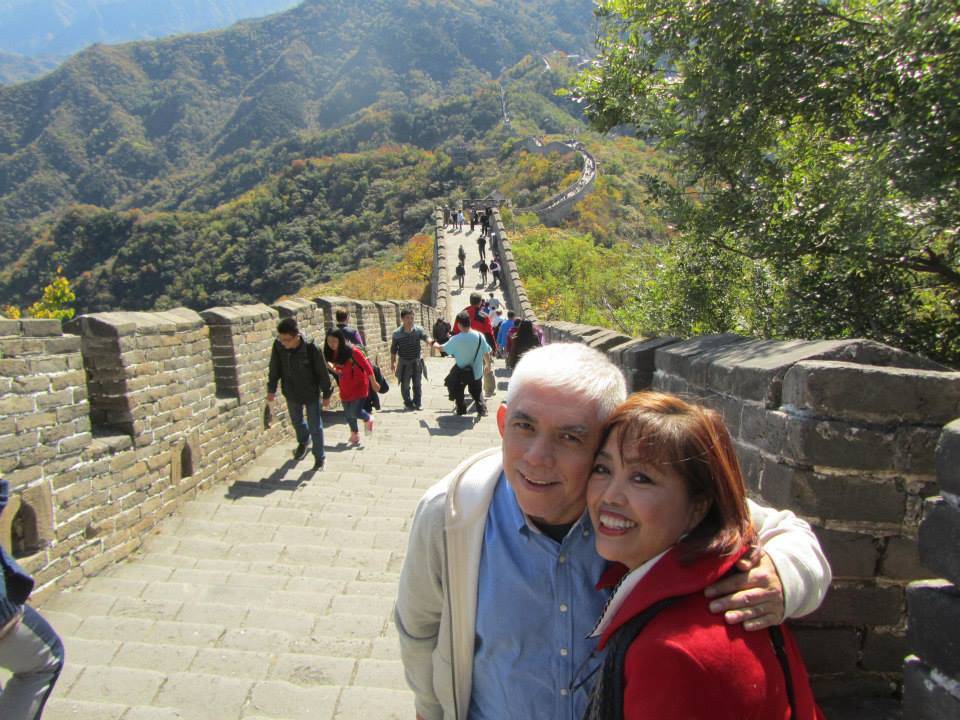 2015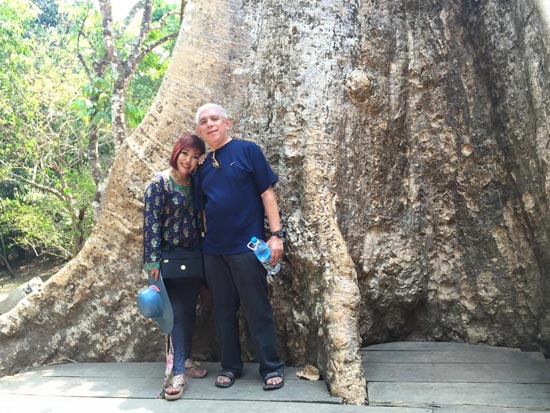 2016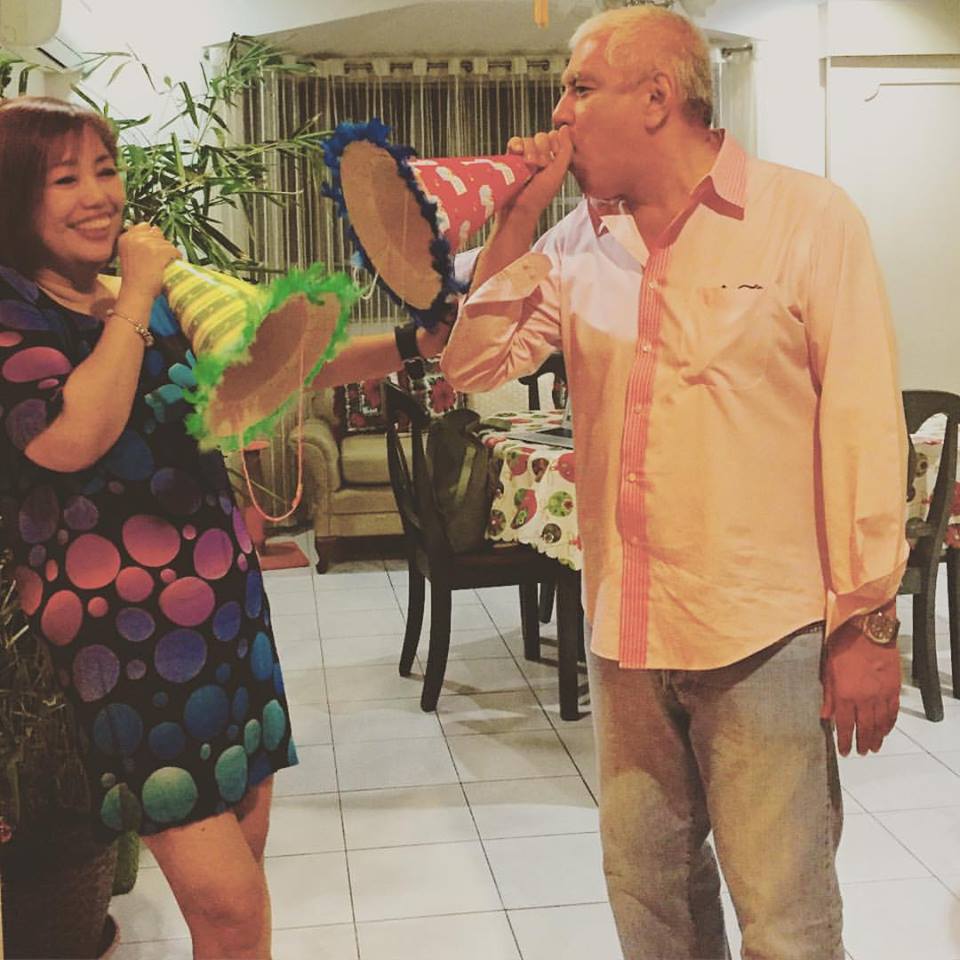 2017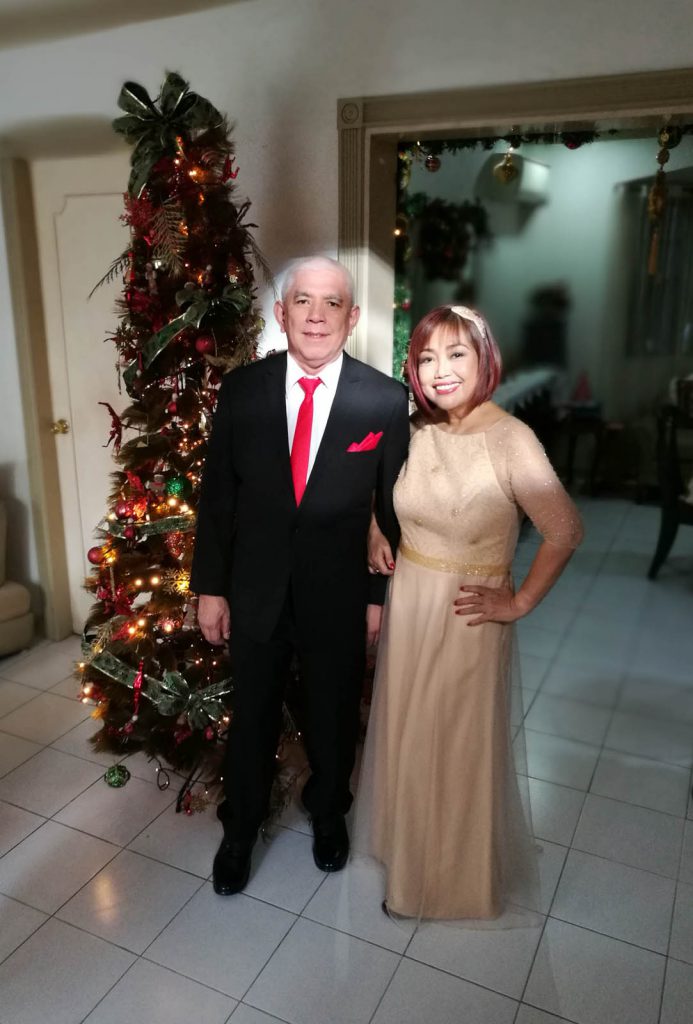 2018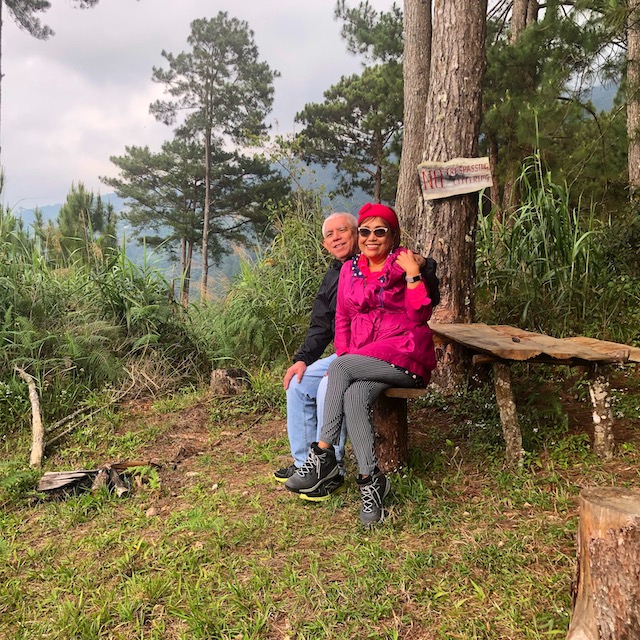 2019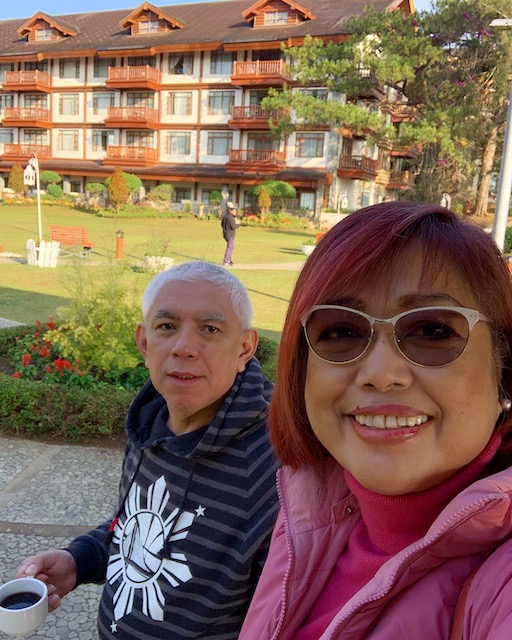 2020
December 30, 2020 – The day my husband went home from the hospital where he was confined for two weeks because of asymptomatic covid-19