Edit – April 26– I am not happy that the segment producer did not ask permission for a reenactment of Luijoe's death in a swimming pool. They even got a kid that had a similar face to Luijoe. Dramatic effect pa kasi…eh blogging in a cemetery was enough for me to satisfy their production values. Other than that, the episode was good.
Here I am in a cemetery, with a TV crew. A GMA 7 show wants to feature bloggers for this Saturday (Thanks to Brian Gorrell for the hype on blogs these days). Why should I do this? I asked the producer. It's not normal routine to blog in a cemetery. Yeah sure, it's better than a reenactment which is a definite no-no for me. Sure, I bring flowers, candles and my small chair but blogging? Never tried it but yes, I do bring my macbook everywhere with me. But the producer is persuasive, "Maybe you might consider blogging here".
Ugh, it's 2:00 PM and the blazing heat of the sun is scorching my head and neck. Slowly, I can feel the initial symptons of prickly heat tingling beneath my collar. How does one blog under the insufferable heat of the sun and yet see the monitor? The camerman and producer are intent to shoot that scene. If there is a will, there is a way. Out from nowhere, the caretaker of my son's grave produced a large tent enough to cover 30 square meters. The smart 3g connection is blazingly fast. Perfect.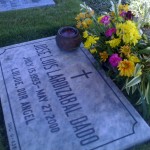 I am supposed to look like I am blogging but what can I write now? Looking at my son's grave I whisper, "Luijoe, they are filming us for a TV segment".
Tell me you are with me
Whisper gently in my ear,
"You will always be my mommy"
In the quiet I will hear,
Call it divine providence! Suddenly, a gentle breeze softly caressed my cheeks as if the heavens cooperated with me and the TV crew. Luijoe's resting place felt calm, peaceful and suddenly an ideal time for me to reflect and celebrate the love that never dies.
I kid you not.
Like any blogger, I won't let them get away with it so I grabbed a photo of the crew as they shot this beautiful scene.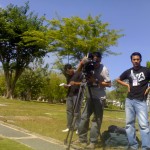 Just find out where Brian will be interviewed. He is part of the segment through a phone patch.
—–
Asides
1. Who won? Win Two round Trip SeAir Tickets to Batanes
I witnessed the raffle draw.
Our Batanes ticket raffle got 396 comments posted before the 8 p.m. deadline last Sunday, April 20, 2008. Members of the SEAIR Adventure Club met Tuesday to draw the winning comment. To do this, each comment was numbered 001 to 396. The draw was done lotto style. Three piles of numbers were made, the first pile had the numbers 0 to 3, while the second and third pile had the numbers 0 to 9. And the winning number is 190 which is the comment of William Gilbert Agravante. Congratulations, you just won two round-trip SEAIR tickets to Batanes!
But since we enjoyed reading your comments, we've decided to give one round-trip ticket to the best comment with the word "SEAIR" in it. And that comment belongs to Dorcas Juliette Ramos. Congratulations on your graduation! You win one round-trip ticket to Batanes! To both our winners, please wait for the notification e-mail on how to claim your tickets. And to all those who joined, don't fret since you can still win a free SeAir plane trip for two to Baler, Quezon.
2. FilipinaImages.com featured in the Modernong Maria Clara episode that will be aired on Thursday, April 24, 2008. It talks about the image and the evolution of Filipino women. It'll be shown right after Saksi on GMA 7
Just when you think the blogging in a cemetery is over, another TV show visits me at home.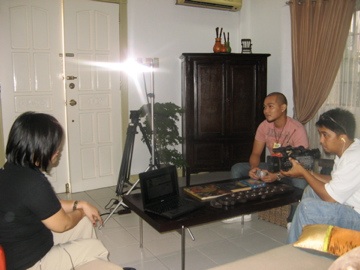 3. Proudly Filipina to be shown on May 2, Friday night, 7:00 PM, QTV Channel 24 in Skycable (?).
The focus is on the 5 deaths in my immediate family and moving on to my "new normal".
I am not fond of celebrities but I just had to have a photo op with the host, Charlene Gonzales.
4. My dream car, the 2008 Chrysler Town Country Touring Edition
New Chrysler Town Country Touring Edition Stow and Go.